Eminem Surprised Fans At His New Spaghetti Restaurant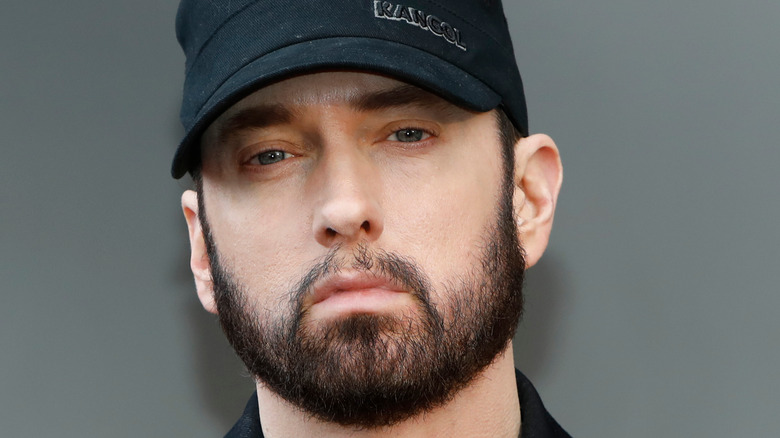 Kathy Hutchins/Shutterstock
Eminem's new, Detroit-based spaghetti restaurant got its grand opening this past Wednesday, with hundreds queuing up for a taste of the rapper's famous "Mom's Spaghetti" dish. Fans were surprised to be greeted at the takeout window by none other than Slim Shady himself.
An advertisement for the restaurant was posted on Eminem's Instagram only a day before the official debut, announcing the arrival of "Mom's Spaghetti" in Detroit. Customers arrived as early as 8:30am to claim their spot in the Mom's Spaghetti line — which grew so long it wrapped around the block. According to a report from Detroit's local news team, Eminem arrived at the restaurant at about 2pm, manning the diner's delivery window and autographing fans' orders (via Youtube). "It was the best day of my life," one customer told Detroit's Local 4. "I bawled my eyes out. I cried. And he hugged me. I will never forget it." Eminem also took photos with a number of Mom's Spaghetti customers, wearing his signature deadpan expression. For those outside of Detroit, the journey of Mom's Spaghetti is just as exciting as its signature menu item and namesake.
From Pop-Up to Restaurant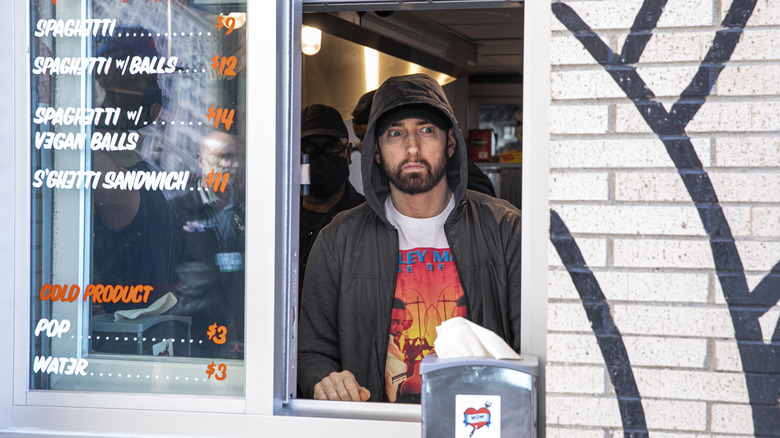 Scott Legato/Getty Images
Mom's Spaghetti got its start in 2017 as a pop-up shop at The Shelter, a Detroit music venue. Originally serving a limited menu of spaghetti, spaghetti and meatballs, and a "s'getti sandwich," the concept expanded in 2018, catering to audiences at Coachella and adding vegan meatballs to the Mom's Spaghetti Lineup. Now, three years later, the venture has grown from a novelty pop-up shop into a bonafide brick-and-mortar establishment. Catering to Detroit sports fans, hungry for "road pasta after the game," Mom's Spaghetti is located in the Detroit District, a 50-block sports and entertainment venue. It neighbors the two-story Union Assembly restaurant, whose owners are partners with Eminem in the business venture.
Mom's Spaghetti previously made headlines in 2020, when Eminem donated cartons of the restaurant's signature dish to frontline workers at Detroit's Henry Ford Health System (via Detroit Free Press.) Now, with an actual restaurant in place, Mom's Spaghetti is ready (already) to serve hungry Eminem fans from across Detroit.