National Taco Day 2021: Where To Score The Best Freebies And Deals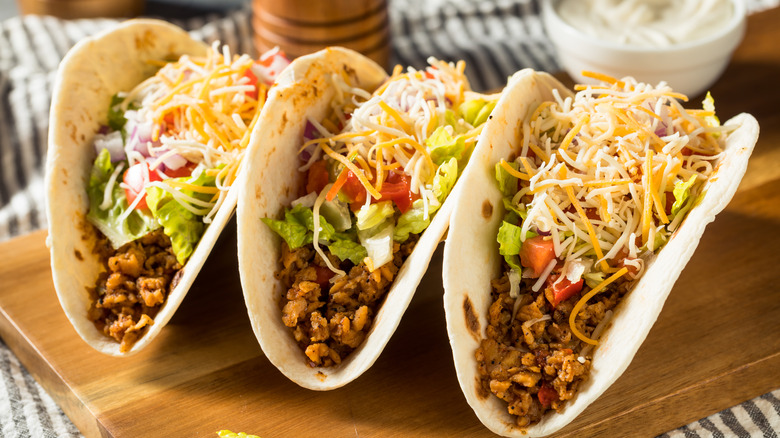 Brent Hofacker/Shutterstock
Some foods are fun to eat and fun to celebrate. Do an internet search for "national food holidays" and you'll come up with at least one for every day of the year. But few can lay claim to the cross-cultural popularity of the taco. And even fewer have been written up in Smithsonian Magazine. The hand-held meal we celebrate annually on October 4 dates back to the 1700s when it gained popularity as an easy-to-tote mid-day meal among silver miners in Mexico — at least that's one theory.
Jeffrey M. Pilcher, a professor at University of Toronto where he teaches classes in the history of food drink, is the author of "Planet Taco: A Global History of Mexican Food." A widely traveled expert in the history and evolution of Mexican food, Pilcher told Smithsonian Magazine his research suggests the word "taco" stems from the name of the paper-wrapped gunpowder miners used during excavation. While Pilcher acknowledges no one knows for sure, he says, "When you think about it, a chicken taquito with a good hot sauce is really a lot like a stick of dynamite ... one of the first types of tacos described is called tacos de minero — miner's tacos. So the taco is not necessarily this age-old cultural expression."
Now that we know the history behind this beloved dish, let's get to the best freebies and discounts available on National Taco Day 2021.
Major taco discounts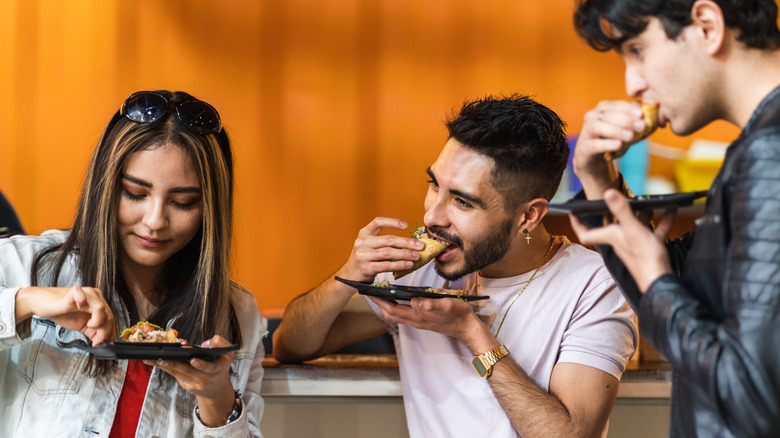 Eduardo Rgz/Shutterstock
According to Lifehacker, Taco Bell is celebrating National Taco Day by giving away 10,000 tacos. Feel like celebrating with a friend? Access Taco Bell's "Taco Gifter" to send a $2 eGift card redeemable via the company's app or website for either in-store or drive-thru pick-up. A couple of things to note: There's a 35-cent transaction fee and, in some locations, a single taco may cost more than $2.
If you're looking for taco deals you can gift yourself, Taco John's is also getting in on National Taco Day 2021. Order through the company's app on October 4 and get a coupon for a free fried chicken taco. At Qdoba, rewards members earn double points for purchases made on October 4 (via Guilty Eats). Fuzzy's Taco Shop is celebrating with a deal on its breakfast and Baja tacos. Select tacos are on sale for $1.50 all day on October 4. The offer is good for dine-in, take-out, and orders places via the company's website or app.
CSP Daily News reports a slew of National Taco Day deals at 7-Eleven, including 10 for $1. Available for in-store purchases, 7Rewards loyalty members can get 10 mini-tacos for $1 on October 4. There's also a BOGO offer on Monday. If you purchase a delivery order of eight mini-tacos via the brand's 7NOW app, you can get a second order free. The tiny corn tacos are filled with spicy beef, green chiles, jalapeños, and cilantro.
More ways to celebrate National Taco Day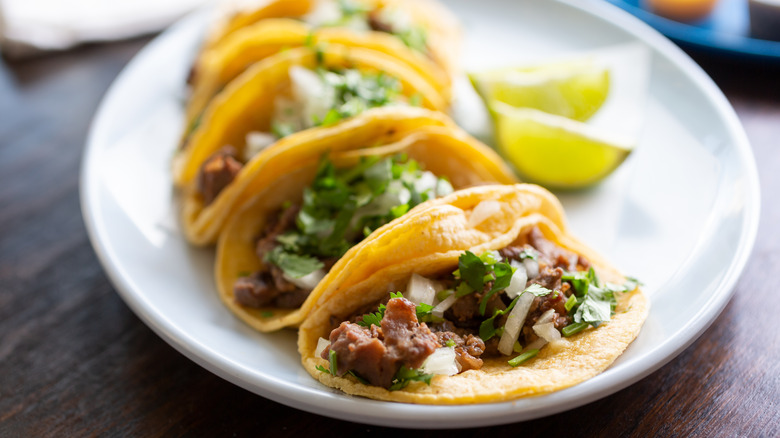 TonelsonProductions/Shutterstock
According to Thrillist, Del Taco is offering daily deals through October 4. Available to its rewards members, on October 2, customers who buy a Stuffed Quesadilla Taco can get a second free. On October 3, rewards members can get a mini-shake with their Stuffed Quesadilla purchase. Finally, on National Taco Day, the chain is giving out free Stuffed Quesadilla Tacos with every purchase to reward members.
Taco Cabana celebrates National Taco Day with $1 tacos all day. At Bodega Taqueria y Tequila, get a Clasico Taco for $2. If you order via the company app, you can earn double points.
QSR reports El Pollo Loco is celebrating National Taco Day with a digital-only twist. The chain is resurrecting its fan-favorite Crunchy Taco, but only for orders placed via the company's website or app from October 4 through November 1. As a special incentive, Crunchy Taco orders placed on National Taco Day come with a free Mexican Coke and Loco Rewards members get a BOGO offer for a second one.