Costco's Apple Cider Donut 12-Packs Are Turning Heads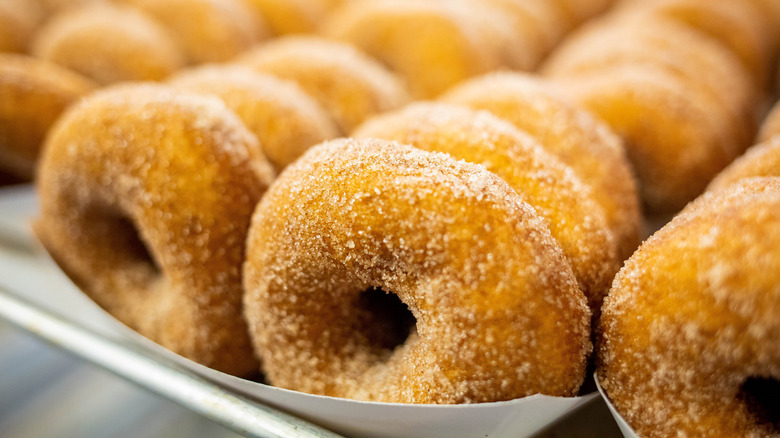 Photo Spirit/Shutterstock
With Halloween less than a month away, fall is finally ramping up into full gear. Depending on where you are, leaves are more colorful, the air is cooler, and everything feels a whole lot cozier. While there are so many things to love about fall from the leaves changing to snuggling up in front of the fire, the best part about autumn might be all the incredible fall flavors. Whether it's salted caramel, toasted pecan, or pumpkin-spiced everything, it truly is the most wonderful time of the year when it comes to sweet treats. And let's not forget about the real star of fall flavors: apples (sorry, pumpkin spice).
On a crisp fall weekend, nothing beats apple picking with friends at the local apple orchard (via The Herald News). But as all apple-picking aficionados know, the best part about apple picking isn't the freshly picked apples or the sweet Instagram opportunities, but the apple cider donuts that you pick up on your way out (via The Philadelphia Inquirer). Hot, fresh, and covered in cinnamon or glaze, these cake-like donuts truly are a mouthwatering bite of fall. But if you don't have an apple orchard near you, don't panic! There are other ways to get your apple cider donut fix this season, and Costco's got you covered.
Costco's fan-pleasing apple cider donuts
For all you apple cider donut enthusiasts, you're in luck! Costco is now selling these sweet fall treats in packs of 12. These tasty-sounding morsels are produced by Talerico Martin Bakery, an Illinois-based institution that has been selling baked goods for nearly 40 years (via the Talerico Martin Bakery website). One of the best parts about these donuts: Customers really seem to be excited about them.
User @costcobuys took to Instagram to share their enthusiasm over this delightfully autumnal Costco item. "Apple cider donuts!! I spotted a dozen for just $5.99! I love heating these up in the air fryer...they get so warm and toasty!" Other users chimed in with equally positive responses such as "Need em" and "I DEEPLY regret not going into Costco today when I stopped for gas."
These fall-favorite snacks sound perfect for pairing with a nice hot toddy or warm cider. If you'd rather skip the apple picking, you might consider picking up a batch of these apple cider donuts this weekend. Based on the description by @costcobuys, they might just knock your socks (or boots) off.