The Amount Of Aldi Shoppers Who Prefer This Fall Flavor Over Pumpkin May Surprise You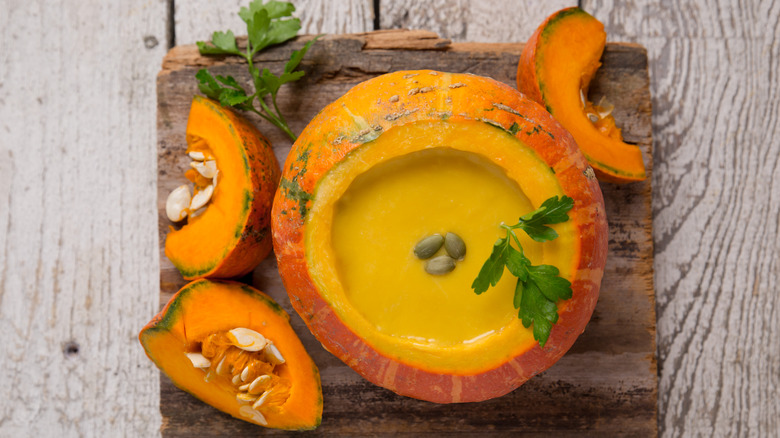 Mariya Rus/Shutterstock
Seasonal products are all the rage right now with many special flavors making their way into the market. According to Eating Well, supermarket giant Aldi has jumped onto the bandwagon with many pumpkin-flavored items that are perfect for fall. The options seem endless, and by "options," we mean pumpkin-flavored foods of every stripe. Among Aldi's releases are L'oven Fresh Pumpkin Spice Bagels, Bake House Pumpkin Rolls, the Happy Farms Pumpkin Pie Cream Cheese Spread, and Pumpkin Spice Almond Milk Non-Dairy Creamer. And naturally, shoppers can expect to find gigantic pumpkins this fall.
What's more, the company is planning to reach out to even more customers with special products such as pumpkin spaghetti sauce and even Halloween pasta that we imagine tastes like the insides of a jack-o-lantern that. Understandably, Aldi's fans are undoubtedly pretty excited already and can't wait to sample some of the new pumpkin products. However, quite a few customers are asking for an entirely different flavor this fall.
Apple is getting a lot of love
Pumpkin isn't the only star of the show, after all. Recently, Aldi asked fans on Instagram, "Is there a fall flavor better than pumpkin?" Apple outshined it for many people, one of whom even replied, Apple all the way!" Some brought up specific items, with one writing that the "Apple Crisp coffee [Aldi] sold last year was fantastic" and that they'd love to see the product make a comeback. Back in August, when Aldi advertised the upcoming return of pumpkin season in an Instagram post, some commenters had apples on the brain. One user wrote, Uuugghhh.......where is the Apple stuff! September should be alllllll about apples." Someone else asked about when the chain was rolling out its apple cider, to which Aldi replied with good news. The response read, "Our seasonal apple cider should be in stores over the next few weeks, and we'll have sparkling apple cider starting in October!"
Some users picked both apple and caramel, a classic flavor pairing. Unsurprisingly, many people did say that they were excited about pumpkin-flavored products, and some said they'd go for the pumpkin- and apple-themed items. One shopper qualified their fall flavor preference and wrote, "apple. I like pumpkin things however...I don't like pumpkin spice."