Valerie Bertinelli Is 'In Love' With Her Kitchen Makeover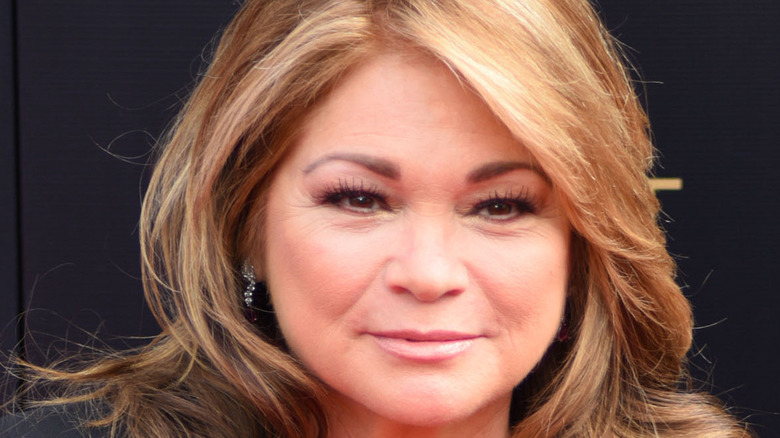 Michael Mattes/Shutterstock
"Valerie's Home Cooking" shows us both the dinner parties we always wanted to join and the home cooking setups that we always wished we had in our own homes. As host Valerie Bertinelli shares her easy-to-follow yet indulgent recipes, home viewers follow along to create their own versions of dishes like cedar plank salmon with grilled cherry tomatoes, brown butter sauteed spinach with lemon, and Prosecco with raspberry cassis ice cubes (via Food Network). One thing that is always consistent while we watch Bertinelli's show is our kitchen envy — and now her kitchen has gotten even better. 
"I don't know if you noticed or not when watching 'Valerie's Home Cooking,'" Bertinelli recently posted on Instagram with accompanying heart emojis, "but my kitchen got a beautiful update this season thanks to @cabinetsbyzephyr and @kitchens_by_thekitchenfactory!!" The cooking show host shares an accompanying picture which shows her at the upgraded kitchen island station with her oven and cabinets in the background.
Valerie's home kitchen update is inviting
Elaborating further in her Instagram post, Bertinelli continues, "As you know, the kitchen is my safe space where I get creative, feel inspired, and enjoy my own company while coming up with new recipes and menu ideas, so a bit of a makeover or update goes a long way! A little vino and music help too! [wine emoji] heheh! We've updated our cabinets to make them a bit more modern and a new gorgeous countertop to brighten the kitchen. I'm in LOVE!"
For those looking to spot the changes, you can see in past cooking videos that her old countertops were black and complimented by white cabinetry (via Amo Mama). Bertinelli's new look features a natural stone countertop in off-white with marbling and some deeper blue cabinets in the areas surrounding her wall oven. Viewers can catch more peeks at this new kitchen on the "Valerie's Home Cooking episode "Valerie Bertinelli's Bolognese with Spaghetti Squash" (via YouTube).
As for opinions on the remodel, Instagram viewer gandt63 sums it up well: "Definitely noticed and a big ol' [thumbs up emoji] the beauty of the back ground is only surpassed by the beauty of the foreground! You're amazing Dahhhling!" We can't help but agree.