El Pollo Loco Fans Won't Want To Miss The Return Of This Crunchy Item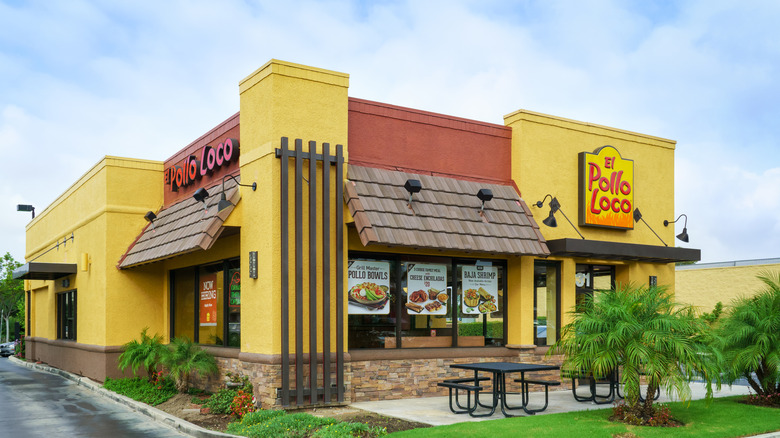 Ken Wolter/Shutterstock
El Pollo Loco fans are in luck. Starting October 4, the taco chain is bringing back its popular "Crunchy Taco" menu item, in celebration of National Taco Day (via Chew Boom). And to sweeten the deal, every purchase of a Crunchy Taco comes with one free Mexican Coke.
The limited-time release, which ends November 1, comes in response to widespread, customer demand online. "Our customers have been very vocal on social media about how much they love and miss our Crunchy Taco, and we've been listening," said El Pollo Loco President Bernard Acoca in a statement, via Global Newswire. 
It's not hard to see why fans are in love with the Crunchy Taco. Topped with El Pollo Loco's famous fresh-off-the-grill chicken, lettuce, smokey Tinga sauce, and jack cheese, the hard-shell taco is everything you could ask for from a taco and more. Plus, there's that free Mexican Coke. What's not to like about this sweet deal? 
The crunchy taco is a limited-time release
The limited-time return of the Crispy Taco also marks the launch of El Pollo Loco's first-ever digital-exclusive menu item. To get their hands on the crispy-shelled taco, fans need to download the El Pollo Loco app and place their orders there. 
The release also coincides with an exciting partnership with Coca-Cola. "It's a fantastic way to mark the occasion because an ice-cold Mexican Coke® is the perfect complement to a delicious El Pollo Loco Crunchy Taco," said Coca-Cola's president of Coca-Cola's West Zone operations and North America operating unit, Pamela Stewart, in a statement (via Global Newswire). 
Purchases of Crispy Tacos also come with a BOGO voucher that can be redeemed (the same day!) for another Crispy Taco. El Pollo Loco is truly spoiling its customers with this offer. Fans shouldn't delay, though. The Crispy Taco deal may be fresh now, but it expires in less than a month!