5-Ingredient Soba Noodle Bowl With Mushrooms And Broccolini Recipe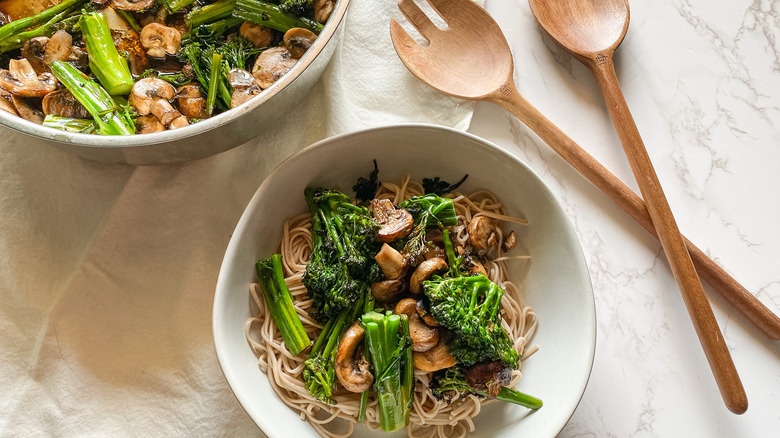 Kristen Carli/Mashed
Off the bat, preparing a soba noodle bowl might sound a bit intimidating. You may be wondering what sauces and spices you'll need and how you can obtain the perfect balance of textures and flavors to make this dish taste just right. Well, don't fret, because as far as flavorings are concerned, you really only need sesame oil and soy sauce. Plus, it's completely possible to whip up this delicious meal using no more than five ingredients. So, it's prime time to try this simple recipe put together by private practice registered dietitian Kristen Carli. 
The meal will take less than 15 minutes to prepare (including the time it takes to cook your noodles), and it creates enough for two servings. This means you can either be generous and share your delicious concoction, or you can store half of your dish in the fridge for leftovers to enjoy during the week. "I love this for an easy weekday lunch," says Carli. "It goes great with edamame."
Gather five ingredients for this soba noodle bowl recipe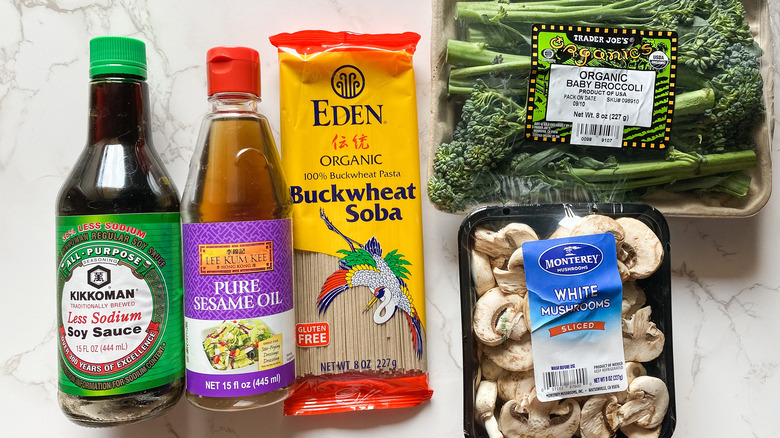 Kristen Carli/Mashed
This five-ingredient recipe is really as simple as it sounds. All you need to gather is soy sauce, sesame oil, buckwheat soba noodles, broccolini, and white mushrooms. Take a few minutes to prep your broccolini by chopping it roughly. And if for some reason you can't locate broccolini at your local grocery store, don't worry about it. "You could absolutely sub broccoli if you can't find broccolini," Carli says. The two veggies are very similar, but Carli chose broccolini for this recipe because of its more mild flavor.
Cook the soba noodles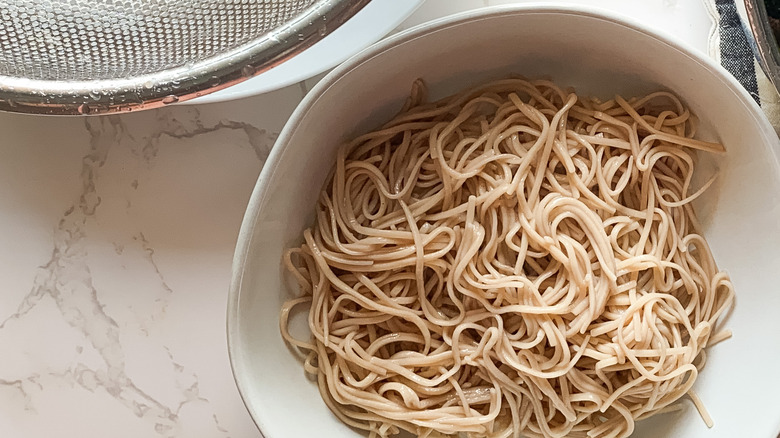 Kristen Carli/Mashed
The first step is to cook your soba noodles. If you're not familiar with this pasta, don't freak out. "The only main difference [between regular noodles and soba noodles] is that soba noodles can be eaten cold or hot," says Carli. "You cook the noodles the same way as you would cook any pasta, but be sure to run them under cold water after draining."
So, bring your pot of water to boil, then add your noodles, stirring well. Cook the 8 ounces of pasta for eight minutes. When they're done, drain and run the noodles under cold water.
Sauté your vegetables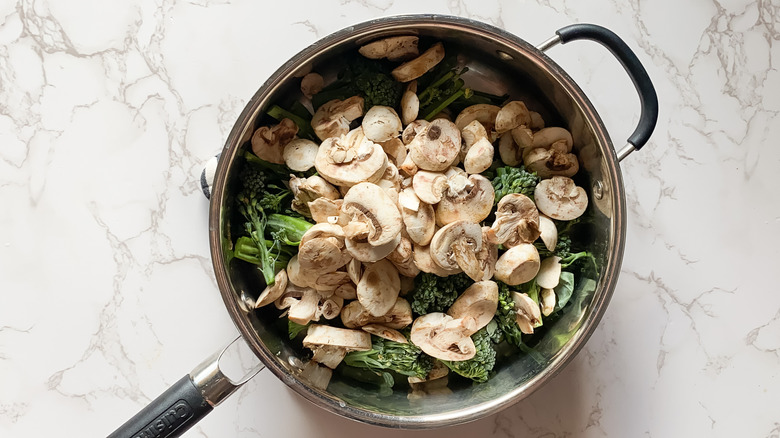 Kristen Carli/Mashed
While your noodles are cooking, you can start stir frying your veggies. Heat a large skillet to medium heat, and add a tablespoon of sesame oil. It's really best not to substitute sesame oil for any other type of oil, as the sesame oil provides a distinct, aromatic Asian-style flavor to the veggies. Add the chopped broccolini and sliced white mushrooms, and sauté for roughly eight minutes. The goal is for the broccolini to turn a bright green and for the mushrooms to darken and shrink as they soften.
Add sauce to the vegetables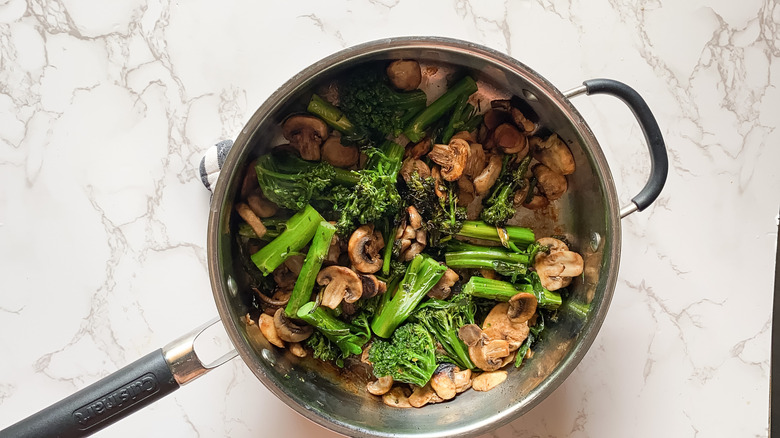 Kristen Carli/Mashed
Once the veggies are almost done cooking, it's time to add the soy sauce to the skillet along with the remaining tablespoon of sesame oil. Toss everything well, and remove the veggies from the heat to keep them from overcooking. There's really no need to add other seasonings like salt, because soy sauce has a distinct, salty flavor of its own. (Get excited, because you're just one step away from enjoying this tasty recipe!)
Assemble the soba noodle bowls, and serve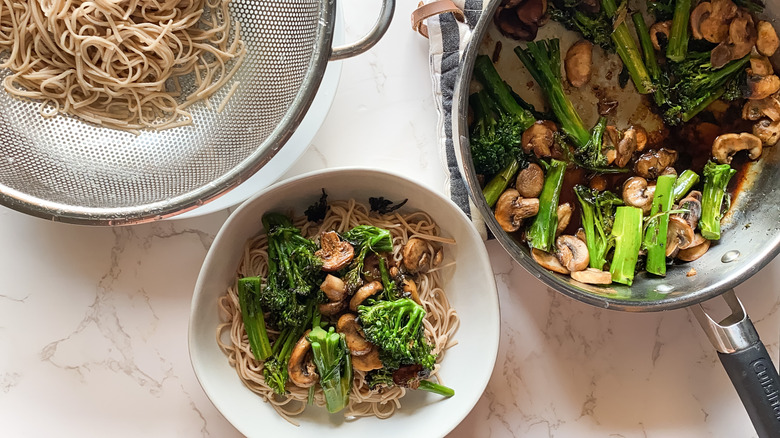 Kristen Carli/Mashed
Just like that, you've got all the ingredients for your soba bowl ready to go. Simply place half the noodles in a bowl, and top with half of the veggie mixture. This combination makes a great light meal all on its own, but if you want to add some "oomph" to the dish, Carli says you should feel free to get creative. "This dish would be great with crispy tofu, chicken, sesame seeds, green onions, and even water chestnuts," she suggests.
5-Ingredient Soba Noodle Bowl With Mushrooms And Broccolini Recipe
This five-ingredient soba noodle bowl with mushrooms and broccolini is so easy to whip up for a tasty weekday lunch.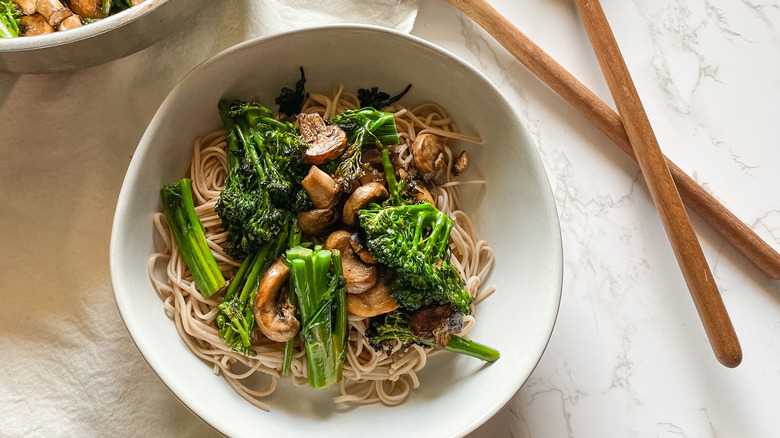 Ingredients
8 ounces buckwheat soba noodles
2 tablespoons sesame oil, divided
8 ounces broccolini, roughly chopped
8 ounces sliced white mushrooms
2 tablespoons soy sauce
Directions
Bring a large pot of water to a boil. Add the soba noodles, and stir well. Cook for 8 minutes. (When the noodles are done, drain, and immediately run cold water over them.)
In a large skillet over medium heat, add 1 tablespoon of sesame oil. Add the chopped broccolini and sliced mushrooms. Sauté for about 8 minutes, until the broccolini is bright green and the mushrooms begin to darken in color and shrink in size.
Add the soy sauce and remaining sesame oil. Stir well.
Assemble by adding soba noodles to serving bowls. Then, top with vegetables.
Serve, and enjoy!
Nutrition
| | |
| --- | --- |
| Calories per Serving | 573 |
| Total Fat | 15.3 g |
| Saturated Fat | 2.2 g |
| Trans Fat | 0.0 |
| Cholesterol | 0.0 mg |
| | |
| --- | --- |
| Total Carbohydrates | 96.6 g |
| Dietary Fiber | 4.2 g |
| Total Sugars | 4.2 g |
| Sodium | 1,820.1 mg |
| Protein | 24.3 g |