The Worst Outback Steakhouse Side Dish According To 38% Of People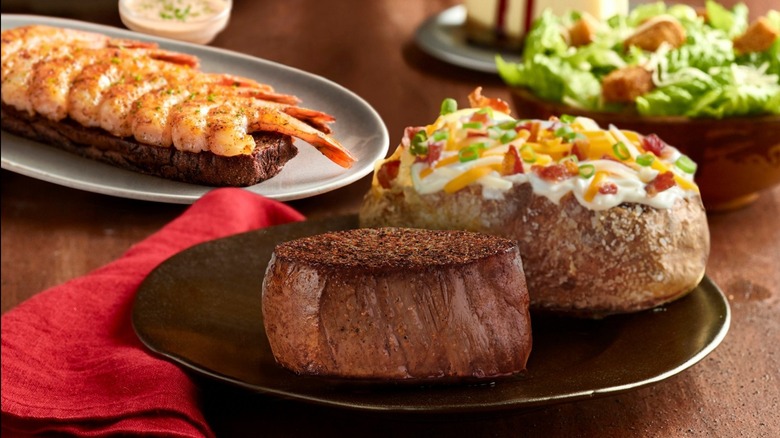 Facebook
Outback Steakhouse is the perfect spot to hop into when you're craving to feast on delicious food with your friends and family members in a vibrant environment that's guaranteed to lift your spirits. According to the chain's fact sheet, and average location sits at around 6,000 square feet and can easily serve 200 guests at a time. And of course, the brand succeeds in some ways because it has a few trade secrets up its sleeve. For example, Outback's secret spice blend is no joke: it has 17 varying spices. Beat that!
Plus, the menu is vast enough to please most customers, with options including salads, burgers, steaks, desserts, and more. There are plenty of side dishes options as well. Pair your entree or sandwich with potatoes prepared multiple ways, various kinds of veggies, or even a soup or salad. Delicious! Wondering what customers think about these dishes? We figured that we'd get some answers through a survey.
The creamed spinach could do a better job
The Mashed survey roped in 642 participants from different parts of the country. A majority of the participants (38.63%) don't think highly of the creamed spinach from Outback Steakhouse. Meanwhile, other options that made it to the survey were seasoned rice (29.13%), steakhouse mac & cheese (8.88%), Aussie fries (6.85%), and the loaded mashed potatoes (6.23%). There was a tie between the dressed baked potato dish and homestyle mashed potatoes (5.14%).
While creamed spinach has a lot of potential as a healthy option, it somehow doesn't seem to impress diners at Outback Steakhouse. Someone who tried the dish criticized it on TripAdvisor, writing that "the creamed Spinach had so much Garlic that my wife would have slept in another room if she could have and I wouldn't have blamed her!" Uh-oh. Another diner pointed out on Yelp that while they were willing to say it was "ok," that the problem with the creamed spinach was that it tasted a bit too "artificial."