New Pic Of Padma Lakshmi And Jesse Tyler Ferguson Relaxing 'Together' Has Instagram Jealous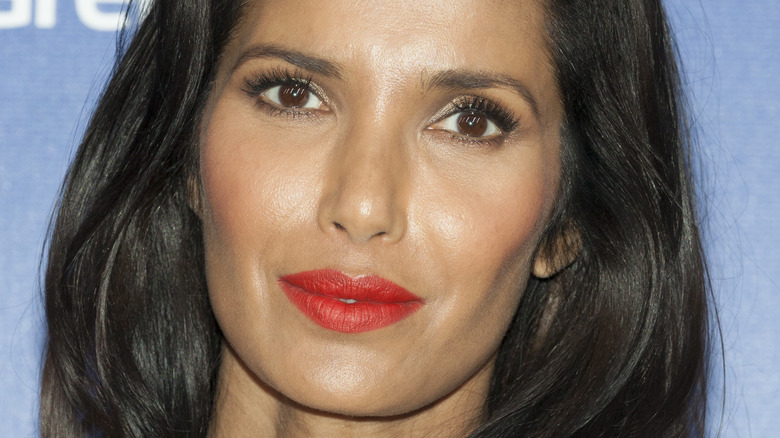 lev radin/Shutterstock
Have you ever dreamed of which celebrities you would most want to be friends with? Can you picture yourself lounging on a pool float, sipping tequila sodas, and laughing the day away? Well, prepare to be jealous because here is a pairing you would likely not have pictured together at your pool party. Padma Lakshmi is best known for her role hosting "Top Chef," as well as her jewelry, perfume, and kitchenware lines (via Biography).
On the flipside, Jesse Tyler Ferguson is best known for his role on "Modern Family," so his celeb status and connections likely run deep. But while he's recently written a cookbook, "Food Between Friends," it's not quite clear whether his dishes are "Top Chef" level just yet. He is, however, a recent friend of Julie Tanous, a recipe developer with who he struck up a random friendship at a party when they bonded over a love of food. And if it could happen between them, it could definitely happen with another food fan favorite — like Padma Lakshmi.
Long-distance tub time
Jesse Tyler Ferguson spoke with US Food to note his friendship with Padma Lakshmi is actually fairly deep. The celeb has even gone so far as to have Lakshmi stay at his house and do a wardrobe fitting in his kitchen, as he enjoyed peanut butter and jelly sandwiches. So how deep does this friendship go? It's not quite a pool but the two recently posted a hilarious Instagram photo of them sharing an intimate moment in their respective bathtubs. 
Padma Lakshmi's tub seems filled with a bath bomb and flower petals while Ferguson went for a full-on bubble bath. Lakshmi captioned it: "When your friend wants to have a quiet moment together but they're across the country..." and noted it was a relaxing moment "#postwomensmarch." And fans ate it up. One fan seemed to note the two celebs appeared to have similar copper bathtubs: "But what I really find remarkable is...MATCHING BATHTUBS??" While many marveled over how adorable the friend date was, others were supremely jealous not to have been invited. Still, others commented, "A beautiful friendship." Who else needs a friend like this?