This Is Indiana's Official Food, According To Reddit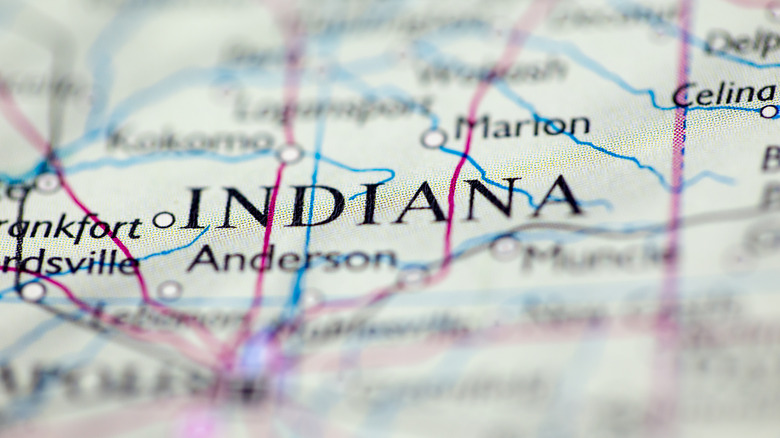 jefferyhamstock/Shutterstock
When you think about unofficial state foods, there are some obvious ones that come to mind. Louisiana has its rich gumbo, Ohio has Cincinnati chili (yes, with hints of chocolate and served over spaghetti), and Kentucky has the Welsh rarebit-inspired Hot Brown. But what about the other 47 states? Well, if you're curious about what foods represent all the states, where else would you go but reliable, ol' Reddit? That's where Reddit user u/Emilou09 asked for recipes from every U.S. state, so the finished creations could be posted on Instagram. She asked the trusty and always-ready Redditors what food best represented their states, and the 2019 thread received over 24,000 comments. Folks certainly don't mess around when it comes to regional food.
In true Redditor fashion, there was some hemming and hawing and a bit of arguing about what food was considered the best, but Food & Wine was able to boil down the answers into a final winner's list complete with runner-ups. Huzzah! We're here to focus on one state's opinions, though, the Hoosier state of Indiana (or "Hoosher" as it was originally spelled per the Indiana Historical Bureau).
The breaded pork tenderloin sandwich
Never had a breaded pork tenderloin sammy? It's a center-cut pork loin pounded thin, dredged in eggs, milk, and seasoned flour blended with Ritz or saltine crackers (depending on who you ask). The patty is deep-fried to a golden, juicy brown and plopped on a bun that's ridiculously way too small. This bun-to-meat ratio is an important detail according to several Redditors. "A simple breaded tenderloin isn't enough. That thing has to be twice as big as the plate the sandwich is on," one wrote. Another declared, "the tenderloin needs to be super thin and nearly the size of your head." As far as fixin's go, crunchy dill pickles chips and tangy yellow mustard are essential toppers.
According to the Visit Indiana blog, the original tenderloin sandwich can be traced back to 1908 and Nick's Kitchen in Huntington. Inspired by the wiener schnitzel, Nick deep-fried the patty instead of pan frying it like a traditional schnitzel. Jean Anne Bailey, the restaurant's current owner, has improved upon the original over the years. She shares what she calls "the key" to getting the most delicious tenderloin flavor. After tenderizing the meat through a cuber, it's marinated in a "buttermilk and egg and flour mixture for more than a day" (via wfyi.org). Once you finish your breaded pork tenderloin at Nick's, don't forget to order the sugar cream pie, Indiana's official runner-up (per Food & Wine).