Subway Is Bringing Back This Popular Fall Cookie Flavor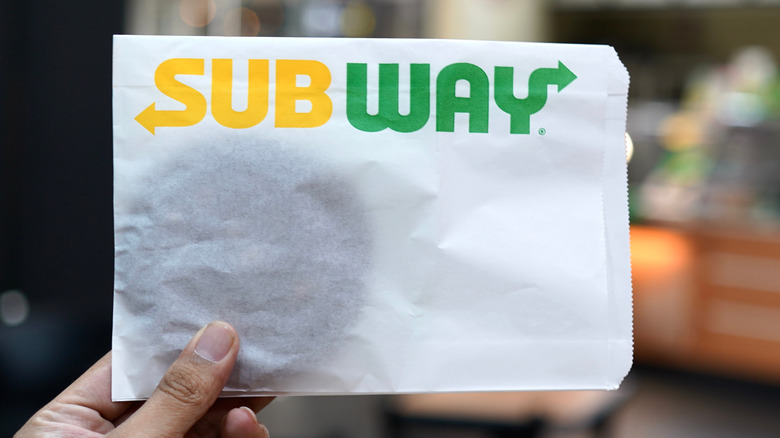 Prachana Thong-on/Shutterstock
While most people know Subway for the savory menu items — like the infamous $5 footlongs — the chain's sweeter offerings have a loyal legion of fans who return time and time again for the soft, freshly baked cookies.
While some classic cookie varieties, like chocolate chip and white chip macadamia nut, are permanent fixtures on Subway's menu, the chain has also offered a variety of limited-time seasonal cookies over the years, including Pumpkin Spice and Apple Pie (via Foodbeast).
Now, the fast-casual juggernaut is bringing back a beloved fall cookie flavor sure to excite apple pie aficionados. In a press release, the country's largest sandwich chain announced the return of the limited-time Caramel Apple Cookie.
The "fan-favorite" caramel-topped cookie "features chunks of apples blended in a buttery dough mixed with caramel chips and salted caramel crunch, topped with caramel icing drizzle." The sweet treat, which Subway advertises as "the ultimate fall dessert ready to indulge any sweet tooth," first appeared on menus in 2019 and quickly gained a large online fanbase.
These cookies have a fair share of fans
Across social media, Subway customers have shared their love for the fall-friendly Caramel Apple Cookie. Fans have taken to Twitter to praise the baked goods. "Yo Subway those caramel apple cookies are next level," wrote @JAK3Y231. "That caramel apple cookie from subway is next level flavor," tweeted @funkyaphrodite. "Caramel Apple cookies at Subway are actually incredible. One of the best deserts in fast food right now, but don't take my word for it," described @clvanderbeek.
One user went as far to say the seasonal cookie outshined the rest of the chain's sweet options. "Subway's new caramel apple is the best cookie they have had omg amazing," tweeted @dianal887.
Subway customers have also taken to Reddit and YouTube to share glowing reviews of the cookie. "The caramel apple cookies ... were addictively good," one Redditor shared. Meanwhile, in a video review of the cookie, one YouTuber raved, "This is so dang good. Subway ... don't make this limited edition. Just keep this here. This is the type of cookie that you want to enjoy after everything."
Now, for the first time since 2019, customers will have another chance to try the craveable Caramel Apple Cookies at Subway locations nationwide, but for a limited time only.