Twitter Has Some Big Problems With Brooklyn Beckham's English Breakfast Sandwich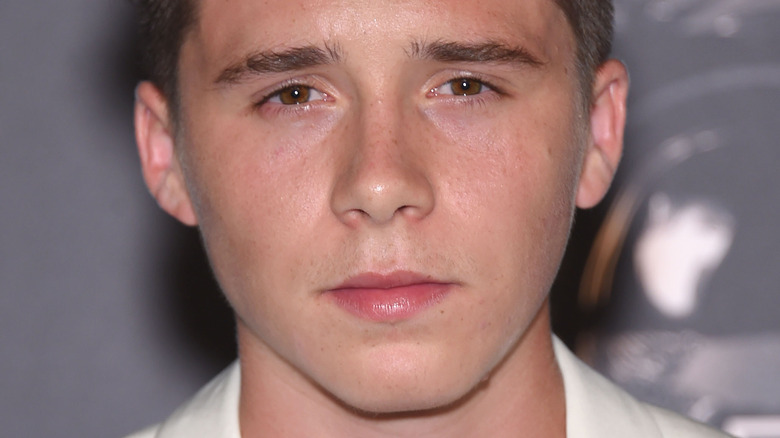 DFree/Shutterstock
When you want to seriously start your day, you can't go wrong with a full English breakfast. This hearty meal typically consists of ham, sausage, baked beans, fried potatoes, eggs, mushrooms, black pudding, tomatoes, and toast. Many folks don't have the time to indulge in this luxurious feast every day and have to settle for a quicker bite. Some resourceful chefs have found a way to transform this iconic array of foods into a breakfast sandwich and suggest piling black pudding, eggs, a tomato slice, mushroom, and cheese onto a toasted English muffin, per katie at the kitchen door.
Many chefs have their preferred ways to cook up this morning libation and the proper preparation techniques can easily start fights. The social media celebrity Brooklyn Beckham recently appeared on the "Today" show and demonstrated to American audiences how to make the sandwich version of an English breakfast, but ended up offending a ton of foodies in the process. A tweet from the morning show featured a clip of Beckham piling sausage, bacon, scrambled eggs, and ketchup on top of untoasted white bread.
The proper way to make an English breakfast sandwich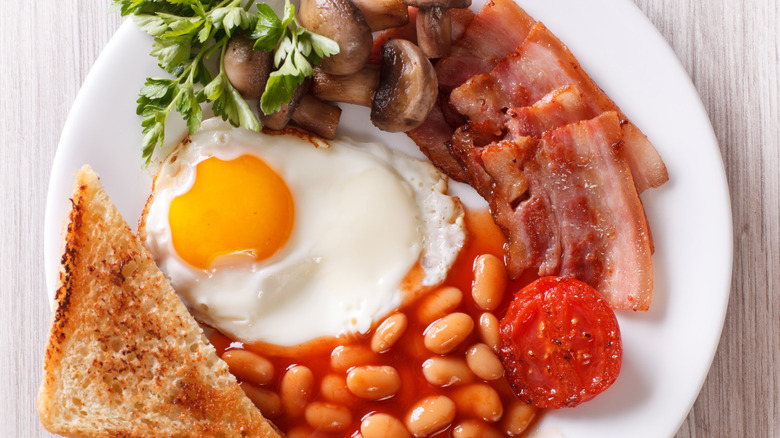 AS Food studio/Shutterstock
Viewers had a ton of issues with the sandwich and replies to the tweet ranged from "First of all, NO BUTTER ON THE BREAD. Bread should be thick toastie bread & the egg yolk should definitely be runny & you don't have to have famous parents to know how to cook a bacon, sausage & egg sarnie!" and "WTH ? Sorry but It's not a proper English unless it has runny egg with bacon / sausage / black pudding / mushroom / tomatoes & HP Sauce (not ketchup)." The criticism didn't stop there. A different Twitter user laid into Beckham, tweeting, "The most basic b**** sandwich ever made. Seriously, this was pathetic, and the reactions were ridiculous. This show has gone so far downhill."
Others disagreed with the haters, with one reply reading, "As a Brit... yes, the egg should have been runny, so that it dribbles over your fingers. no, the bread should absolutely not be toasted. Chewy bacon too, not that crispy nonsense. Ketchup is fine, brown sauce would be better." If you have strong feelings about how this sandwich should get prepared and haven't checked out the clip yet, make sure to observe Beckham's breakfast techniques and see which side of the debate you fall on.