Praline Sweet Potatoes Recipe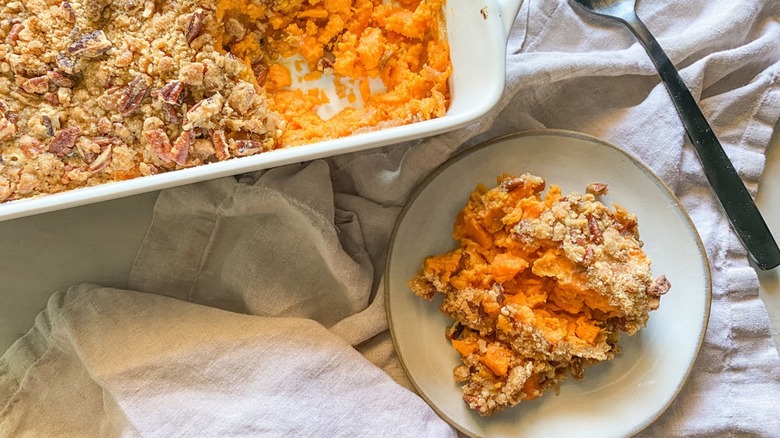 Kristen Carli/Mashed
Did you know that sweet potatoes are packed with nutrients? These vibrant orange veggies have plenty of vitamins and minerals to make you feel good about what you're putting in your body. Believe it or not, they are also a great source of fiber, and they can even help with gut health. And when you pair sweet potatoes with the smooth flavor of pralines, then you have yourself on an excellent side dish for family dinners, holidays, or any other special occasion.
Recipe developer Kristen Carli came up with this spectacular recipe that hits the spot, especially if you are a lover of sweet potatoes. "This is a delicious side to serve at holiday gatherings," Carli says. "It is a sweet dish with a crunchy praline topping."  
We can think of plenty of reasons why this dish is one of the best, so instead of going on and on about it, we'll just get down to business. Keep scrolling to find out how to make this tasty side.
Gather the ingredients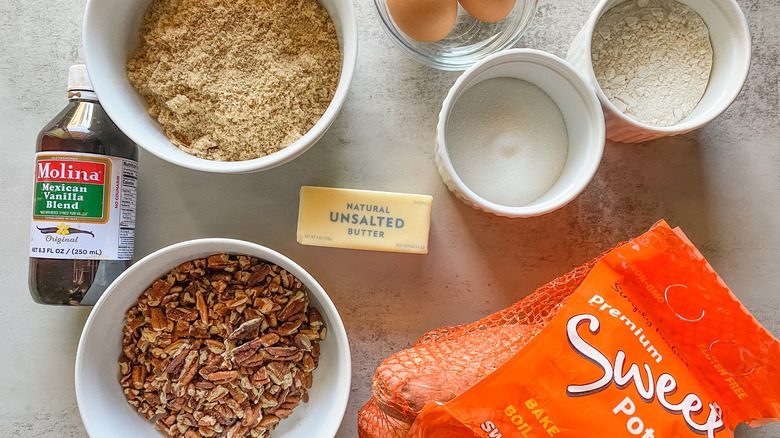 Kristen Carli/Mashed
Before you do anything else, you will need to take a trip to the grocery store to get all of the necessary ingredients for this recipe. Be sure to check your cupboards to see what you have at home already and what you need to get at the store. For starters, you will need a few pounds of sweet potatoes. You will also need a little bit of unsalted butter. In addition, grab some sugar and eggs.
Get some vanilla extract, chopped pecans, and brown sugar to add a little bit of crunch and sweetness to the dish. The last item you need to purchase is flour.
Preheat the oven and boil the water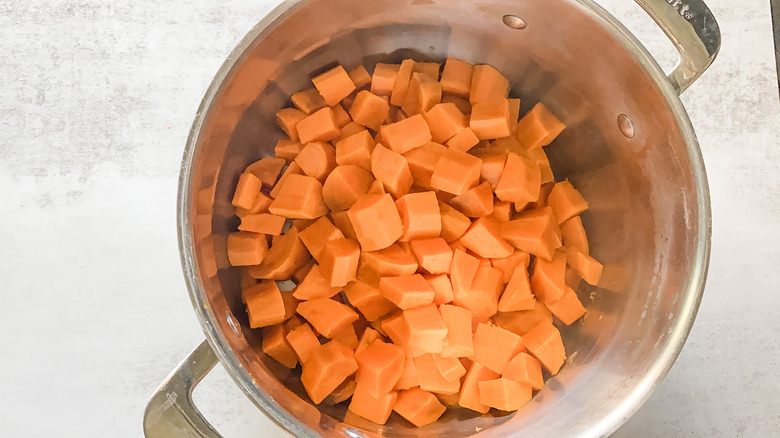 Kristen Carli/Mashed
Now that you have all of your ingredients out in front of you, let's get to it. Start things off by taking a stroll over to your oven and turning the dial to 350 F. This is an essential step because it helps speed things along so the oven is ready to use when you need it.
Next, take out a large pot and fill it with water. Put the pot on your stove, turn up the heat, and wait for the water to boil. Once you see bubbles hit the top of the surface, throw in the sweet potatoes. Just a reminder that you should have peeled and chopped them ahead of time. "When cubing the potatoes, just aim to have them roughly the same size so that they will cook evenly. Don't worry too much, as they eventually get mashed," Carli notes.
Then, set your timer for 15 minutes and cook until they're tender.
Drain the potatoes and prep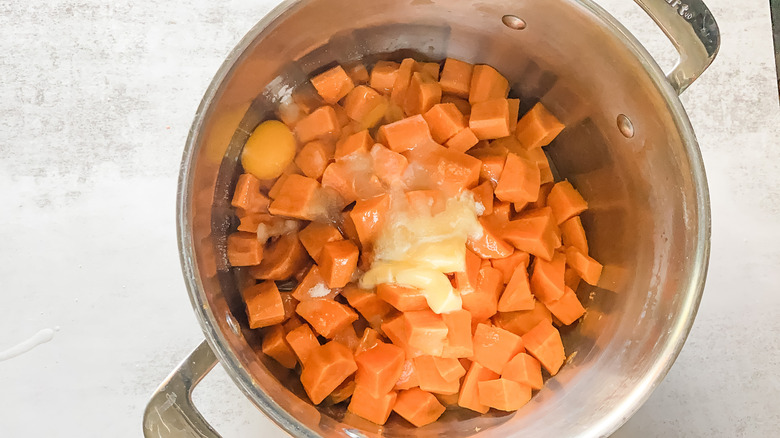 Kristen Carli/Mashed
When you finish boiling the sweet potatoes, take out a colander and place it in your sink. Pour in the potatoes and allow the water to drain out. Once you've gotten rid of the water, dump the potatoes back into the same pot. Be careful because it should still be pretty hot. Now, add a stick of unsalted butter. At this time, you can also toss in the sugar, eggs, and vanilla extract.
Use a potato masher, and mash the potatoes and the other ingredients to combine.
Spray the baking dish and add the sweet potatoes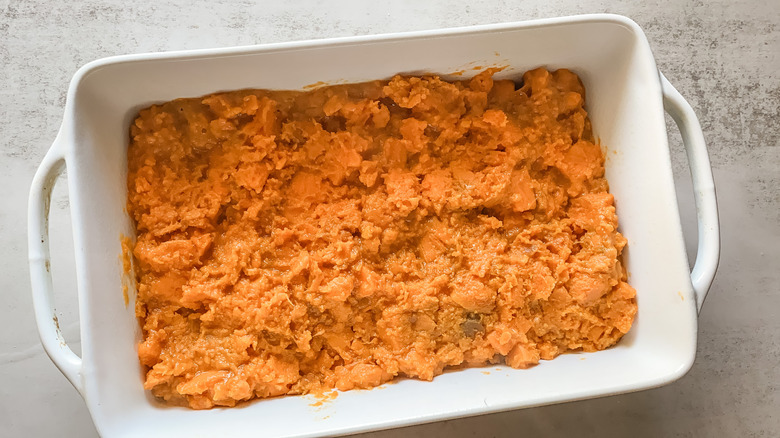 Kristen Carli/Mashed
Now, it's time to prep the dish for the oven. Grab a nine-by-13-inch baking dish and spray it with non-stick cooking spray or rub it with butter. This will prevent anything from sticking to the bottom. Trust us, you don't want to waste any of these yummy sweet potatoes. Plus, when food sticks to the pan, it also results in a mess. 
Next, pour the sweet potato mixture into the baking dish and spread it evenly. You can use a spatula or the back of a spoon to smooth it out. This ensures that it will cook evenly.
Make the topping and bake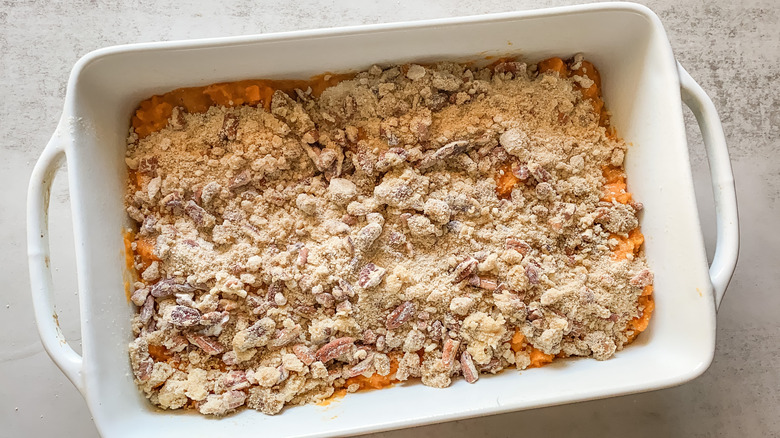 Kristen Carli/Mashed
We're rounding the corner of third and heading into the home stretch! Next, take out a medium bowl and dump in the rest of the butter first. Butter makes everything taste better, and it also serves as somewhat of a glue for the remaining items you need to add in.
Then, toss in the pecans, brown sugar, and flour to the same bowl that you added the butter. Give everything a few good stirs to combine it well. Sprinkle the topping on the potatoes, and then stick the dish into the oven.
Bake and enjoy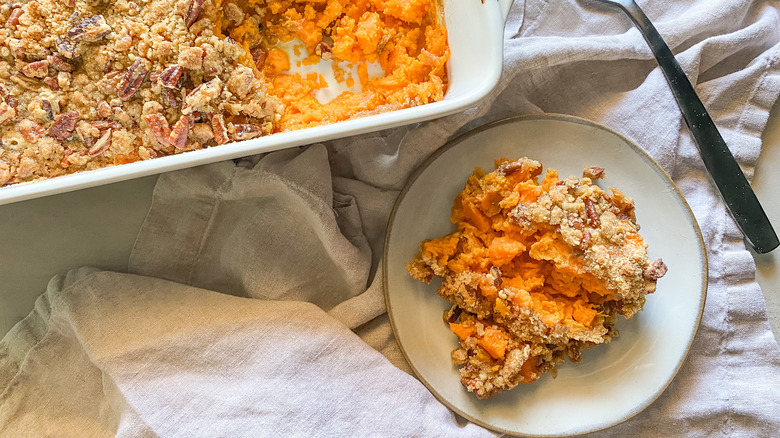 Kristen Carli/Mashed
Now, set your timer for 50 minutes. Once it goes off, that means your masterpiece is finally done. Grab your oven mitts, and take your praline sweet potatoes out of the oven. Feel free to scoop and serve on a plate or in a bowl — it just depends on your preference. 
As far as serving suggestions go, there are plenty! "I love this with turkey, gravy, homemade rolls, and green bean casserole," Carli shares. If you have a big crowd over, we don't think you will have leftovers, but if you do, Carli has got you covered. "Leftovers store best in an airtight container in the fridge for up to three days," she shares. Now, dig in! 
Praline Sweet Potatoes Recipe
Recipe developer Kristen Carli came up with this spectacular recipe that hits the spot, especially if you are a lover of sweet potatoes.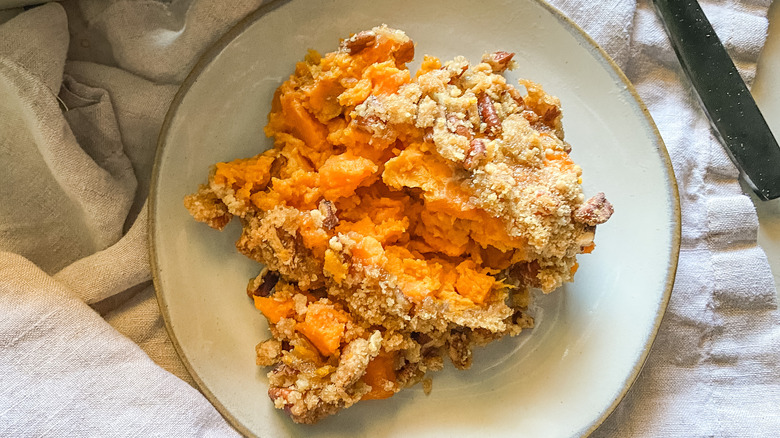 Ingredients
3 pounds sweet potatoes, peeled and cubed
1 ½ stick unsalted butter, melted, divided
½ cup sugar
2 eggs
1 teaspoon vanilla extract
1 cup chopped pecans
¾ cup brown sugar
½ cup flour
Directions
Preheat oven to 350 F. Bring a large pot of water to a boil. Add sweet potatoes and cook for 15 minutes until tender.
Drain and pour potatoes back into pot. Add 1 stick unsalted butter, sugar, eggs, and vanilla extract. Using a potato masher, mash to combine.
Spray a 9x13-inch baking dish with non-stick cooking spray. Pour sweet potato mixture into baking dish and spread evenly.
In a medium bowl, add remaining butter, pecans, brown sugar, and flour. Stir to combine.
Sprinkle mixture on top of sweet potatoes.
Bake for 50 minutes.
Let cool, serve, and enjoy.
Nutrition
| | |
| --- | --- |
| Calories per Serving | 430 |
| Total Fat | 22.5 g |
| Saturated Fat | 9.7 g |
| Trans Fat | 0.6 g |
| Cholesterol | 68.4 mg |
| | |
| --- | --- |
| Total Carbohydrates | 54.4 g |
| Dietary Fiber | 5.3 g |
| Total Sugars | 26.8 g |
| Sodium | 92.2 mg |
| Protein | 5.0 g |