No Board For Charcuterie? Try This DIY Instead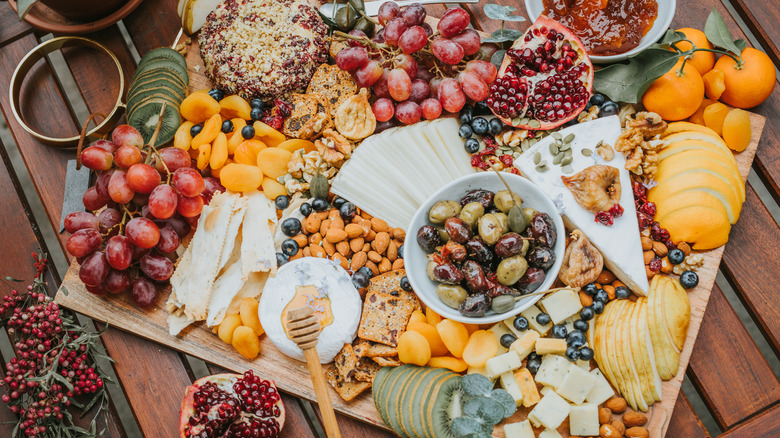 hkalkan/Shutterstock
There's a reason that so many people love to whip together a charcuterie board for gatherings, whether it's just a few friends coming over or whether you're hosting a whole bash — they're easy to assemble and they can be endlessly customized. You can select whatever meats, cheeses, and extras like dried fruits, candied nuts, vegetables, pickles and more, you place on the board. Not to mention, they're perfect for any budget — if you want to splurge, you can select some higher-end meats and cheeses from a specialty store, while those on a budget can create a tasty board with grocery store items.
However, if you're new to the charcuterie board game, you may find yourself without one of the key elements needed — the board itself. Sure, you can pick up the edible items that you'll be serving up from a variety of different sources, but what happens when you either can't find a board anywhere, or simply don't want to spend even more money on an item that you think will only have one use? Well, you're in luck because there's an easy DIY hack. Our Southern Home details the whole board-making process, and all you need is some removable adhesive shelf liner and a board of your choice. Basically, you just cover the board with the adhesive liner, creating an appealing surface to arrange all your bites.
A few other DIY options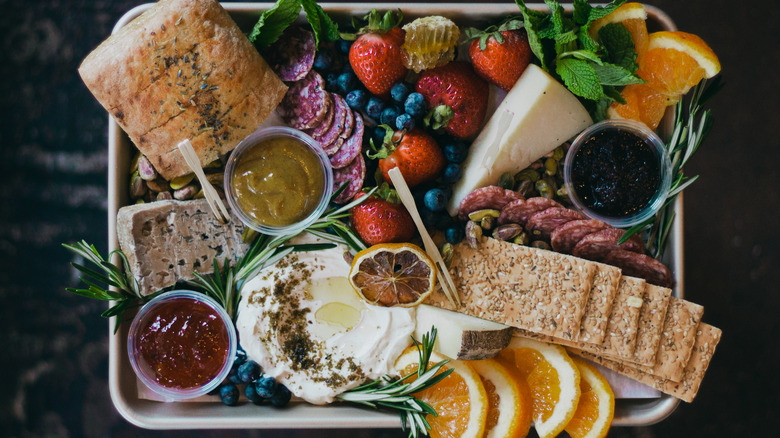 Kari Redman/Shutterstock
The approach of covering a board with adhesive shelf liner is great for many reasons — it's a cost-effective solution that allows you to get a large board for a fraction of the cost, and you can create something that's exactly the size you need (via Our Southern Home). However, if that's not your style, there are a few other options as well. First of all, you don't need a board that's used solely for charcuterie. As Eat Cured Meat writes, you could just use a rectangular plate. 
Or, as Well+Good suggests, you can repurpose items already in your kitchen, and craft your cheddar cheese spread atop a cutting board, sheet pan, or lazy susan. If you really don't have anything that fits the bill, or you want to create a large charcuterie board that is far bigger than any tray or platter you own, there's another very simple DIY solution — simply take a piece of butcher paper or parchment paper and lay it out on your kitchen counter or island (via Tastes Better From Scratch). With so many options available, all you need to know is how to avoid any common charcuterie board mistakes, and success is pretty much guaranteed — after all, how can you go wrong with meat and cheese?