Amanda Freitag Won't Touch This Chopped Ingredient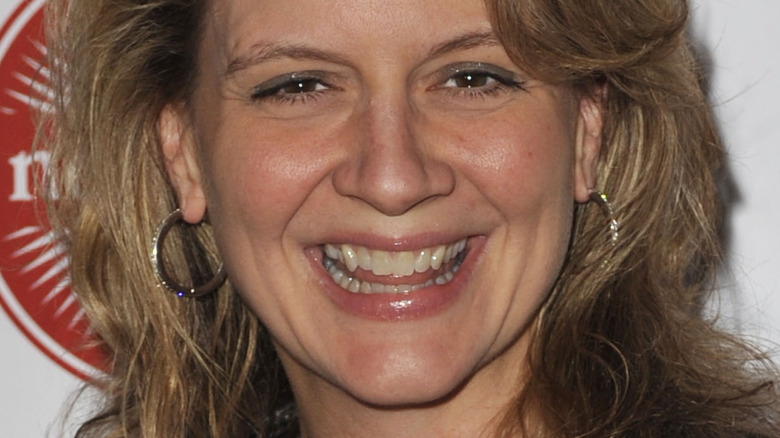 Rob Loud/Getty Images
Amanda Freitag may be a judge on the food competition show "Chopped," eating dishes prepared with odd ingredients that would give most of us pause at the thought of eating, but Freitag is also super relatable. She was brutally honest when she admitted in an interview with Food Republic that she does not enjoy cooking at home after cooking in a restaurant, but tries to be super organized to make the process a little easier to digest. 
The cookbook author was also quick to spill the tea about her sugary sweet kryptonite. Freitag told the blogger Restaurant Girl that, while she rarely indulges in junk food, she is a fan of pizza and chocolate chip cookies. Freitag said, "I really love pizza of any kind at all hours of the day. I have a weakness for chocolate chip cookies that I will never grow out of!!" Like we said, it's easy to feel an affinity for Freitag and her food philosophy. 
And, while it's easy to love pizza and chocolate chip cookies, we can also get on board with the one "Chopped" ingredient Freitag says she won't touch, and for good reason. This weird food is covered with sharp prickly spines, and if we are judging a food by its outside — which we are — this one looks kind of scary.  
Amanda Freitag dislikes sea urchin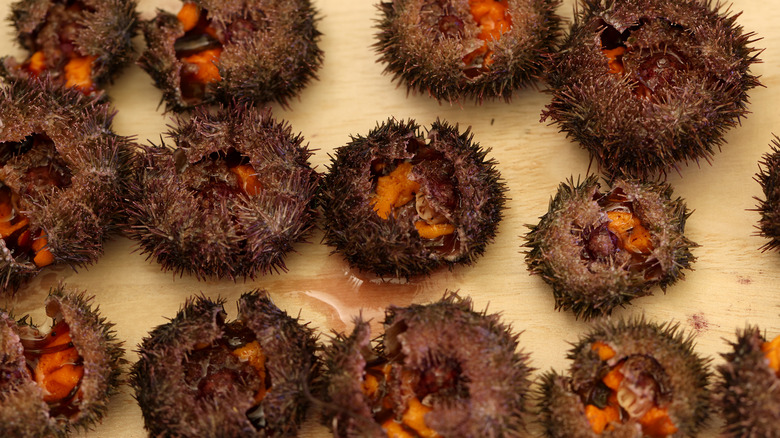 Buddhika Weerasinghe/Getty Images
Amanda Freitag told Food Network that the one "Chopped" ingredient she won't touch comes from the sea. When asked about the ingredient she would most likely shun when whipping up a meal, Freitag shared, "I would have to say sea urchin. Unlike many other chefs, I am not a fan. I am not skilled at cleaning it or cooking it." The celebrity chef really does have some strong feelings about the sea urchin. While this rich, briny ingredient helped Alex Guarnaschelli win her title as the "Next Iron Chef" during season 5 of the series, the Los Angeles Times shared that Freitag appeared to "recoil, wide-eyed and wide-mouthed" when Guarnaschelli was given sea urchin to incorporate into her "last supper" challenge. 
We get it. The spiny spikes of this creature look scary, and the blog Our Every Day Life notes that sea urchin can be challenging to turn into a culinary delight. However, they also share that, if you do learn how to prepare these strange-looking sea creatures, the taste will make it all worth it. This philosophy seemed to work for the season 40 winner of "Chopped," Volare Ristorante Executive Chef Josh Moore. Moore had sea urchin in his dessert basket and turned it into ice cream. Moore told Food & Dining, "It was a big hit. I think sea urchin is one of Amanda Freitag's least favorite ingredients. And she loved it."