Air Fryer Meatloaf Recipe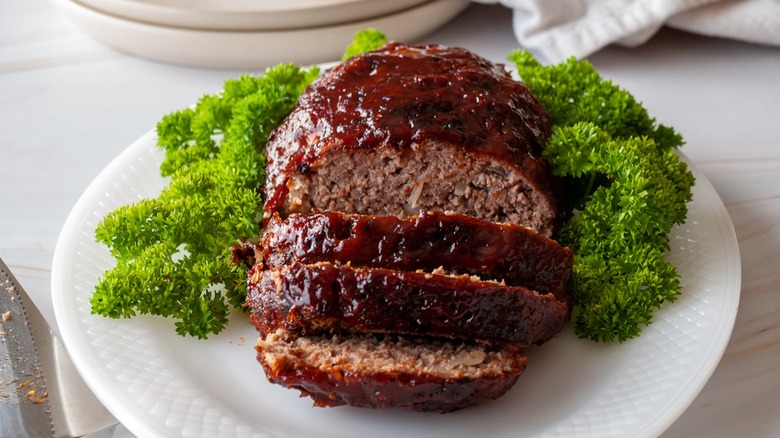 Laura Sampson/Mashed
There are some dishes that you find yourself coming back to year after year, time after time. Maybe it's a unique recipe you just can't get enough of, or maybe it's something you've eaten since childhood that you now make for your own family (or maybe just yourself). Meatloaf is one of those foods that fall into the latter category. It's hearty, comforting, and supremely nostalgic.
However, making meatloaf can feel like a bit of a hassle at times, especially on days you don't want to wait for the oven to preheat — or even turn the oven on at all. Thankfully, modern technology has brought us the air fryer. Recipe developer Laura Sampson has brought us a recipe for meatloaf that is a snap to make, all thanks to this convenient kitchen gadget.
"Air fryers cook so much faster than a conventional oven, you can have old-fashioned meatloaf on the table in LESS than 45 minutes," Sampson says. "Also, it doesn't heat up your house as much as a big oven." So, what are you waiting for? Here's how to make the air fryer update on classic meatloaf.
Gather your meatloaf ingredients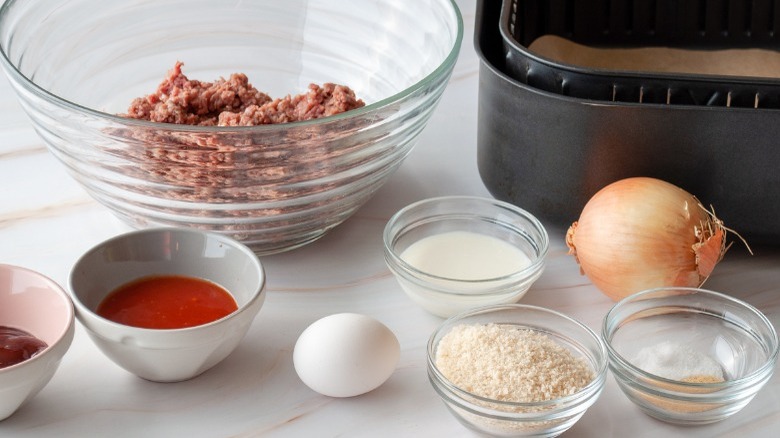 Laura Sampson/Mashed
This recipe is relatively straightforward, which makes it even more important to make sure you have everything you need to make it assembled and ready to go. That's a handy chef's trick known as mise en place, by the way, which will serve you well both here and in just about any other recipe you encounter.
First, you'll need ground beef. "I prefer 85/15 because the air fryer circulates air and really lean beef has a tendency to dry out," Sampson notes. Not a fan of all-beef meatloaf? No problem, as this meatloaf recipe handles substitutions fairly well. "If you prefer other ground meats you can sub them for up to half the beef in this recipe," Sampson says.
You'll also need one egg, some chopped onion, milk, ketchup, garlic powder, barbecue sauce, panko breadcrumbs, and salt. Looking to feed a crowd? This recipe has got you covered there, too. "You can double this recipe and make two loaves at the SAME time," Sampson says of this versatile recipe.
Assemble your loaf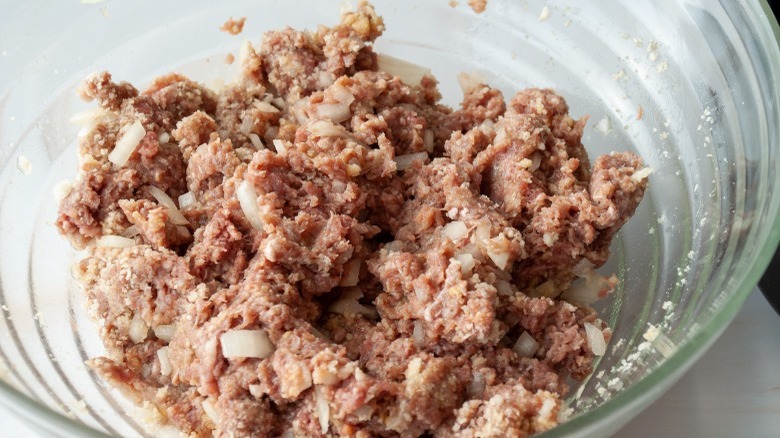 Laura Sampson/Mashed
Ground beef is just ground beef on its own, but with just a few add-ins, it can soon become some seriously delicious meatloaf. Make this magic happen by first putting your ground beef in a bowl and adding the garlic powder, breadcrumbs, milk, salt, onion, and egg on top. Mix everything up until it's relatively uniform. However, stop once everything's just incorporated, as you don't want to overmix and turn everything into an unpleasantly tough loaf.
After you do this, preheat your air fryer to 350 F for 5 minutes. You may also line it with parchment paper if you're nervous about the meatloaf sticking to the inside.
Get it in the air fryer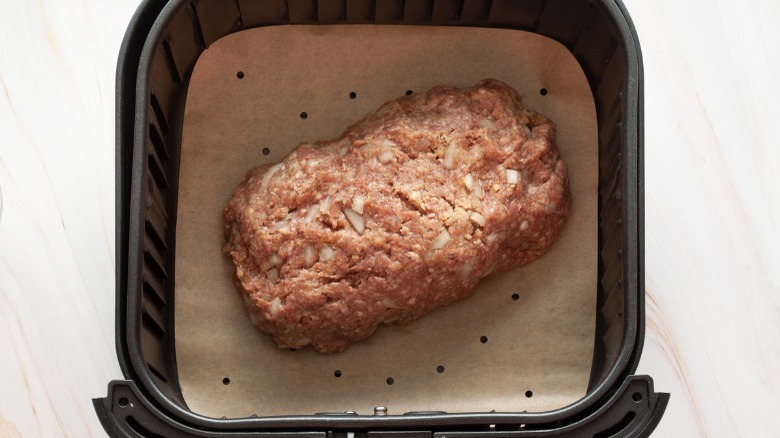 Laura Sampson/Mashed
Now, take your meat mixture and form it into that classic loaf shape, making sure that the size of the loaf you're forming fits in your air fryer. Put it in the fryer basket and spritz it with a little vegetable oil or another oil of your choice. Cook for 25 to 30 minutes at 350 F.
If you have an air fryer that only cooks at one set temperature, you may need to modify the cooking process a bit. For example, if your air fryer only cooks at 425 F, Sampson recommends doing something like making four smaller meatloaves. That's because "the outside would probably burn while the inside was raw" if you cooked one full-size loaf at that high of a temperature.
Add the glaze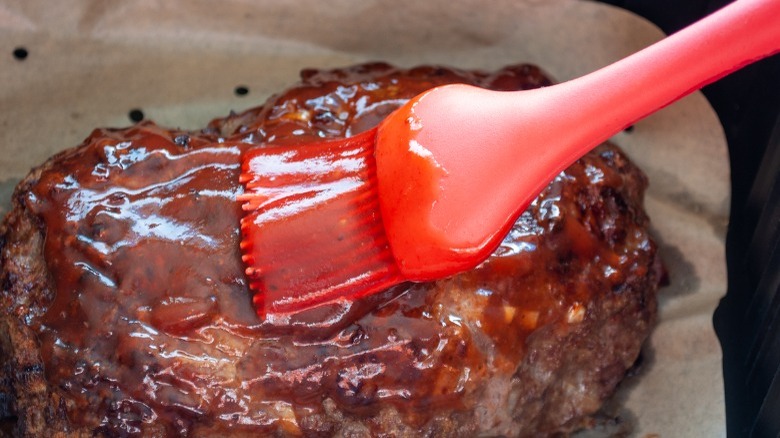 Laura Sampson/Mashed
While the air fryer is cooking, mix together the ketchup and the barbecue sauce to make a savory glaze. Yes, that's really all you need to do, other than grabbing a basting or pastry brush for applying the mixture.
After your meatloaf is sufficiently air-fried (specifically, a meat thermometer inserted into the loaf should read 160 F), take it out briefly and brush the top of the loaf with the glaze. Put the meatloaf back in the air fryer and cook for another 5 minutes to finish cooking and set the glaze, allowing it to even get a little crispy around the edges. Then, take the meatloaf out and let it rest for a further 5 minutes.
It's dinner time!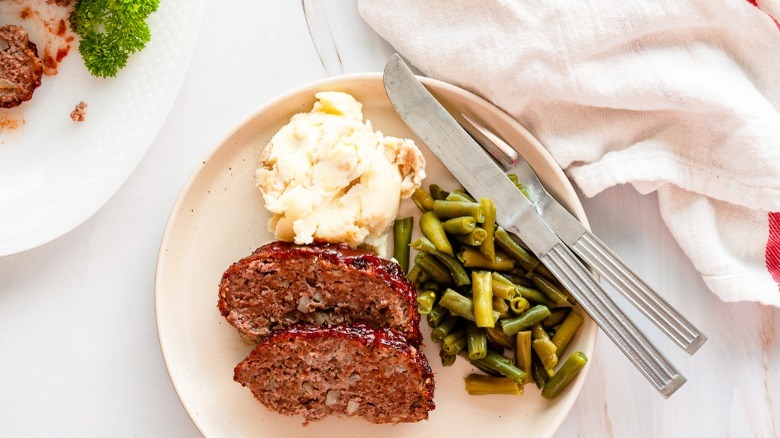 Laura Sampson/Mashed
Once your meatloaf is good and rested, the wait is finally over and you can dig in. Slice it up and enjoy! If you're looking for any help when it comes to selecting a complementary side for this main course, Sampson suggests serving this air fryer meatloaf with "mashed potatoes or twice baked potatoes, and any vegetables [you] have on hand."
If there's any left over after the meal, standard leftovers protocol works just fine here. "Leftover meatloaf keeps best in an air-tight container in the refrigerator for 2-3 days, " says Sampson. "You can freeze slices as well, just pop them back in the air fryer to thaw and reheat."
Now, we must admit that eating leftovers can feel mundane at times, especially if you're eating the same thing over and over. So, making your leftovers into something new is a great way to spice things up. Sampson's tip for this particular recipe? Grab some bread. "This meatloaf makes AMAZING sandwiches the next day," she says.
Air Fryer Meatloaf Recipe
Thankfully, modern technology has brought us the air fryer. This recipe for classic meatloaf is a snap to make, all thanks to this convenient kitchen gadget.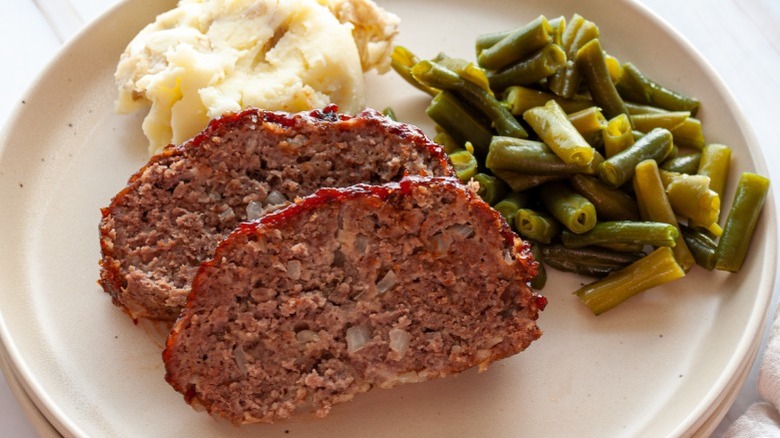 Ingredients
1 pound ground beef
½ cup chopped onion
1 egg
½ cup panko bread crumbs
2 tablespoons milk
1 teaspoon salt
½ teaspoon garlic powder
¼ cup barbecue sauce
¼ cup ketchup
Directions
Preheat the air fryer for 5 minutes at 350 F.
Mix the beef, onion, egg, bread crumbs, milk, salt, and garlic powder together just until thoroughly mixed through. Optionally, line your air fryer with parchment paper.
When the air fryer is heated, form the beef mixture into a loaf and lay in the tray of the air fryer, spritzing lightly with oil.
Cook for 25-30 minutes or until a meat thermometer reads 160 F.
Mix the barbecue sauce and ketchup together. Brush over the entire meatloaf.
Cook again for 5 more minutes until the glaze is cooked and starting to get a little crispy in places.
Move the meatloaf to a serving platter, let it rest 5 minutes, then slice and serve.
Nutrition
| | |
| --- | --- |
| Calories per Serving | 389 |
| Total Fat | 24.3 g |
| Saturated Fat | 9.1 g |
| Trans Fat | 1.3 g |
| Cholesterol | 121.3 mg |
| | |
| --- | --- |
| Total Carbohydrates | 19.2 g |
| Dietary Fiber | 0.8 g |
| Total Sugars | 10.6 g |
| Sodium | 447.4 mg |
| Protein | 22.4 g |