Costco Has Good News For Fans Of Its Pumpkin Spice Loaf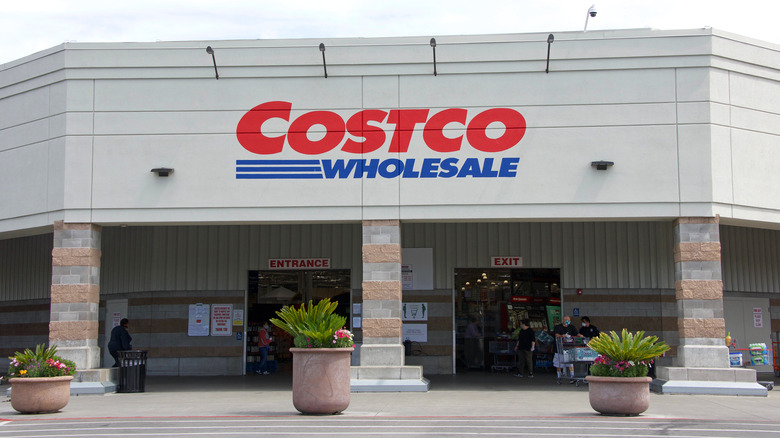 Sheila Fitzgerald/Shutterstock
There are so many things to love about fall, including all the delicious, seasonal fare that comes out at this time of year. Ever since Starbucks kicked things off with the return of their iconic Pumpkin Spice Latte back in August, we've been on the lookout for our favorite pumpkin-flavored snacks at restaurants and grocery stores. Today, we're happy to report the return of another seasonal favorite: Costco's pumpkin spice loaf which, after winning the hearts of many shoppers in 2020, is officially back on the shelves for Costco members to enjoy (via Eat This, Not That!).
Costco fan Instagram account @costcosisters was one of the first to spot the autumnal baked good at the wholesale grocery store this year, alerting fans of its re-appearance on September 16. Earlier this week, two more Instagrammers dedicated to the big-box retailer found the pumpkin spice loaf at their local branches as well. "Costco's pumpkin spice loaf is back!" user @costcobuys shared on October 5, along with two snaps of the seasonal Kirkland Signature snack. "These have a delicious cream cheese icing & white chocolate shavings and are just $7.99! Such a tasty fall treat!" We're not sure about you, but we're totally starting to drool!
Costco shoppers are excited to see the pumpkin spice loaf again this year
Costco's pumpkin spice loaf earned some serious notoriety after debuting last year, with one Redditor who identified themselves as a baker at Costco calling it "one of the best new bakery items we've made in several years." And while it may be some time before it generates the same type of cult-following as the retailer's massive pumpkin pies, shoppers are certainly excited at the news of its return. "So glad it's back this year," one Instagrammer said in response to @costcosisters' post about the item. "OMG I need this in my life!!!!!" commented another fan.
Meanwhile, a follower of @costcobuys said that they immediately went out to their local Costco to pick one up after seeing their post this week, and if you're planning on doing that as well, Taste Of Home has a great tip. Per the news outlet, quick bread such as Costco's pumpkin spice loaf can be kept in the freezer for up to three months, so go ahead and grab a few extras during your next Costco trip so you can enjoy this seasonal treat long after it's been cleared from the shelves. Make sure to follow the advice of this Redditor and pop a slice in the microwave for a few seconds to take your snack "to the next level" as well.