Savory Mashed Butternut Squash Recipe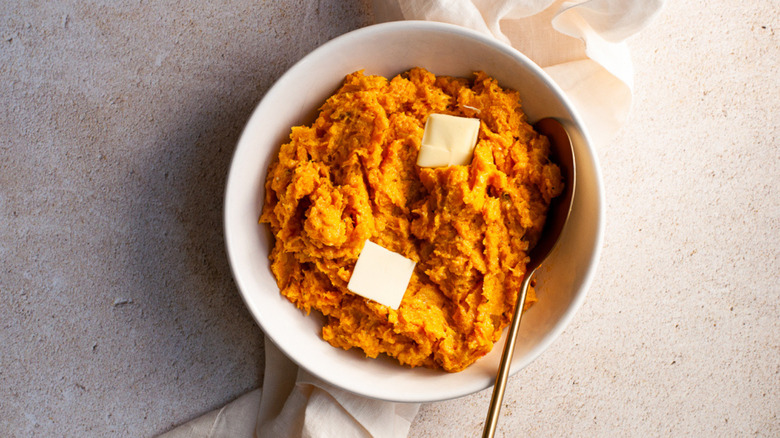 Christina Musgrave/Mashed
Mashed potatoes are good, but let's be honest: They're kind of "been there, done that." If you love a warm, mashed veggie (which is a real comfort food), but are looking to switch things up a bit, then we have just what the doctor ordered. This mashed butternut squash is like mashed potatoes, but it has that wonderful flavor of squash instead. The recipe screams fall, and it's such a wonderful and unique dish to make as a weeknight dinner side or over the holidays.
This tasty recipe has heavy cream, butter, and some salt and pepper for flavor, and it's incredibly easy to make. Recipe developer Christina Musgrave of Tasting With Tina brings us this truly joyous dish that is enough to warm your heart and belly at the same time. "I love this unique take on butternut squash — it's super delicious and really easy to make," she shares. That description is music to our ears! Keep reading to find out how to make this filling side that's sure to be a major hit with your family and guests.
Gather the ingredients for savory mashed butternut squash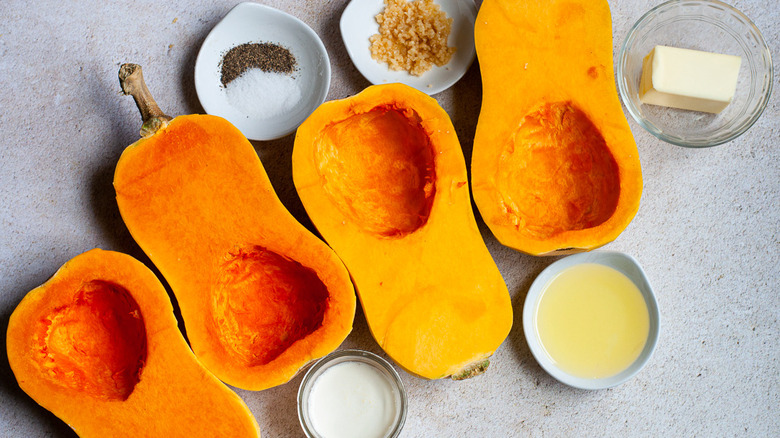 Christina Musgrave/Mashed
First thing's first: Take note of all the ingredients you have at home versus what you need to pick up at the store. Start your grocery list with two butternut squash. These are undoubtedly the stars of the dish, and to know them is to love them. You will also need to grab some olive oil and minced garlic. If you're a regular cook, then you may have these handy at your abode already.
Next, you will need some unsalted butter and heavy cream. Complete your list with two of the staple ingredients in pretty much every meal: salt and pepper. Now, it's time to begin!
The health benefits of squash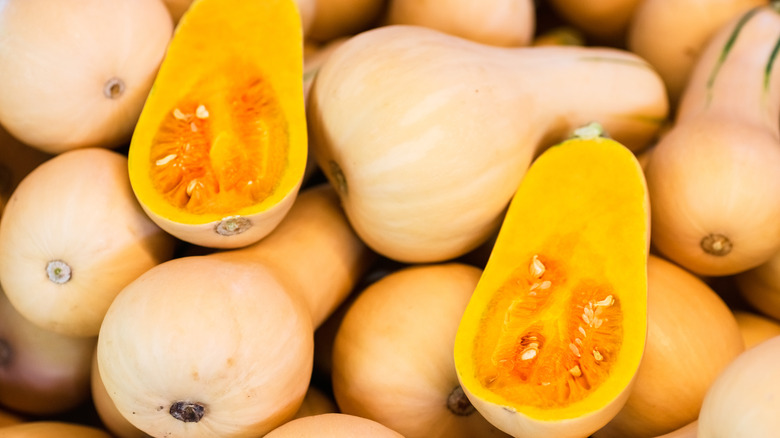 ezphoto/Shutterstock
Like most veggies, squash is filled with several things that make them great for your health. And who else better to explain some of the wonderful benefits than Musgrave herself. "Butternut squash is considered a superfood! It's really rich in vitamins and can help reduce inflammation," she shares.
To take it a step further, butternut squash also has antioxidants that can help fight against diseases (via Healthline), which seems pretty legit to us. Not to mention, squash just tastes good, so there's no reason why you shouldn't be working it into your regular dinner rotation.
Preheat the oven, and prep the butternut squash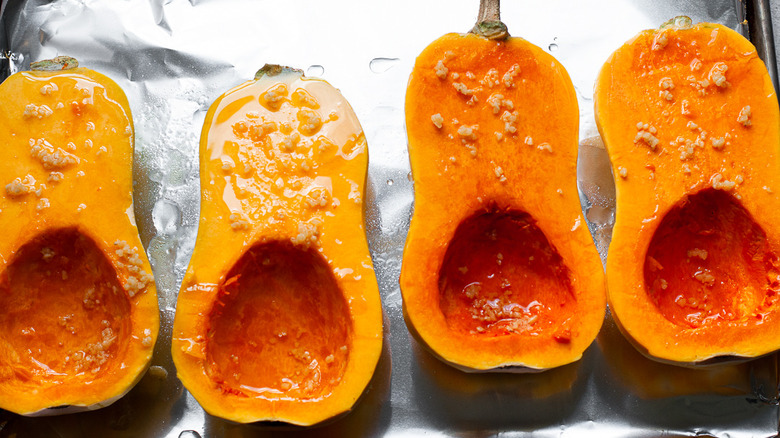 Christina Musgrave/Mashed
When in doubt, preheat it out. The first step in any recipe that requires an oven is very simple: Preheat it. Go ahead and take a little stroll over to your trusty kitchen appliance, and turn the knob to 400 F. Now, as you prep your ingredients, the oven will do the work of preheating and will be nice and toasty for you when you need to pop the squash in.
In the meantime, grab a large baking sheet, and drizzle the squash halves with garlic cloves and olive oil. Remember, you should have cut these bad boys ahead of time. "Cut with a sharp knife, and use a spoon to de-seed the squash," Musgrave says.
Roast the squash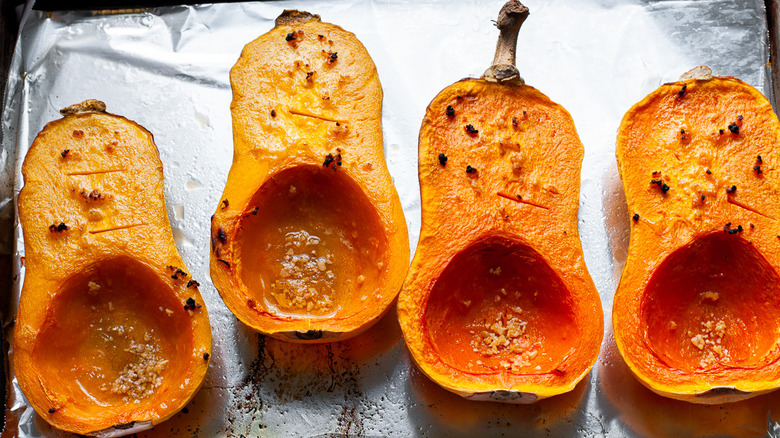 Christina Musgrave/Mashed
Once you have all of the squash on the baking sheet in front of you, take a quick peek to make sure that your oven has been fully preheated. If it is, go ahead and pop the squash in, and if it's not, just be patient and wait a little longer — the waiting is always the hardest part but it's worth it. 
Once the squash goes in, set your timer for 45 minutes, and let it roast. "Roasting and baking are the same thing in most ovens. I use them interchangeably," Musgrave notes. "There's no difference here."
Add garlic, mash, and serve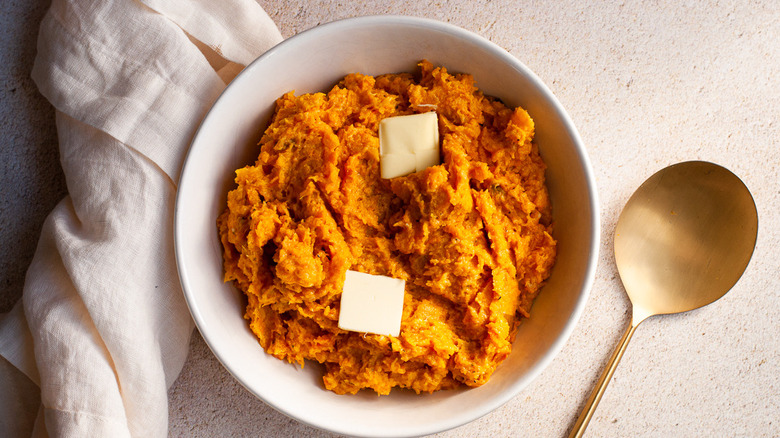 Christina Musgrave/Mashed
When your timer goes off, be sure to double check that the squash is done by poking it with a fork. It should be tender to the touch. Then, take out the baking sheet, and transfer the squash into a large mixing bowl. Add the garlic on top, and then mash the squash (like you would do with mashed potatoes) using either a hand masher or an electric mixer.
Then, add the unsalted butter, heavy cream, salt, and pepper. Feel free to serve as you wish. "This is a great side dish for Thanksgiving," Musgrave shares. "[It] pairs great with turkey, green beans, stuffing, or even a fall salad. Leftovers are good for three to four days."
Savory Mashed Butternut Squash Recipe
This mashed butternut squash recipe screams fall, and it's such a wonderful and unique dish to make as a weeknight dinner side or over the holidays.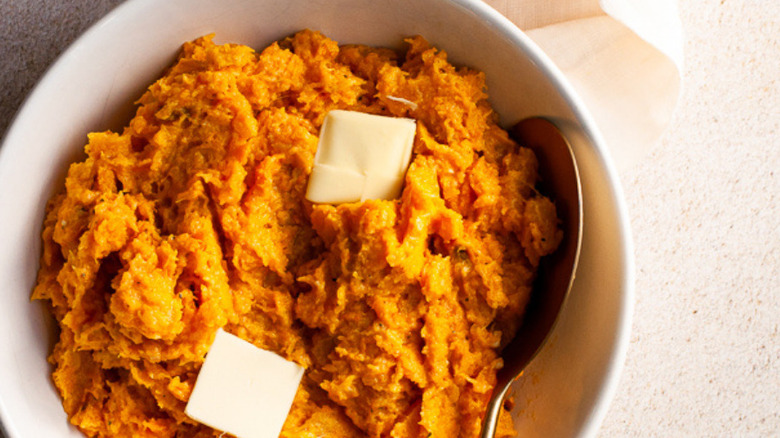 Ingredients
2 butternut squash, peeled, halved, and de-seeded
4 cloves garlic, minced
2 tablespoons olive oil
4 tablespoons unsalted butter
¼ cup heavy cream
½ teaspoon salt
½ teaspoon black pepper
Directions
Preheat oven to 400 F.
Drizzle the butternut squash halves with the minced garlic and olive oil on a large baking sheet.
Roast for 45 minutes, or until the squash is fork-tender.
Place the roasted butternut squash and garlic in a large mixing bowl. Mash with a hand masher or electric mixer.
Add in the unsalted butter, heavy cream, salt, and black pepper. Stir well.
Serve, and enjoy.
Nutrition
| | |
| --- | --- |
| Calories per Serving | 165 |
| Total Fat | 12.0 g |
| Saturated Fat | 5.9 g |
| Trans Fat | 0.2 g |
| Cholesterol | 25.5 mg |
| | |
| --- | --- |
| Total Carbohydrates | 15.4 g |
| Dietary Fiber | 2.6 g |
| Total Sugars | 3.0 g |
| Sodium | 154.3 mg |
| Protein | 1.6 g |