Easy Banana Ghosts Recipe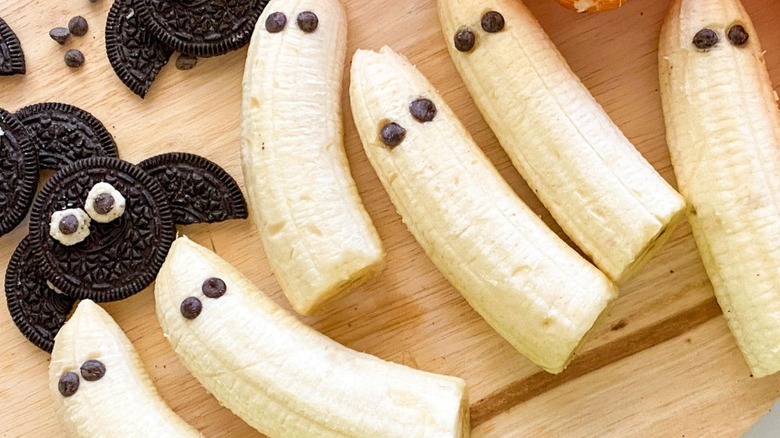 Miriam Hahn/Mashed
Halloween season is upon us (Hooray!), so it would appear that the time is now to start getting our spooky grooves on. And what better way to start than with this easy and healthy recipe for "banana ghosts" with chocolate chips for eyes? This is simply one of the easiest and most adorable dishes you could have on hand for a Halloween fete, and it is also a really fun "cooking" project to take on with your kids, according to recipe developer and wellness coach Miriam Hahn of YouCare-SelfCare. In fact, for the most part, with a little guidance from you (and your use of a knife), your little ones can take this recipe pretty much from start to finish all by themselves.
"I love this recipe for so many reasons," Hahn says. "First off, it is so simple yet so cute! Halloween is so focused around candy that I love to mix in some healthy treats as well. We are always trying to get our kids to eat more fruit so this is just the perfect way. They always enjoy eating the things they help with or make themselves." Let the Halloween preparations begin!
Gather the ingredients for banana ghosts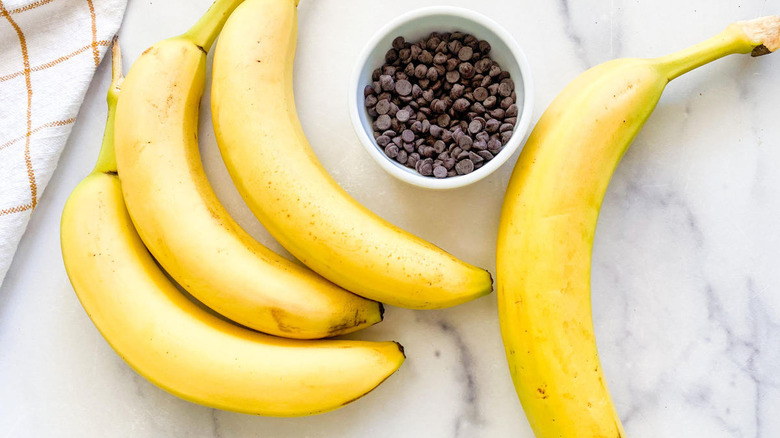 Miriam Hahn/Mashed
Ready to gather up those ingredients for these adorable banana ghosts? Well, if you've got six bananas in the house, you're halfway there. That being said, for the prettiest and least messy results, Hahn recommends using the most perfectly ripe bananas you can find, which is to say bananas with "bright yellow" skins and as little bruising as possible. (Oh, and here is how to keep your fresh bananas fresh for longer!)
For the banana ghosts' eyes, you'll need a total of 24 chocolate chips, or four per banana, unless of course you feel that your ghosts would have either more or less than two eyes apiece. And you know what works just as well? Carob, according to Hahn, with the advantage being that "carob is lower in sugar and doesn't have caffeine so [it's] a great alternative to chocolate if someone has an issue!"
Peel the bananas, and then cut them in half lengthwise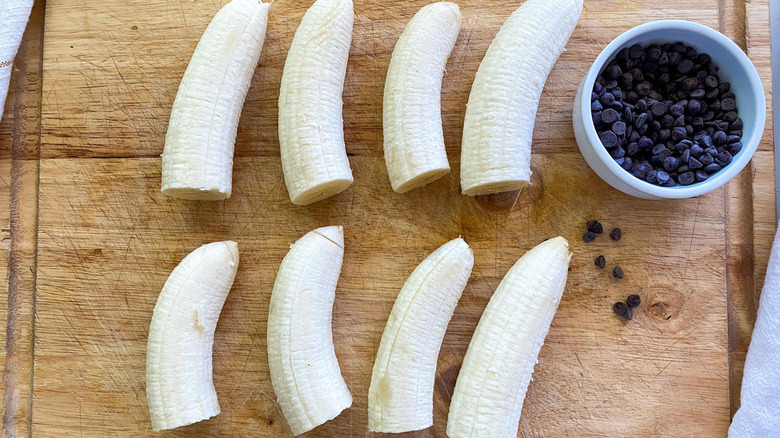 Miriam Hahn/Mashed
Grab your six bananas, and gently peel each, taking a bit of care not to leave fingerprints or other dents. Although, if you do, that's perfectly fine, too, because only you — and not your kids — will likely notice. 
Using a butter knife — especially if your kids are helping out — cut each banana in half, lengthwise. And once you've done that, you'll start to understand how very much banana halves have in common with that perennial classic Halloween costume, the sheet-with-eyes-cut-out ghost. 
Oh, and by the way, Hahn would like to remind us all that "bananas are loaded with vitamins and minerals. They tend to be known for their potassium, which is great, but they are also high in B vitamins and fiber. They also are good for sleep which is surprising to some. They have tryptophan making them great for a bedtime snack." Of course, to be honest, Hahn had us at bananas.
Turn those banana halves into banana ghosts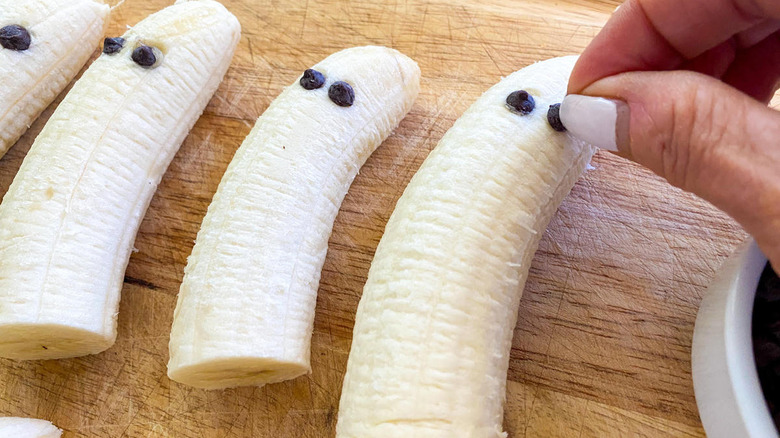 Miriam Hahn/Mashed
You might have already kind of figured out where this is going, but all that's really left to do now to complete your banana ghost recipe is to arrange those banana halves with their pointy side up. Then, press two mini chocolate chips into each banana's flesh on the pointy side, near the point. And remember — caffeine-free carob is cool, too, and your kids might not know the difference. Your banana ghosts are now ready to serve, and might we suggest serving them alongside other Halloween-themed treats. 
Oh, and by the way, leftover ghosts can be turned into smoothies, according to Hahn. Just toss 'em in the blender, and you'll have done double duty as a smoothie-maker and a ghost hunter.
Easy Banana Ghosts Recipe
What better way to get in the Halloween spirit than by making this easy and healthy recipe for banana ghosts with chocolate chips for eyes?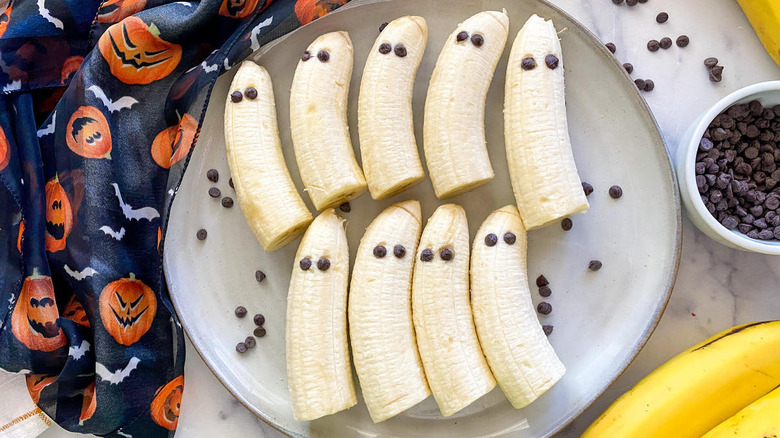 Ingredients
6 large bananas (bright yellow and no brown spots)
24 mini chocolate chips
Directions
Peel the bananas, then cut them in half (across the length of each banana).
With the pointy side up, press 2 mini chocolate chips into the banana for the eyes.
Serve, and enjoy!
Nutrition
| | |
| --- | --- |
| Calories per Serving | 2,309 |
| Total Fat | 104.9 g |
| Saturated Fat | 64.9 g |
| Trans Fat | 0.8 g |
| Cholesterol | 67.2 mg |
| | |
| --- | --- |
| Total Carbohydrates | 322.0 g |
| Dietary Fiber | 13.9 g |
| Total Sugars | 288.5 g |
| Sodium | 305.3 mg |
| Protein | 22.2 g |