This Pre-Wedding Beauty Routine Has Anne Burrell Feeling Bizarre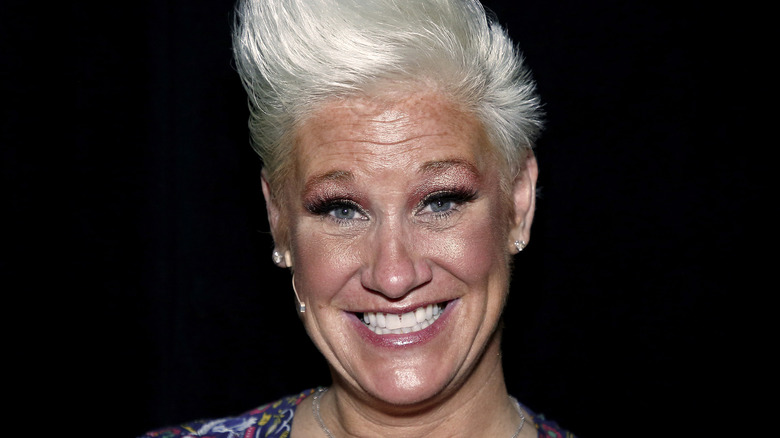 John Lamparski/Getty Images
Whether you're chef de cuisine or a line cook, there are a few things you can't go without in your kitchen. These would include knives, of course; a knife sharpener; a meat thermometer; and a food processor. One thing you won't see a chef take with them into the kitchen is a fancy set of nails from a high-end manicure. Or if they did, the nails wouldn't make it through the dinner rush.
That probably explains why chef and "Worst Cooks in America" host Anne Burrell says she feels "bizarre" sporting a beautiful set of nails. Even so, she decided to show them off on a recent Instagram post, because it was an opportunity to remind friends and fans she has a very special day coming up.
"I'm taking some 'nails' on my 'Chef hands' for a test drive before the wedding," Burrell wrote in her Instagram caption. "My hands don't even look like mine!! So bizarre!!!"
Anne Burrell's wedding is in October
Anne Burrell's freshly manicured nails sparkled nearly as brightly as the good-sized rock attached to a band on her ring finger. A commenter noticed that Burrell's engagement ring was competing strongly with her nails for attention in her recent Instagram post. "You know you're just flexing that ring. Cut it out," they joked.
Burrell's post was also inundated with comments complimenting her nails and congratulating her on her upcoming wedding. One commenter and a fellow restaurant worker felt a little envious. "I started working in a kitchen seven months ago," @janebones commented. "I miss my gel manicures so much!!"
Burrell is engaged to Stuart Claxton, a man she met on the dating app Bumble (via PopCulture). Claxton popped the question in spring 2020, at the beginning of COVID-19 lockdowns, per People. Burrell and Claxton's big day is coming real soon, too. In an old Instagram message posted on October 16, 2020, Burrell wrote, "One year from today I get to marry my Prince Charming @stuartclaxton!!!"