People Can't Stop Talking About These Girl Scout Thin Mints Pretzels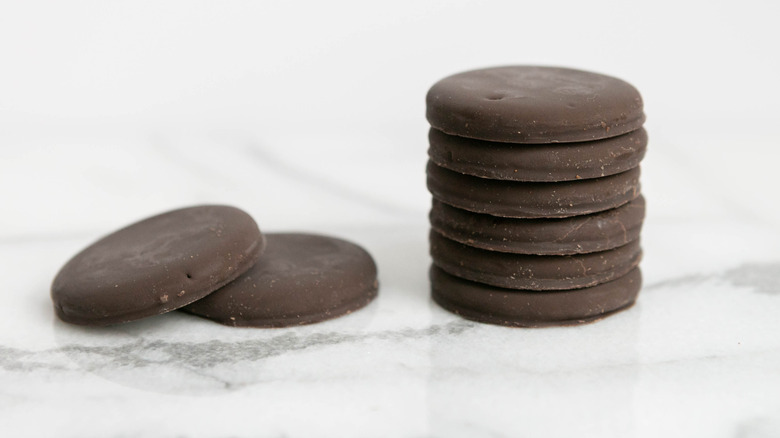 Fluff Media/Shutterstock
Trust Girl Scouts to come up with delicious products that leave fans asking for more. As per Vox, their cookies are legendary for a reason. They have a rich history that goes all the way back to 1917 when Girl Scouts started selling freshly baked cookies for the first time. As time went by, this became more popular among Girl Scout volunteers in different parts of the U.S. By the 1930s, they started selling commercial products for those consumers who were keen to get their hands on the sweet treats. 
According to TIME, the Girl Scout Thin Mints have a fascinating history and have been around for ages. They were first introduced in 1939 and had several names such as "Cooky-Mints" and "Chocolate Mint." They've stayed popular through the years and have a solid fan following. Delish noted that many enthusiasts are currently praising the Girl Scout Thin Mints pretzels.
These pretzels seem delicious
An Instagram user put up a photo of the Girl Scout Thin Mints Pretzels recently and mentioned that it's worth running to a Costco store to get a bag of the pretzels. They told another fan that they absolutely love the taste. According to the Delish piece, the pretzels are an official treat from Girl Scouts and have double layers of dark chocolate and mint. Additionally, each bag is one pound which means that there are plenty of pretzels in each package.
Someone else who tried the pretzels posted on Reddit that they couldn't keep themselves away from the treat. It's that good! They recommend popping the bag into the fridge for the best flavors. Another Redditor joked, "mine are in the freezer. And they're all for me. I hid them in the vegetables after first bite." Tempted to buy a bag of pretzels, aren't you?