This Is Cat Cora's Favorite Part Of Judging A Cooking Show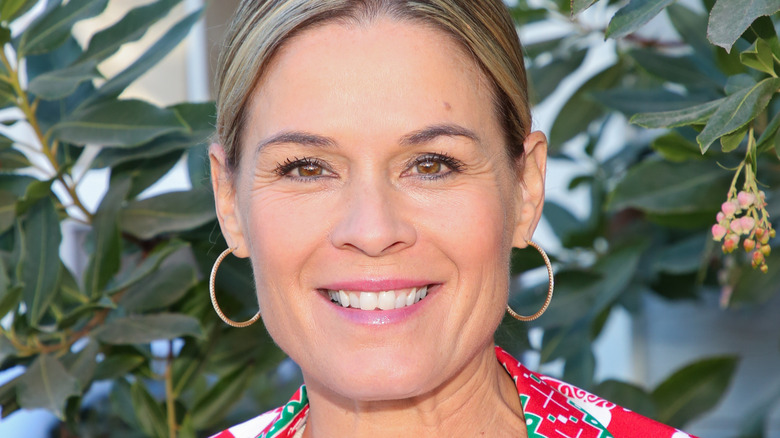 Paul Archuleta/Getty Images
Have you ever wondered what it's like to be a judge on a cooking show? Celebrity chef Cat Cora made her first appearance on the Food Network in 1999 but the Culinary Institute of America-trained chef really made herself a household name when she was crowned as the first ever female "Iron Chef" winner in 2005 (via Cat Cora). Cora went on to receive many honors, including being named Bon Appetit's Executive Chef. Her culinary prowess also made her a regular on shows like ABC's "Family Food Fight," where she serves as a judge. But what might be surprising to learn is what Cora enjoys most about being part of a cooking show. Spoiler: It is definitely not the delicious food or the smells from the kitchen that keep calling her back.
Per Food Network, Cora acknowledges that she wouldn't be where she is today without the mentoring from the likes of Julia Child and Jacques Pépin. In fact, it was Child who told Cora, "Always pay it forward. I'm giving you advice now and helping you, but always make sure you pay that forward to young cooks." Knowing this, you might be able to guess what Cora's favorite part of judging a cooking show is. 
Cat Cora enjoys providing constructive criticism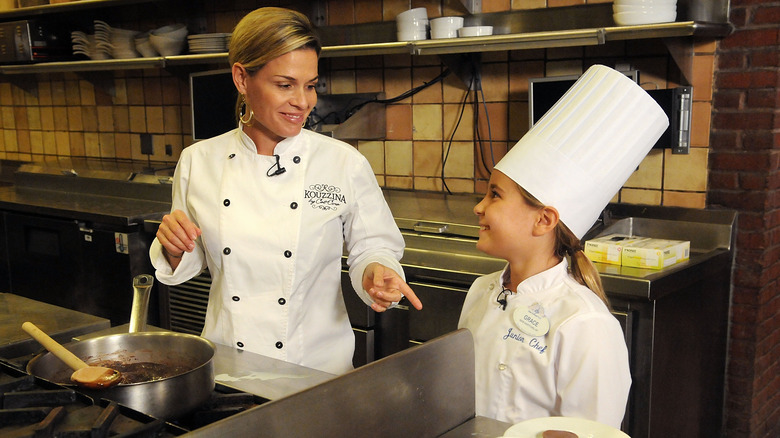 Gerardo Mora/Getty Images
According to Insider, Cora enjoys providing constructive criticism to contestants, especially the ones who are being sent home. Cora said, "I always feel for the person going home so I give constructive criticism." Criticism is not necessarily easy to digest, but Cora revealed that there is a method to her madness. She explained, "It's just never easy to deliver bad news to someone but I also know it will make them a better cook." Cora is consistent with this philosophy, telling Entertainment Weekly, "I definitely think someone can be taught to be a great cook and even go on to be a very good chef, and we see that; there are a lot of people with a passion for cooking but not a natural flow or gift." 
So, what is needed to become a good chef? The cookbook author shared in a Food Network interview that passion really is the key to cooking success for professional chefs and home cooks because everything else can be taught. But competing on a food show is not for the faint of heart. Cora likens chefs to a disciplined athlete telling Entertainment Weekly, "Chefs are like athletes. We have to prepare physically and mentally to compete on a high level in a quick amount of time."