Fans Are Loving This Photo Of Buddy Valastro And Wife Lisa At A Wedding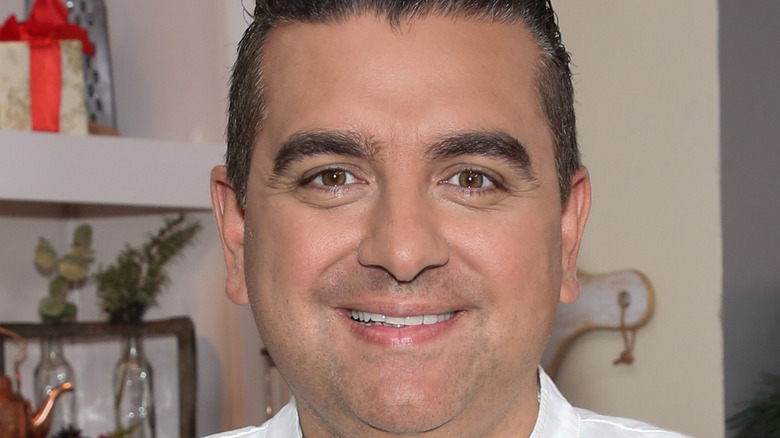 Paul Archuleta/Getty Images
While Buddy Valastro might be the Cake Boss, a recent Instagram photo of him and his wife Lisa at a family wedding is a stunning example of a power couple. Dressed to the nines for his nephew's wedding, Valastro offered the following wishes for the bride and groom, "special day today for the marriage of my nephew and his wife. May your marriage draw you closer as you share your hopes and dreams. Tanti auguri, Cent' Anni." For those who do not speak Italian, the final phrase is loosely translated to mean best wishes, cheers.
Many people commented on the family photo. From carolyn.vozzo saying, "Wow... what a gorgeous gown!" to vickychaparriux gushing, "love Lisa's dress!!!!! Is so beautiful." Of course, the array of photos included the impressive Carlo's Bakery wedding cake. Although exact details about the cake were not shared in the Instagram post, stephielovesbooks wrote, "No surprise the cake is a showstopper wow, that's why ur the cake, boss buddy." As seen in the last photo, the impressive wedding cake seems to tower over Valastro. With a base of white sugar flowers, the cake was studded with intricate, yet delicate, sugar work. Although some might beg to differ, the cake might have stolen the moment.
How much does a Carlo's Bakery wedding cake cost?
While many Food Network and TLC fans of the Cake Boss stare in wonder at those Carlo's Bakery creations, some people wonder if that wedding cake could be in their budget range. Although wedding cakes are often a custom creation, TopRestaurantPrices.com reports that a 6-inch Vanilla Confetti Cake retails for $34.99 at Carlo's Bakery. In addition, WeddingWire.com reports that wedding cakes with buttercream frosting are $10 per slice, and fondant wedding cakes are $12 per slice. While these prices are an estimate, exact pricing, details, and additional information would be made available during a private consultation. Looking at the various comments by couples, many people shared that the cakes were as delicious as they were visually stunning.
Although some people might not appreciate the cost associated with a Carlo's Bakery cake, it is more than just butter, sugar, and flour. Back in 2011, Buddy Valastro created a $30 million showpiece. While the majority of the value came from the jewels that studded the cake, Valastro shared some insight why his cakes come with a higher price tag. In a 2013 MarketWatch article, he admitted that "flour is flour," but "it could take from a day to four days and take a team of one to 10 workers" to create a special cake. In the end, that baking magic does not happen with a wave of a wand and a sprinkling of pixie dust. A fantasy cake requires real payment in order to become a slice of reality.