Whatever Happened To Munchery?
Munchery, founded in San Francisco in 2011, in its original concept was a to-your-door meal delivery service that offered dishes prepared by actual chefs in ghost kitchens. Upon receiving meals, all customers had to do was heat them up and enjoy, and then, if they so choose, go online and leave a review of the chef or meal for other customers to see (via Failory).
Sounds like a simple, attainable, million-dollar idea, right? Well, at first the model was successful, and this achievement continued when the company branched out into delivering ingredients for make-your-own meal kits in 2015 in an effort to outdo competitor Blue Apron (via Failory). Munchery then expanded further by initiating an $8.95 per month subscription plan and even opened a pop-up shop in a BART station to drum up business loyalty (via Tech Crunch).
Despite appearances, however, everything wasn't a fairy tale in Munchery land. Uber Eats and DoorDash were rising in popularity, and Munchery couldn't compete with the diversity of offerings the platforms were able to deliver customers when working with a multitude of restaurants. Furthermore, Munchery had expanded to offices and kitchens in Los Angeles, New York, and Seattle in order to provide fresh food to customers in those locations (via Failory). The closing of these satellite locations in 2018 was one of the first signs of the company's eventual downfall (via Tech Crunch).
Breathing new life into Munchery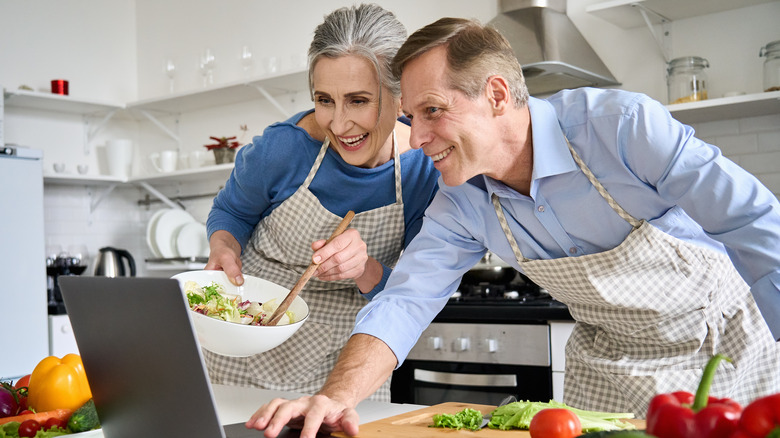 insta_photos/Shutterstock
Despite originally raising $125 million at its startup and at one point being valued at $300 million, Munchery's business model didn't prove sustainable, and the company wasn't able to keep up with the competition. The operation shut down in 2019 and filed for bankruptcy (via Tech Crunch).
Chef Pascal Rigo, former Munchery chief customer experience officer, who had a tenure of only five months with the company, didn't seem surprised that it failed. "[Startups] can be either a good food company or a good delivery company, but I don't think anyone has been able to do both," Rigo said (via Failory).
But wait, Munchery's story isn't over quite yet. In 2020, Rolliyo, Inc. purchased the company's name and recipes and relaunched the business as a recipe website destination (via Restaurant Business). The new Munchery describes its brand on its website, stating that not only does it feature recipes, but also instructional videos and partnerships with meal delivery services and restaurants.