The Reason This NYC Pizza Costs Over $2,000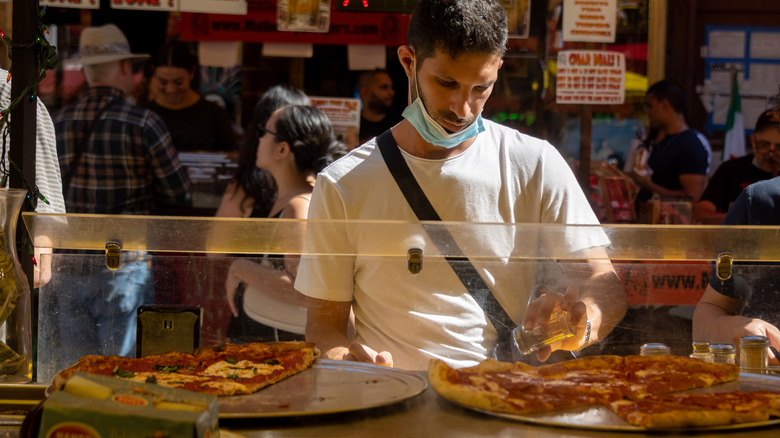 Alexi Rosenfeld/Getty Images
New York City and pizza — it's a combination that brings to mind a businessman eating a slice of pizza folded like a hot dog as he struts down Park Avenue or a group of radical teenage turtles fighting crime in the sewers with a piece of the pie in their hand. With that trademark oven-fired crust that's crisp and thin yet soft and foldable and mozzarella cheese that's been melted into a sea of golden brown bubbles and sprinkled with just the right amount of spice, it's no wonder that it's considered the crème de la crème of American pizza by New Yorkers. So beloved is this humble pizza that you can even pay to take tours around New York City to hit up the best pizzerias and get an in-depth history lesson from pizza enthusiast Scott Weiner (Scott's Pizza Tours).
While perhaps New York-style pizza is the food of the average Manhattan street-walker or the high-rise construction worker, there are a few pizzas that are geared towards the 5th Avenue upper-crust types. From a $39 pie made from 72-hour cold fermented dough and organic ingredients from Sofia Pizza Shoppe to a $1,000 dollar pizza topped with six different types of caviar and fresh Maine lobster from Nino's Bellissima Pizza (via New York Times), there's something for every eater. But for those who wished to try something a bit more on the luxurious side, Industry Kitchen's $2,000 classic 24-karat pizza may have been just the right fit.
The 24k pizza was made from squid ink and gold
What exactly made Industry Kitchen's 24-karat pizza so expensive? It's not just the combination of organic ingredients or a price mark up, but according to Thrillist, it's the addition of several unconventional ingredients. For starters, the dough is infused with black squid ink and topped with creamy white Stilton cheese. It's then headed off to the oven to be baked at 585 degrees in one of Industry Kitchen's wood-fired ovens. Once melted, the pizza is topped with shaved French truffles, foie gras, a delicacy made from the liver of an enlarged duck or goose (via Animal Equality), and strips of 24k gold leaves. If in any event the gold standard isn't high enough, extra gold flakes are added to the pizza.
Garnishing this decadent dough is not the common pepperoni or mushrooms, but rather dollops of Osetra Caviar (one of the most expensive caviars, according to Petrossian) and crimson rose petals. The pizza is then cut into 8 pieces, totaling $250 per slice, far less than the total price of the pizza but way more expensive than your average serving.
If you want to try this upscale take on a New York classic, it's unfortunate to say that it doesn't seem to be on Industry Kitchen's menu at the moment. However, there could be a special menu that it's available online.