Costco Shoppers Are Drooling Over These Coffeecake Muffins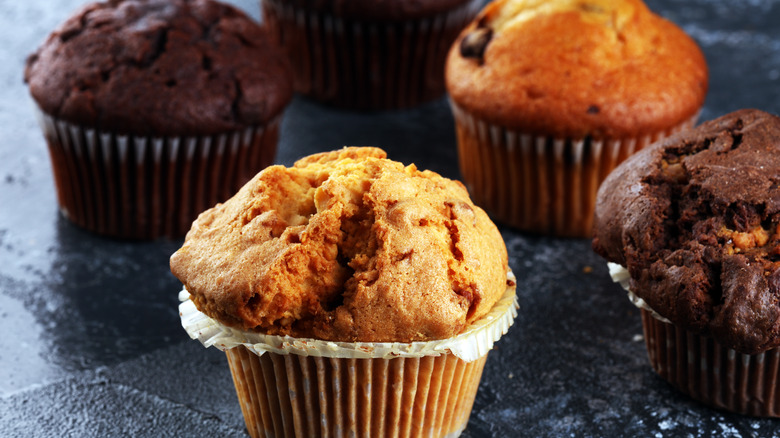 beats1/Shutterstock
There's nothing like a bite of sweet, delectable coffeecake to accompany your morning joe, tea, or hot chocolate. There's something about the pastry's texture and the way it crumbles in your mouth and hands that adds to the gratifying experience. Luckily, for coffeecake lovers, Costco has something even better, as it's re-releasing their famous coffeecake muffins. And already, Instagram approves of these delectable treats. 
Popular account @Costcobuys posted a photo while holding a six-pack of the treats alongside the caption, "Coffee cake muffins! I haven't seen these at my Costco before but I'm glad I did ... they're REALLY good!" As of this writing, the post has nearly 3,400 likes and multiple comments from shoppers practically drooling over the muffins. "Oh my gosh yum!" posted one follower, while others celebrated their return. As one person said, "Omg yes their [sic] back."
However, it appears as if these special muffins are not available in all areas, as one Instagrammer from Boston commented, "So good! But we haven't seen them in a very long time." Commenters on the Reddit thread "Coffee Cake Muffins are Amazing" stated the bakery treats have been spotted in Florida and in California's Bay Area, but not in spots like central Texas.
Costco coffeecake muffins: To indulge or not to indulge?
It's not just Instagram and Reddit that are praising Costco's coffeecake muffins. Eat This, Not That! claims the bakery goods are more like "individual cakes than muffins." As well, one Insider writer reviewed various flavors of Costco muffins, including the coffeecake option, which they gave a rave review, saying, "It had the shape and density of a muffin, the hit-you-over-the-head flavor of Cinnamon Toast Crunch, and the texture of coffee cake, all topped with crispy crumb streusel. ... Once I bit into the muffin, the crumb topping remained crisp, but the dense center melted into a moist, airy mouthful."
However, despite being tasty, you might want to make Costco coffeecake muffins more of a once-in-a-while treat as there are some nutritional facts you should keep in mind. Recipe of Health reports that each muffin contains 740 calories, 31 grams of total fat (48% of your suggested daily value), and 69 grams of sugar (a whopping 276% of your suggested daily value). Eat This, Not That! claims that eating this much sugar is the equivalent of eating five glazed Krispy Kreme doughnuts. "Hard to eat knowing they have like 700 calories," commented one Reddit user. "They are damn good though."