The Sweet Breakfast Food Chick-Fil-A Fans Want Added To The Menu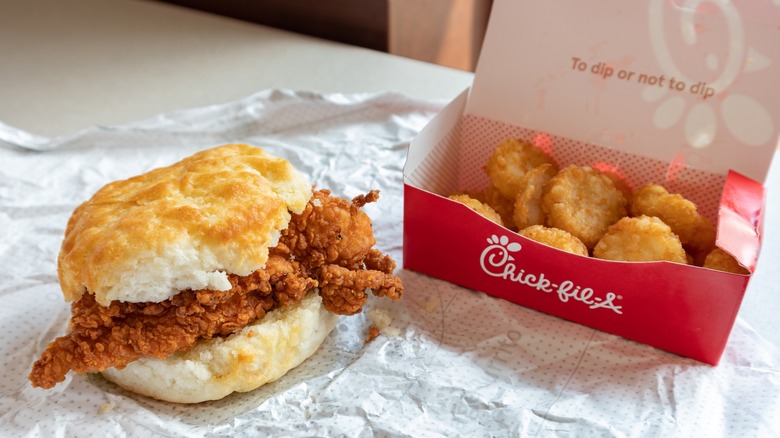 James Andrews1/Shutterstock
Chick-fil-A is best known for its delicious chicken, served in sandwiches, nuggets, strips, and more. The protein is undoubtedly the chain's most popular item, with chicken nuggets and the original chicken sandwich ranking as the first and second most-ordered Chick-fil-A items in 2020, according to the chain's website. The Georgia-based establishment has consistently remained the top player in the fast food chicken wars, securing 37% of the online chicken sandwich market in 2019, according to Restaurant Business.
But while most customers go to Chick-fil-A for chicken, loyal fans of the brand also know that the restaurant has a tasty selection of breakfast items, per the online menu. From hearty bacon, egg, and cheese biscuits and savory hash brown scramble bowls to lighter fare such as Greek yogurt parfaits and fruit cups, there are plenty of options for those looking to get their Chick-fil-A fix in the mornings. Even with a dozen-plus selections on the breakfast menu, however some fans still wish there were more dishes to choose from.
Chick-fil-A fans want mini waffles on the breakfast menu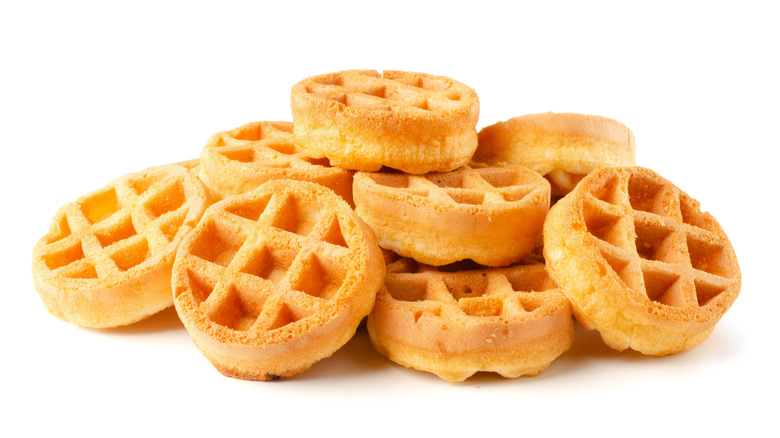 aperturesound/Shutterstock
One curious customer on Reddit created a poll for their fellow Chick-fil-A fans asking, "If you could have CFA add one thing to the breakfast menu, which would it be?" The user gave voters the choice between pancakes, croissants, mini waffles, or scrambled eggs. (Though, theoretically, one could order a hash brown scramble bowl without the toppings to get scrambled eggs.)
Commenters responded with a resoundingly clear preference for mini waffles with butter and syrup, which earned 432 of 1,100 votes in the poll. "Waffles cuz chicken and waffles, obvi," u/Afraid_Dot_4099 replied. "I was gonna do croissants but mini waffles at Chick-fil-A just seems so right...," u/airaflof agreed. U/brennok claimed that the chain once "tried waffles, but they weren't up to the CFA standards apparently." An Eater article confirms that Chick-fil-A did test chicken and waffles in 2014, but they evidently did not stick around.
Pancakes earned the second-place spot with 337 votes, which makes it seem as though the majority of Chick-fil-A customers are hoping for more sweet options on the menu — like syrup-doused waffles and pancakes — to accompany the chain's wide variety of savory egg sandwiches, hash browns, and, of course, chicken. Others chimed in with more breakfast ideas not included on the poll, like huevos rancheros or biscuits and gravy. It's unknown whether Chick-fil-A ever sources new menu ideas from Reddit, but fans can hope that one day, their pleas for sweet breakfast items will be heard.