Simple Pumpkin Caramel Sauce Recipe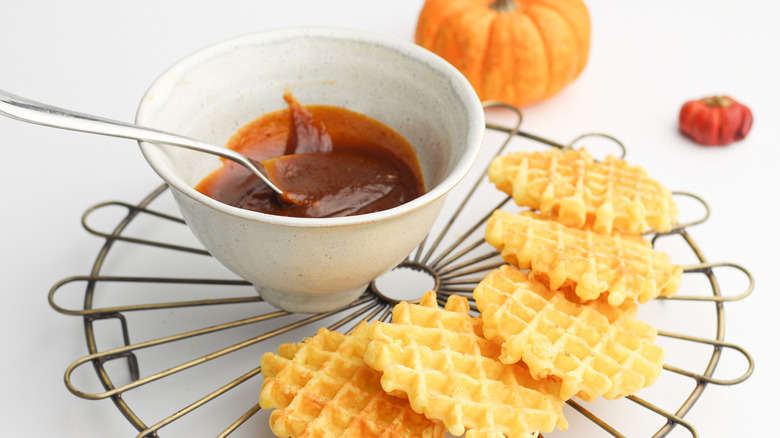 Susan Olayinka/Mashed
It doesn't always have to be fall in order to enjoy pumpkin-spice everything, but it's definitely the best time of the year to! When you think of fall, you may think of crisp air, oversized sweaters, and everything with a little dash of pumpkin spice. After all, from soups, to lattes, to everything else in between, it's all about the pumpkin! We know that it's a big trend, but we don't see it going away anytime in the future, and to be honest, why would it? There's just something that is so comforting about the taste of pumpkin and its vibrant orange color is enough to bring a smile to anyone's face. Pumpkin brings on a cool weather and family gathering kind of vibe. Ah, the nostalgia is real!
Recipe developer Susan Olayinka of The Flexible Fridge is the mastermind behind this wonderful pumpkin caramel sauce that will knock your socks off. "I do like the taste of pumpkin and love the taste of caramel, so it's a good match," Olayinka shares. "Just the fact that they're in season and there's so many of them, and I wouldn't want them to go to waste." Keep reading to find out how to make this wonderful recipe in no time.
Gather the ingredients for pumpkin caramel sauce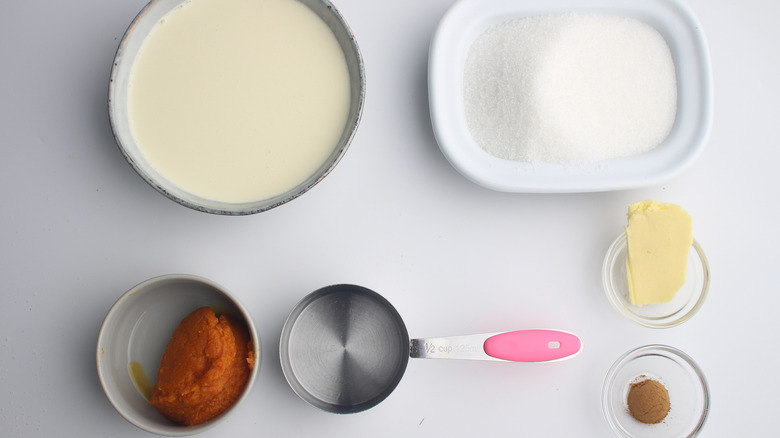 Susan Olayinka/Mashed
To begin, make a grocery list of all of the ingredients that are needed to whip this yummy caramel with a pumpkin twist together. The great part is that you don't need a lot, and it requires a few everyday items you may have at home already. When you're at the store, take a walk down the baking aisle, and grab some sugar. You will also need water, which you should have at home. In addition, you will need some butter and heavy cream. To add a little pumpkin spice and everything nice, toss some pumpkin puree and pumpkin spice into your cart.
Add the sugar and water to the pan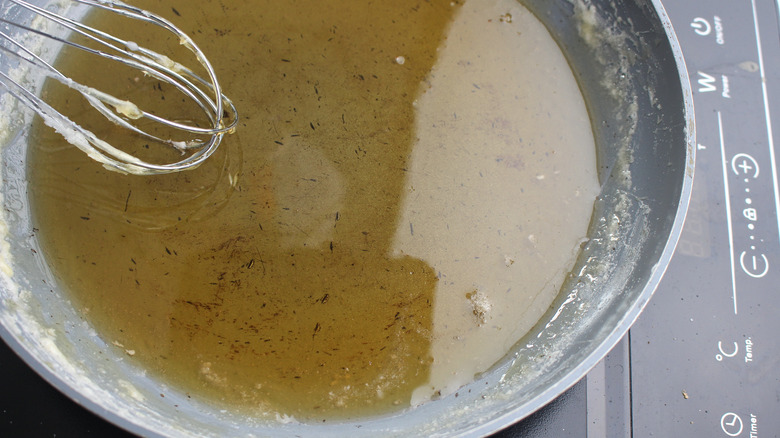 Susan Olayinka/Mashed
For this recipe, you will need a medium-sized pan to make the caramel. If you have a go-to pan, you can use that one, and if not, any in your arsenal should do just be sure it's a decent size. Start by pouring in the sugar and water first. Gently stir the mixture until it's well-incorporated.
Then, put the pan over the heat, and turn the flame to low. Set your timer for four to five minutes, making sure not to stir the caramel during this time. As it cooks, the mixture should become a translucent light brown color, aka caramel.
Take the mixture off the heat, and add the butter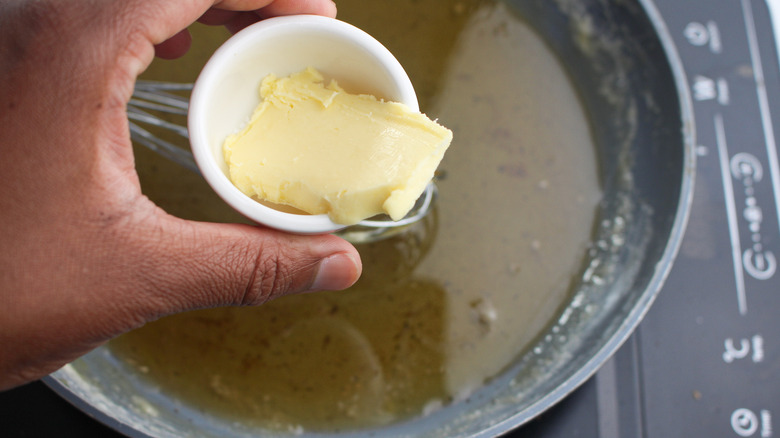 Susan Olayinka/Mashed
Once your timer dings, the mixture should have transformed from water and sugar to a beautiful light brown color like caramel. At this time, you can remove the pan from heat, and set it in a safe spot where you can do some mixing. Just be careful when you are handling the pan, as it will be hot, so be careful not to touch the sides. 
Then, throw your butter in with the caramel, and then stir it for an additional 30 seconds. You don't need to use a power mixer or anything fancy, just use the good old-fashioned method, and use a spoon and your hands. 
Add the remaining ingredients, and mix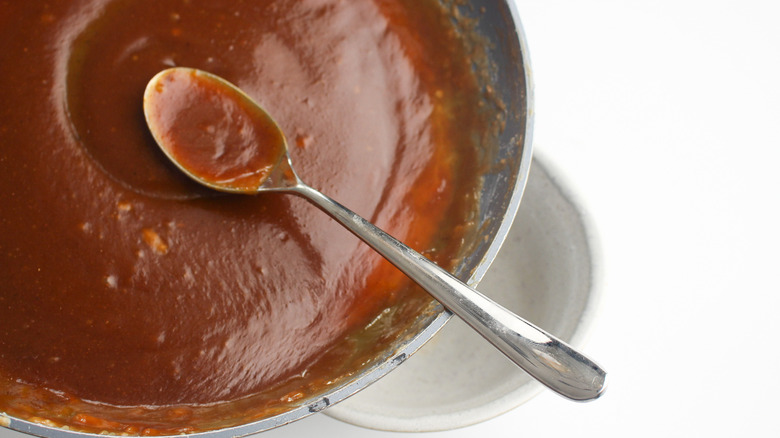 Susan Olayinka/Mashed
Once the 30 seconds are up, toss in the heavy cream, and then set your timer for a minute. If you don't have a timer handy, you can also just check the clock instead. Continue mixing the caramel together until your timer goes off a second time. By now, your arms should have gotten a good workout, thanks to all of the stirring that you have been doing. It's always great to have a recipe where you can also get a little arm workout in, so go ahead, and give yourself a little pat on the back.
Add the pumpkin, and enjoy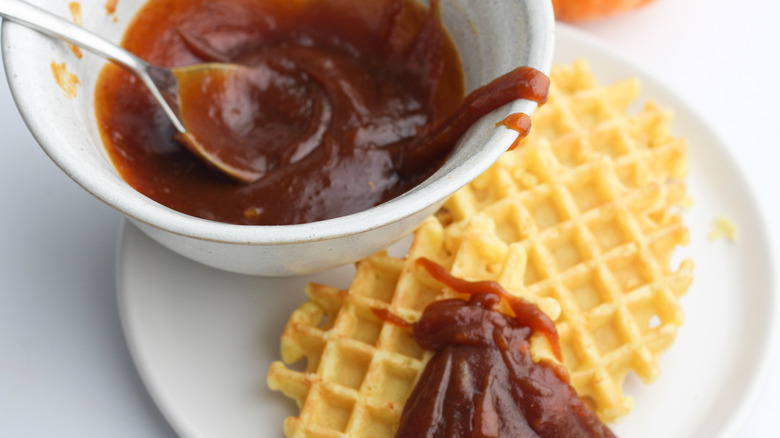 Susan Olayinka/Mashed
The last items that you need to add will that make it pumpkin-flavored. Go ahead and add in the pumpkin puree and the pumpkin spice. Now, you can serve the caramel however you would like. It would go well on anything that you would typically put caramel on, from fruit to ice cream, and Olayinka says the dip would also be good on "waffles, fruit like apples, [and] on a cake like Victoria sponge." 
Store the leftovers in an airtight container for best results. "As there is water in the pumpkin, it wouldn't be able to last as long as caramel would, so I would say about five to six days in an airtight container in the fridge," she notes. Enjoy this yummy recipe!
Simple Pumpkin Caramel Sauce Recipe
This pumpkin caramel sauce will knock your socks off. Enjoy it this fall with waffles, apples, or on a cake like Victoria sponge.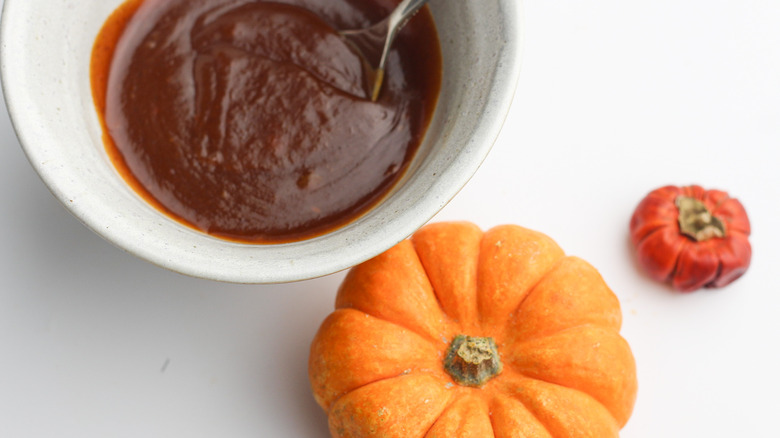 Ingredients
1 cup sugar
⅓ cup water
1 tablespoon butter
1 cup heavy cream
⅓ cup pumpkin puree
½ teaspoon pumpkin spice
Directions
Pour the sugar and water into a medium-sized pan. Gently stir the sugar mixture until well incorporated.
Put the pan on low heat, and do not stir the caramel for 4 to 5 minutes. The mixture should become a translucent light brown color.
Take the mixture off the heat when it turns light brown.
Stir in the butter, and gently mix for 30 seconds.
After 30 seconds, add the heavy cream, and stir for 1 minute on medium heat.
Add the pumpkin puree and pumpkin spice, and mix together until well incorporated.
Serve, and enjoy!
Nutrition
| | |
| --- | --- |
| Calories per Serving | 864 |
| Total Fat | 50.0 g |
| Saturated Fat | 31.1 g |
| Trans Fat | 0.2 g |
| Cholesterol | 178.3 mg |
| | |
| --- | --- |
| Total Carbohydrates | 106.9 g |
| Dietary Fiber | 1.2 g |
| Total Sugars | 104.5 g |
| Sodium | 50.8 mg |
| Protein | 3.0 g |