Rachael Ray's Video Of Husband John Playing Piano Has Fans Impressed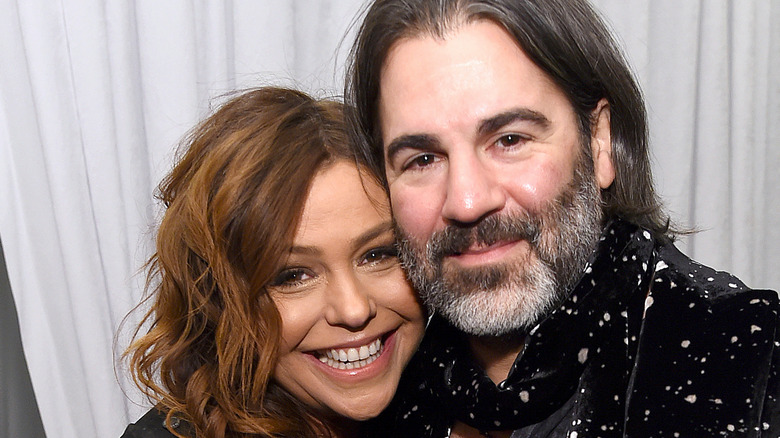 Jamie Mccarthy/Getty Images
The "Rachael Ray" show was back in its New York TV studio on October 13, according to the show's website, and it looks like Ray's husband John Cusimano found a piano offstage somewhere. Either that or they have an awesome grand piano at home. Ray captured a video of Cusimano playing the piano and posted it to Facebook and Instagram on October 13. The caption was the same on both social media platforms: "#BTS while I'm on with the crew, how John stays busy." (While that hashtag is bound to get Ray's post mixed in with about a hundred million others related to a Korean boy band, Ray was referring to "behind the scenes.")
In the video, Cusimano is hunched over a black piano, pounding out what one Instagram commenter identified as "Take the 'A' Train," a Duke Ellington song. "You two never stop amazing me," another fan commented on Instagram. "John is such a talented pianist."
Cusimano is, in fact, a highly talented musician, as Ray described in a 2020 interview posted on her show's website. She said Cusimano can play 57 different instruments. "He really is a master of keyboards, every stringed instrument, he's especially great with percussion," Ray said.
Rachael Ray and John Cusimano love all things Italian, including pianos
While several commenters on social media loved John Cusimano's impromptu rendition of a Duke Ellington song backstage at the "Rachael Ray" show, several also had high compliments for the piano itself. "Dream piano right there!" @jeannebugs said on Instagram. Jeanne was right about that. You can see in the video, on both Instagram and Facebook, that Cusimano is playing a high-end Italian piano from a company called Fazioli. The company's factory outside Venice only makes 150 pianos a year, according to Euro Pianos Naples, and the founder personally approves every one. Faziolis start at $128,000.
We're not sure whether Rachael Ray and her husband actually own the Fazioli piano Cusimano was playing, considering it may have been at the show's New York studio and not their home. Either way, a fine Italian piano like that would go well inside the new dream home they renovated in Tuscany, per the "Rachael Ray" show website. Ray used some space on her social media piano posts to plug a new show about their recent real estate development: "Rachael Ray's Italian Dream Home" debuts on Facebook Watch October 19.