Quick Potato Soup Recipe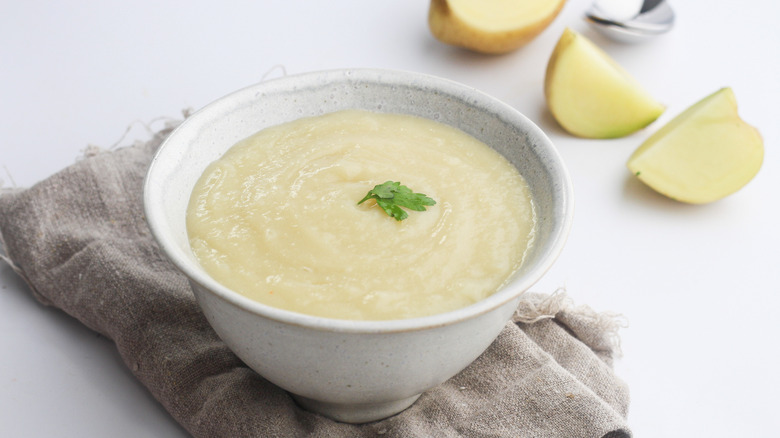 Susan Olayinka/Mashed
Potato soup is delicious, hearty, and pretty cheap to make at home. What else could you possibly want in a dish? It's delicious as an appetizer but also filling enough to be a legit meal. Even if it's not quite enough for you, potato soup is a great base to add something else for more calories, such as a complimentary protein of your choice. For instance, picture the soup topped with bacon bits — that's all you need to think about from this point forward.
This recipe for potato soup is about as quick and easy as it gets. Recipe developer Susan Olayinka is a fan of this soup mainly because "Potatoes are always in abundance so it's fun to find different ways on how to use them," she says. Keep reading for the ins and outs of executing this super simple yet very delicious potato soup recipe in your very own kitchen.
Gather the potato soup ingredients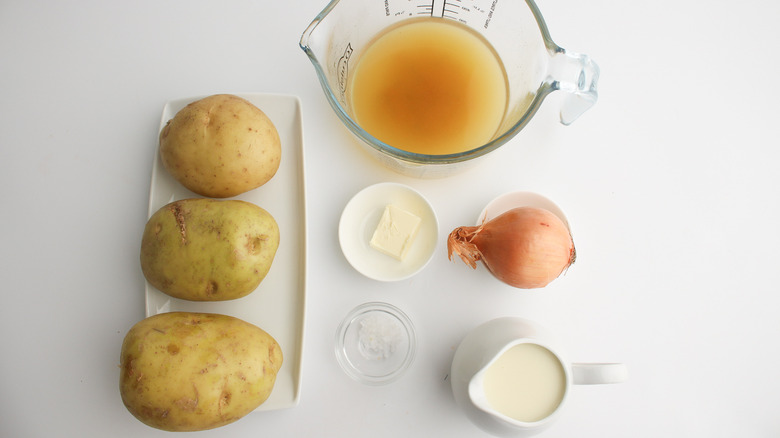 Susan Olayinka/Mashed
Before you even turn the stove on, it's best to assemble all the ingredients for your potato soup. That's a handy chef's trick known as mise en place, by the way, which is a great habit to develop for all of your kitchen adventures. Luckily, this recipe is not very complicated and only requires a few items, some or all of which you may already have on hand. You will need 3 white medium-sized potatoes, along with 1 white onion, chicken broth, unsalted butter, milk, and salt.
As far as the milk goes, there are obviously tons of options these days. Olayinka says that "whole milk is perfect to make it creamy," but other kinds of milk or even non-dairy milk can still work if that's what you have available. The same goes for the broth. While different kinds of broth, such as a vegetable or beef variety, should work just fine in this recipe, Olayinka says that "chicken broth is really my favorite as it has such a great flavor and saltiness." 
Peel and chop the potatoes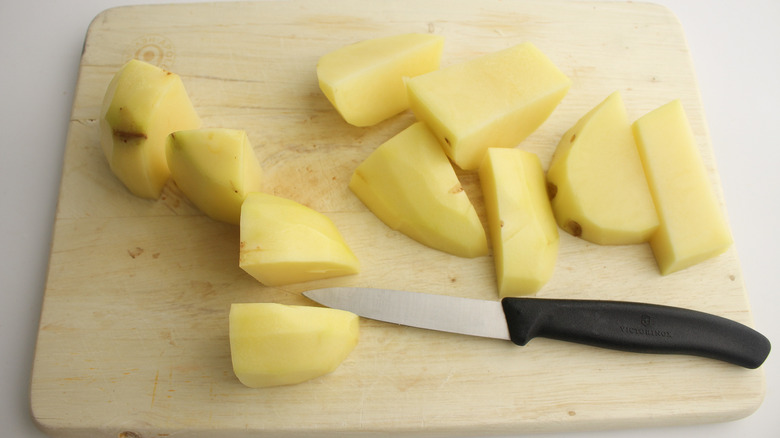 Susan Olayinka/Mashed
The first step in this quick potato soup recipe is to peel then chop the potatoes into 1-inch cubes. Using a vegetable peeler and a properly sharpened knife will make your life a lot easier in this step. Keep in mind you'll be cooking these on the stove for a significant amount of time, then eventually blending them with the other ingredients. This means that the cuts do not have to be perfect.
By the way, these potatoes are the basic go-to for potato soup, but you can get creative when it comes to using similar veggies. "Definitely any other type of root vegetable" will work, says Olayinka. "I've done sweet potato soup [and] butternut squash soup and it's worked out really well."
Prepare the onions for the potato soup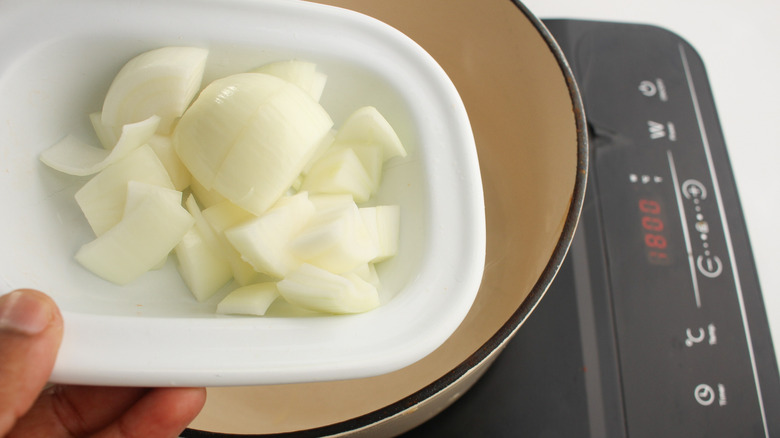 Susan Olayinka/Mashed
Next you'll need to peel and chop the onion for your potato soup. While we can acknowledge that chopping onions is certainly not everyone's favorite task, in this case, you can remember that it's only one onion. Plus, it's the last bit of chopping you'll have to do for the remainder of the recipe. 
Peel and chop the onion into small pieces. Again, given that these onions are going to be simmering in a pot and then later transferred to a blender, there's no need to stress about executing a flawless chopping job. 
Sauté the onions and potatoes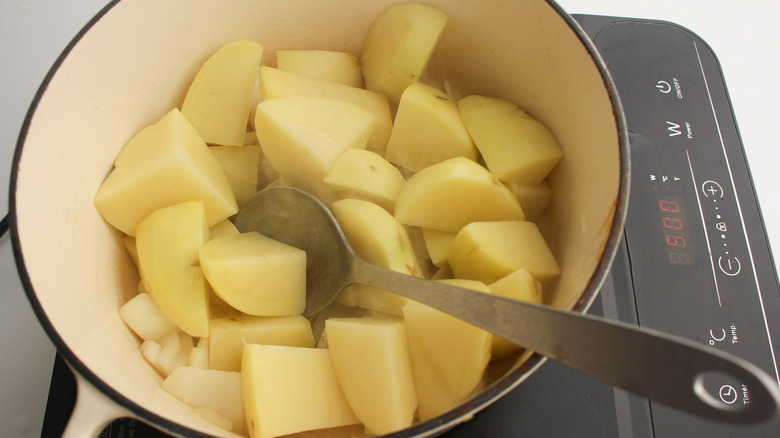 Susan Olayinka/Mashed
As soon as you've measured your ingredients and done all the necessary peeling and chopping, you can finally move over to the stove. Place the tablespoon of unsalted butter in a large soup pot on the stove. Heat the butter on medium-high heat until it's just melted. Let the butter continue cooking for about a minute, gently tilting the pot as it melts so you coat the bottom with the butter. Be careful that you don't do this step for longer than a minute since you don't want the butter to start to burn.
Now it's time to add the vegetables. Add the peeled, chopped onions and potatoes to the soup pot with the butter. Sauté everything together for another 2 minutes. You can use a wooden spoon or large serving spoon to do the stirring, making sure that everything is evenly distributed and cooking evenly. 
Pour broth, milk, and salt into the pot and cook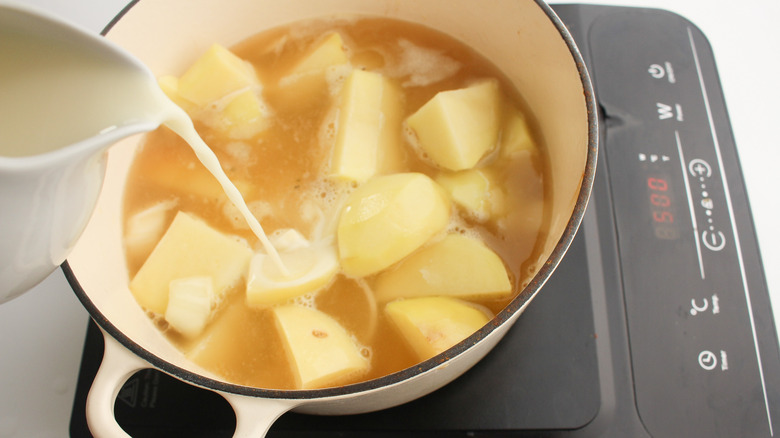 Susan Olayinka/Mashed
Once you've sautéed the onions and potatoes for a couple of minutes, it's time to incorporate the final potato soup ingredients — the milk, chicken broth, and salt. 
Gently pour the liquids into the pot with the already cooking butter, onions, and potatoes. Then, add ½ teaspoon of salt to the mix and stir everything together with a large spoon. Put a lid on the pot, and cook the soup for 30 minutes on low-medium heat. Set a timer to remind you to give the soup a stir at about the 15-minute mark.
Blend the potato soup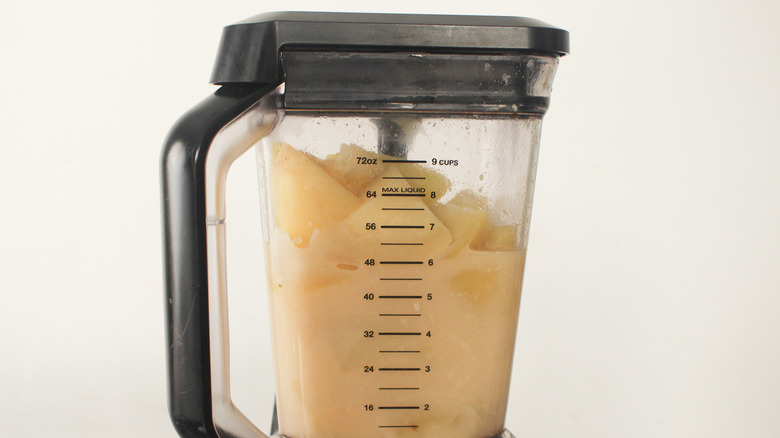 Susan Olayinka/Mashed
After the soup has cooked on the stove for about 30 minutes, it's time to turn off the heat and remove the pot from the stove. From there, carefully transfer the liquid to a high-speed blender. You may need another human to help you with this step, since the liquid is going to be pretty hot and the mouth of the pot is relatively wide. Ideally, if you have to use a blender of this type instead of an immersion blender, be sure to play it safe and let the soup cool a bit and be sure that it's securely covered. Ideally, a stick or immersion blender used in the pot itself will be the safest option.
Blend the ingredients on high for approximately 10 seconds, or until the potato soup is pureed to smooth perfection. A regular blender will suffice if you don't have a high-speed one, though you may need to be more patient as it purees everything.
Serve up the potato soup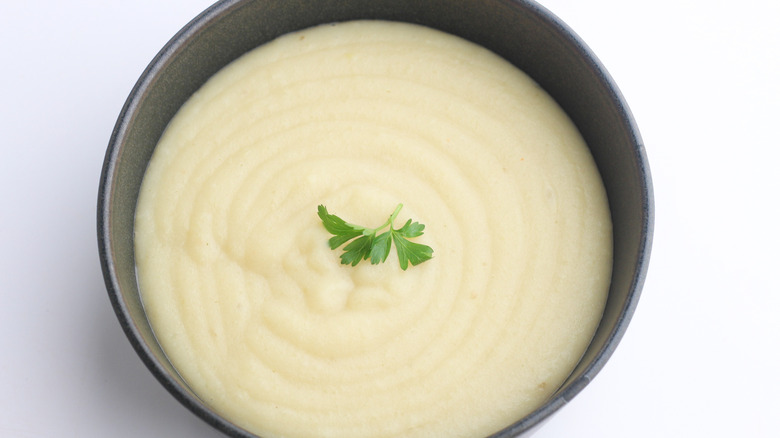 Susan Olayinka/Mashed
Once the soup has been blended, it's ready to eat! Pour the individual servings into bowls, adding an optional sprig of parsley for garnish on top. 
As for what to serve alongside this soup, Olayinka has a few suggestions. "Some crusty bread and butter or some meat" should work quite well, she says, as well as "some roasted chicken and roasted beef." 
And if you happen to have any leftovers after mealtime is finished, this potato soup should last in the fridge in an airtight container for three to four days. Given how satisfying and versatile this soup is, however, you shouldn't be too worried about finishing it up in time.
Quick Potato Soup Recipe
This recipe for a quick potato soup boasts not just hearty flavor, but a short ingredients list and plenty of room for customization. You'll surely love it.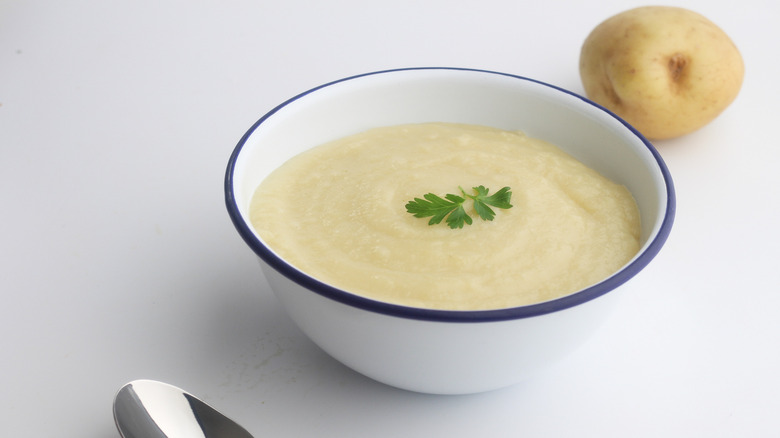 Ingredients
3 white medium-sized potatoes
1 white onion
1 tablespoon unsalted butter
2 cups chicken broth
2 cups milk
½ teaspoon salt
Optional Ingredients
Directions
Peel and chop the potatoes into 1-inch cubes. Peel and roughly chop the onion.
Heat the butter in a pot on medium-high. Sauté for 1 minute.
Add chopped onions and potatoes and cook, stirring occasionally, for 2 minutes.
Add the chicken broth, milk, and salt.
Cook on low-medium heat for 30 minutes, covered, stirring halfway.
After 30 minutes, pour the soup into a blender or use an immersion blender. Blend on high for 10 seconds.
Pour the blended soup into individual bowls and garnish with optional chopped parsley.
Nutrition
| | |
| --- | --- |
| Calories per Serving | 371 |
| Total Fat | 11.3 g |
| Saturated Fat | 6.1 g |
| Trans Fat | 0.2 g |
| Cholesterol | 31.2 mg |
| | |
| --- | --- |
| Total Carbohydrates | 54.6 g |
| Dietary Fiber | 5.4 g |
| Total Sugars | 14.2 g |
| Sodium | 701.3 mg |
| Protein | 14.0 g |