Why Some Think The Great British Baking Show's Challenges Have Gone Too Far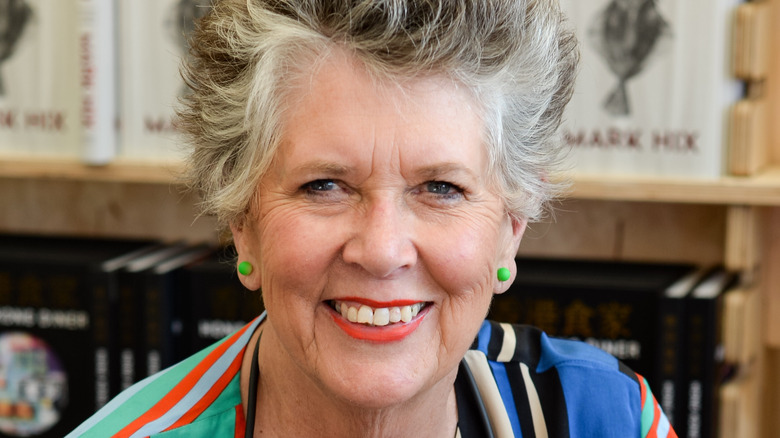 Mark Anton Smith/Shutterstock
"The Great British Baking Show" is up there for anyone who enjoys watching bakers create breathtaking, delicious masterpieces in a time crunch. We've seen some truly amazing desserts and gorgeous baked goods, and we love seeing talented contestants show off their skills.
Part of what makes watching "The Great British Baking Show" fun is watching bakers bring their all to the challenges, but not everyone thinks the challenges have the right direction. In an article for Vanity Fair, writer Chris Murphy points out that many of the challenges now are also a feat of engineering, not just baking, like one in the current season where bakers had to make a gravity-defying cake. Murphy writes that instead of elaborately designed cakes and drama, "We watch ['The Great British Baking Show'] to see nice people with absolutely gorgeous accents perform their favorite hobby."
Why do you watch "The Great British Baking Show"? If you prefer to watch it to relax and unwind instead dropping into a high-stakes baking competition, you're not alone.
Are the challenges too tough?
The Atlantic had a similar criticism of "The Great British Baking Show" and its ever-tougher technical challenges back in 2019. The complaint centered around how technical challenges have become less of a test of contestants' basic technical skills and more of a platform to introduce more obscure pastries. "Something has been lost in the fiendish goal of perplexing the bakers — and the audience — in the service of TV drama," the Atlantic noted.
What are some of these increasingly obscure technical challenges? Screen Rant rounded up some of the most difficult technical challenges, which included maids of honor (a dessert that none of the bakers had heard of, which has lemon curd and curd cheese in it). Contestants also once had to make a cake decorated like a tennis court and make pita bread over an open flame.
Instead of these fancier challenges, the Atlantic would love to see a perfect macaron (or seeded sourdough or croissant) as a technical challenge, and we do agree that it's never bad to return to the basics. While we expect that "The Great British Baking Show" will remain popular, we can't help but wonder if challenges will continue to change in the future. Will bakers in the tent ever get back to the baked goods we all regularly see in our kitchens?