This Might Be The Exact Date Dunkin's Peppermint Mocha Returns In 2021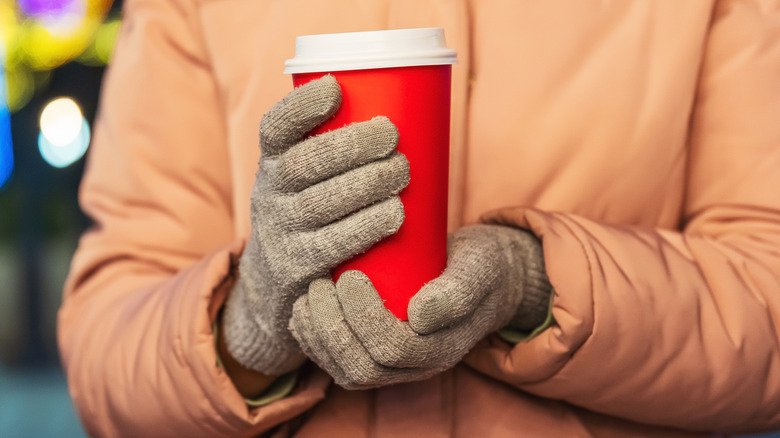 Yashkin Ilya/Shutterstock
Few things in the world are as satisfying and coveted as seasonal products and menu items from popular restaurants. If you're a Dunkin' fan, you're probably familiar with its Peppermint Mocha, a drink that is only available for a limited time every year. In fact, fans were seriously dejected in 2018 when Dunkin' chose to experiment with other espresso-based seasonal drinks instead of adding the Peppermint Mocha to its holiday collection (via TODAY). 
"Our goal was to disrupt the norm with a bit of the unexpected from Dunkin'," a spokesperson for Dunkin' explained. They also mentioned that the Peppermint Mocha would be back in the future. However, this did not stop Peppermint Mocha enthusiasts from taking to the internet to complain about the brand's decision. The next year, in 2019, Dunkin' ensured that the much-loved Peppermint Mocha was up for grabs, giving fans a chance to celebrate the holiday season with their favorite flavor. The brand's press release noted, "The guest-favorite combination of cool mint and rich chocolate can once again be enjoyed in Dunkin's hot or iced coffee, Cold Brew, espresso drinks, frozen coffee and frozen chocolate."
Yet, while the flavor has appeared on Dunkin's menu two years in a row now, will Peppermint Mocha return for the 2021 holiday season, and if so, when?
Dunkin's holiday menu will introduce numerous exciting flavors
Dunkin' is set to surprise its fans with plenty of delicious additions to its holiday collection, according to Taste of Home. While Dunkin' has not shared details yet, an insider source, @markie_devo, revealed interesting news on Instagram. They wrote that new donuts will be available from December 1, 2021 to January 4, 2022. Each frosted donut will feature holly berry sprinkles, though the "flavored frosting" choices will remain basic, with vanilla, strawberry, and chocolate dominating the lineup. Meanwhile, the Snowflake donut will have a generous serving of buttercreme filling. And that's just a sampling of the flavors to come, as we haven't even tackled the beverage menu!
According to another Instagram post by @markie_devo, Peppermint Mocha will definitely return to Dunkin's beverage menu this holiday season. Woohoo! You can order one every day, if you so choose. Perfection. Oh, and you can also get your hands on the Toasted White Chocolate Latte, an ideal option for those who cannot get enough of white chocolate. Don't like caffeine? No problem! Pick the White Mocha Hot Chocolate instead for a sweet treat without the buzz.
Last year, fans got to taste the Peppermint Mocha as early as November 2. In 2019, Dunkin' launched the drink on November 6. So, expect to sip on the beverage sometime in the first week of November. In fact, fans can tentatively prepare to enjoy their Peppermint Mochas by November 3, as @markie_devo predicts! Fingers crossed.