Subway's 'Fake Tuna' Lawsuit Has Been Dismissed. Here's Why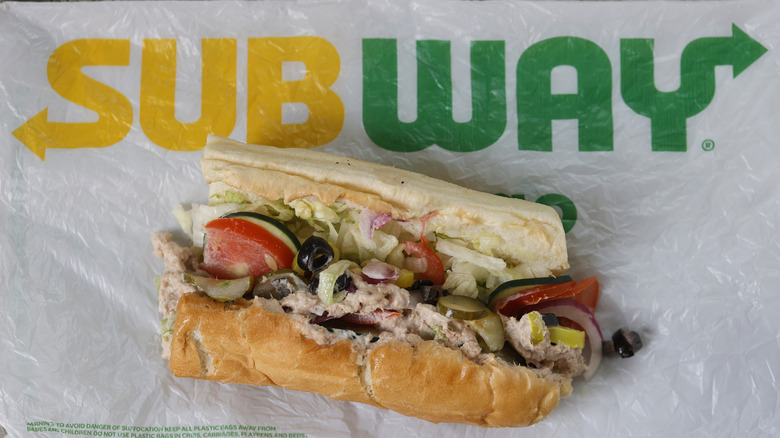 Justin Sullivan/Getty Images
Back in January 2021, Subway's tuna sandwiches came under fire. As reported by The Washington Post, two California residents — Karen Dhanowa and Nilima Amin — filed a lawsuit with the U.S. District Court for the Northern District of California citing fraud, intentional misrepresentation, and unjust enrichment. Subway describes their tuna sandwiches as made with "flaked tuna blended with creamy mayo" on "freshly baked bread," but the plaintiffs said the chain's assertions that it uses real tuna in their sandwiches are fraudulent and misleading.
The lawsuit alleged that Subway's sandwiches are "made from anything but tuna." Citing a series of lab tests taken from multiple Subway locations, the plaintiffs alleged the sandwiches contained "a mixture of various concoctions that do not constitute tuna, yet have been blended together by defendants to imitate the appearance of tuna." Subsequent lab testing conducted by The New York Times also failed to find evidence of tuna DNA in the chain's sandwiches, although the lab tests may have been an inadequate method of detecting DNA (via Seafood Source).
The plaintiffs failed to identify the specific nature of the fraud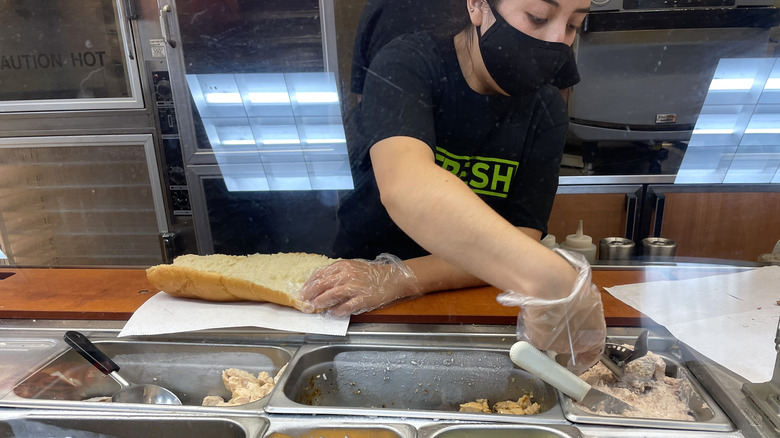 Justin Sullivan/Getty Images
Subway denied the allegations, asserting that they only use real, wild-caught tuna in all of their sandwiches. "I say follow the science, and if you follow the science, once tuna is cooked, its DNA becomes denatured, which means when you go to test it, you can't tell one way or the other," Subway CEO John Chidsey said (via Seafood Source). And in this fishy legal battle, it seems that Subway will be the one to emerge victorious. According to Law & Crime, Judge Jon S. Tigar dismissed the lawsuit after determining that Karen Dhanowa and Nilima Amin failed to satisfy Federal Rule of Civil Procedure 9(b), which states that plaintiffs who are alleging fraud must identify the specific nature of the fraud in question. "Plaintiffs are the only ones who can identify which statements they saw and relied upon and where they saw them. Subway cannot properly defend itself against a complaint that does not identify the misstatements it allegedly made," Tigar wrote.
However, while this suit may have been tossed out, that doesn't mean all of Subway's troubles are over. Tigar dismissed the case with "leave to amend," meaning customers may still be able to bring back more lawsuits with more specific claims. "We commend the court for dismissing the reckless and improper lawsuit surrounding Subway's tuna," Subway said of the judge's decision in a statement, per Business Insider.