What You Need To Know About Butterball's 2021 Turkey Recall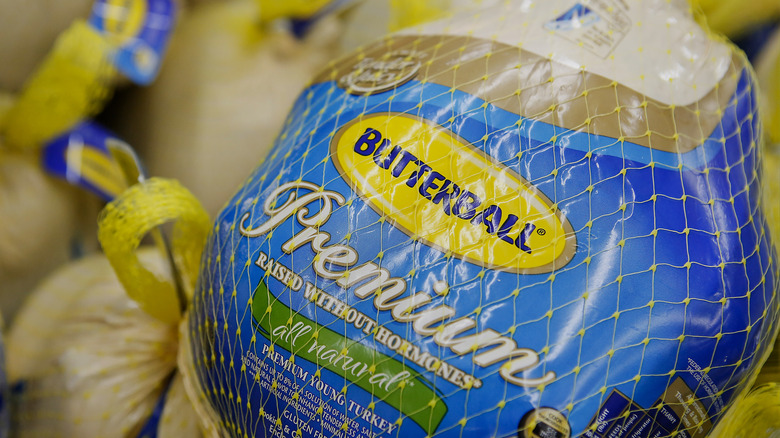 Bloomberg/Getty Images
Butterball is known not only for its turkeys, but for being a leader in safe turkey-cooking techniques. It's why the company has a national hotline where customers can get advice on best practices for turkey prep. Currently, however, the iconic brand is fielding customer complaints, not questions.
As reported by CBS News, Butterball has issued a recall of 14,000 pounds of raw, ground turkey used in products sold at BJ's and Kroger's supermarkets. The turkey is being recalled because it "may be contaminated with extraneous materials, specifically blue plastic," according to a notice posted by Food Safety and Inspection Services (an agency of the USDA). Butterball and the FSIS discovered the health risk after receiving customer complaints. As yet, no injuries have been reported. The turkey under recall was processed on September 28 at Butterball's Mt. Olive facility in North Carolina — the largest turkey processing center in the world, with an annual output of 17 million turkeys.
The recall affects turkey processed within a specific timeframe
While the recall is already underway, there are steps customers can take to be sure they steer clear of the compromised product. The recall affects two ground turkey products, one sold under the Farm to Family label exclusively at BJ's, and the other sold at Kroger under the Kroger label. To avoid the affected turkey, all you need to know are the specifications of each ground turkey product, which both the FSIS and Butterball have shared in their respective statements. The affected Farm to Family products are "2.5 lb packages ... of ground turkey ... with a sell-by date of 10/18/2021 and a time stamp ... reading between 2123 and 2302 and P-7345." Meanwhile, at Kroger, be sure to avoid "3-pound packages of Kroger brand ... ground turkey ... with a sell-by date of 10/17/2021 and a time stamp ... reading between 2314 and 2351 and P-7345." If you're purchasing ground turkey at either BJ's or Kroger, just keep an eye out for those two sell-by/freeze-by dates, and you should be all set.
If you happen to have already purchased either of the affected products, the solution is pretty straight forward, per Butterball and the FSIS. Simply discard the turkey. Or, better yet, return it to the store where you bought it.