Buddy Valastro Dishes On Buddy V's Cake Slice And Carlo's Bakery - Exclusive Interview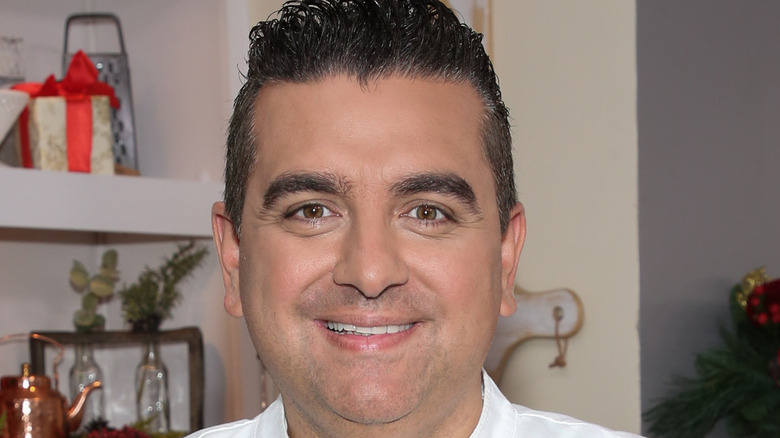 Paul Archuleta/Getty Images
Cake Boss Buddy Valastro might already be a household name thanks to his television shows and his appearances on other Food Network programs. But Valastro is expanding his sweet empire to put not only his name in fans' households, but his cakes too. In his latest product launch alongside Virtual Dining Concepts, Valastro created his own virtual brand, Buddy V's Cake Slice. Through their partnership, select cake flavors from Carlo's Bake Shop can be ordered online and delivered right to your front door in 30 minutes flat. 
The new brand includes five of the most popular picks from Carlo's Bakery: Confetti, Fudge, Vanilla Rainbow, Black and White Fudge, and Red Velvet. Of course, there will be plenty of additional flavors added to the roster later too. Each cake slice is individually wrapped at Carlo's Bake Shop after they are baked, cooled, frosted, and frozen for freshness. The slices are then sent to select restaurants all over the United States where online orders can be placed through the website, the app, or even through other food-delivery apps like GrubHub. "Now you can enjoy your favorite New Jersey Baker's cake slices with your favorite people — delivered right to your door," Valastro said. "It's cake Hoboken-style, Baby!!" But to find out more about the concept and what's on the horizon, Valastro sat down with Mashed to discuss all things surrounding Carlo's Bake Shop.
The Cake Boss dishes on Buddy V's Cake Slices
Can you tell us a little bit about what inspired Buddy V's Cake Slice?
Well, Buddy V's Cake Slices have been really popular over the last, like four or five years at Carlo's Bakery. Not everybody wants to buy a whole cake or eat a whole cake, but by having different slices means you have different varieties where you could share, you could do different things. And as we started doing more of it, we started to get it out to our own bakeries, which have been huge sellers. We've been able to do it kind of online where people could order it and then get it delivered to their house via UPS or FedEx. And then the next evolution is, well, what if you're watching "Cake Boss" or watching something. And you're like, "Hey, you know what? I want a piece of cake. It's a Sunday afternoon." Well, now you can go to Buddy V's Cake Slice. And if it's in your area, have it delivered to your house in a half an hour.
And it's still the same exact cake made here at my factory in New Jersey. And you can get it instantaneously, you can go on Door Dash, Uber Eats, Grubhub, or any of the platforms and find us if we're in your neighborhood. But it's a way to go from having 14 bakeries all over the country to now have 500 locations all over the country where people could get your desserts.
We're an instant gratification kind of society today. People [would] rather just have it delivered to the house, than get in a car. And these slices come individually packed, individually sealed, every one is still made in ... my bakery here in New Jersey and, it's done by me and my family.
One of my dreams right, was to make my bakery a household name. And I think that we did that over the years of "Cake Boss" and everything else, which is great. But now it's like, "How do you get everybody in America who wants to taste your cake ... to be able to taste it?" And this is the fastest, easiest way to get it done.
Buddy Valastro gives an update on his recovery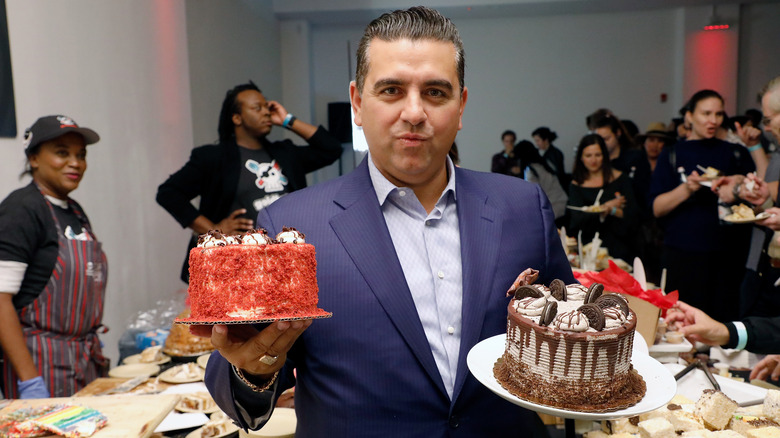 Taylor Hill/Getty Images
After your accident, you had said regaining mobility was one of the most challenging things you've had to overcome. How are you doing?
I've got to say, thank God. I'm probably about 95% back. I got my strength back. I got my dexterity. I was able to film another season of "Buddy vs. Duff," which is really the ... craziest cakes that we've ever made. So if you can compete at that level, then we're pretty good. I had some nerve damage, but honestly, the nerve is healing pretty well. I'm truly blessed, really lucky. It could have been so much worse.
Speaking of "Buddy vs. Duff," did you have a favorite cake that you've made this season?
By far the finale cake, which was like our nuclear dinosaur. It was actually the one of two cakes in my life that made me tear up. I was so choked up by it, because I couldn't believe we did it. And I honestly looked at the cake, and then I stepped back and I was just really thought [about] my dad. And I said, "Man, if my dad could see this freaking cake." Like we couldn't have even dreamt about anything like that when I started to be a cake decorator in like 1989 or '90, we just didn't even have the medium. So the fact that we've come so far and been able to overcome it, was really like the cherry on top.
Can you speak a little bit about your relationship with Duff?
Actually me and Duff are good friends. I guess season one, which is crazy and people don't believe us, but we really didn't know each other. We knew of each other, but we really didn't know each other. And over the years of being able to kind of start to work together, him and his team are amazingly talented artists. And I have the utmost respect for them and they have the utmost respect for us. But we're still boys enough where we bust each other's chops a little bit. And he, once in a while, texts me a picture of his daughter, who's beautiful and adorable. And I'll send her clothes, and they'll send me a picture, "Oh, she's in uncle Buddy's outfit today."
He's a great guy. Look, do we want to win? Yeah. And do I think that he brings out the best in me, and I bring out the best in him? Yeah. But if it makes sense, even though I want to win, I'm not rooting against him. He was one of the first people with my injury who texted me, and he was back and forth with me. So we have a really good relationship.
Are there any other celebrity bakers that you'd like to challenge to a bake-off?
I'm not calling anybody out here. Listen, I'll compete against anybody. I will tell you, "Listen, this person made the better cake." Tip my hat, pay homage. I'm an old dog that likes to learn new tricks, see different styles. I love hearing people's ideas and seeing it. But for me, I would love to compete against anybody that wants to do it, or that wants to make their mark on the world.
Buddy Valastro on his days in the bakery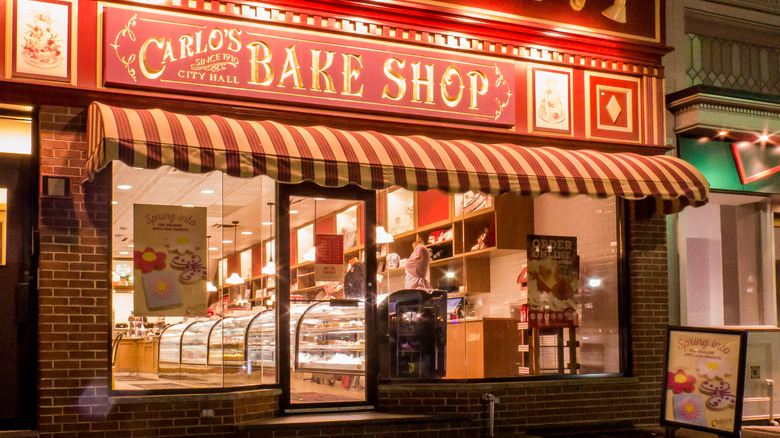 Brian Logan Photography/Shutterstock
Do you have a favorite kind of non-cake dessert?
Non-cake dessert? Well, a lobster tail I would say is really more of a pastry. I'm doing a new concept. And I'm thinking of, "What do I want to bring in this concept?" And I was thinking back to like, the old crumb cake that we used to make and the German butter cake, the Danish, and the croissants, and all that stuff. And I was like, visualizing it displayed in this new bakery showcase. And thinking back of how we made them, and the love and the pride that we took [to] it.
I totally enjoy all that stuff. And I don't want to say we got pigeonholed, but some of the stuff that we made, like after "Cake Boss," people only wanted certain things. So we had a whole slew of things that we could have made or can make. But I want to try to bring back some of that stuff that was so iconic, so delicious, and give it a shot again.
Do you have a favorite cake flavor?
My favorite cake flavor is vanilla cake, French cream, fresh raspberries, and chocolate ganache.
And how much baking do you actually do in the bakery these days? You have so much going on.
More than you would imagine. Honestly, I'm at the factory every day. Bakery, factory, it's my world. And I'm on the line with the people, figuring out the systems, the efficiencies. I'm always working with the food people here, like our, what we call scientists to come up with new desserts and new things. I got some new cakes coming out over the holiday season, which I've been thinking about and dreaming about, and I've eaten way too much of it over the last four or five months. That's the biggest problem with anything is, is like when you test something, to get it perfect, all you're doing is just pounding cake, flavors, and textures all day long. And you're like, Oh, man." It's hard. Tough life.
What's next for Buddy Valastro?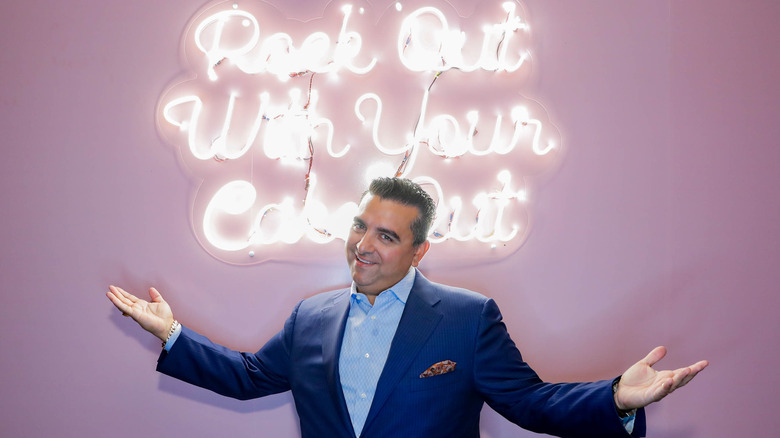 Jp Yim/Getty Images
Can you give us a sneak peek at any of those flavors? Or is it still too soon?
I'm not 100% sure of what I'm going to call it, but I want to do this thing called dream cakes. And dream cakes is going to focus on a certain ingredient, and it's going to be what I dream of having with this ingredient. So let's take sweet potato. Sweet potato was the one thing that I did, it's like, "Okay, what should this be?" And I did a combination of a layer of sweet potato cake and I did a layer of sweet potato pie. And then I put this like granola or pecan crumble on it. I put marshmallows on top and they kind of roasted ... I was really inspired, truth be told, I was at Ruth's Chris and I was eating the sweet potato, with the candied pecans or whatever. And I was like, "You know, this tastes like dessert. Like it's savory, but it tastes like dessert." It's like, "How do I take that and bring it into my world?" And then I layer it, and I actually did a brown sugar Swiss meringue buttercream with cream cheese in it to get a little tang. But it's about, "Does this cake ... What's going to accompany sweet potato best? A pie, a cake, and a cheesecake? Or, a cookie?"
What's my dream of accentuating these flavors? And that's kind of it. I want to kind of like go into an ingredient, and then really highlight the best thing. Say it was blueberry, or you might like blueberry pie, I might like blueberry cheesecake. I like blueberry muffins. Maybe I'm taking those three components and putting them together for the ultimate experience of flavor, texture, and to really drive your senses wild.
That's the dream cake, that's the dream cake line. You're the first person I spoke to about it, I've been thinking about it for a while.
The Cake Boss on his kids joining the family business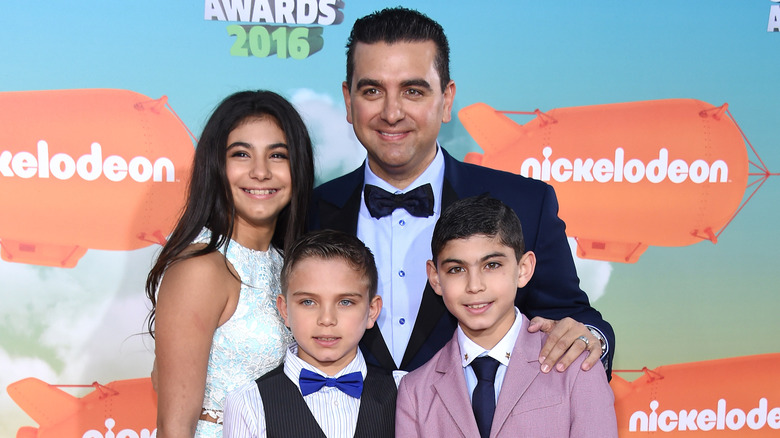 DFree/Shutterstock
We have watched your kids grow up on your television show. And so we were wondering, do they have any plans to follow in your footsteps? Are you starting to teach them and train them?
That's a great question. My daughter is actually studying at the University of Delaware, she's in business management and hospitality. So she definitely wants to follow in the footsteps. And then my son, Buddy, me and him are starting to look at some universities. But they all definitely want to be in the world of kind of what I do, from what they're saying now. 
And again, it's all choice. I never wanted to like say, "You have to do this." But they really enjoy the business. And they work here. Not because they're my kids, but they're hardworking kids. And they put in the effort and I appreciate it.
To try a slice of Buddy Valastro's cake for yourself, head over to Buddy V's Cake Slice and place your order. You can always keep up with what the Cake Boss is up to by following him on Instagram.