Chocolate Peanut Butter Banana Milkshake Recipe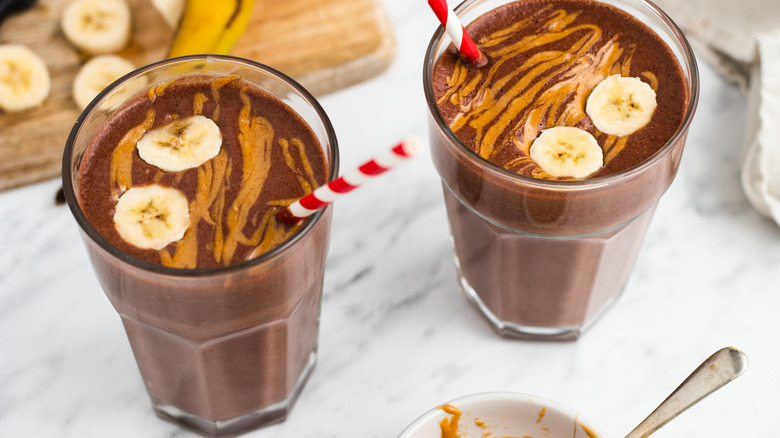 Catherine Brookes/Mashed
Milkshakes tend to be served best on a hot day, but if you're anything like us, then you fancy them as a year-round treat. Milkshakes are, after all, packed with flavor and sweetness, and a cold beverage is always welcome.
Recipe developer Catherine Brookes of Blue Sky Eating came up with a perfectly splendid chocolate peanut butter banana milkshake recipe that'll have you sharing the same sentiment as us –– milkshakes deserve to be enjoyed during the spring, summer, fall, and winter. The taste, needless to say, speaks for itself.
"This is one of my favorite flavor combinations," Brookes says. "The sweetness of chocolate and banana with the saltiness of peanut butter goes perfectly together, and it's even better when blended into a creamy milkshake!"
When you're ready, read on to see how to concoct this chocolate peanut butter banana milkshake recipe!
Gather the ingredients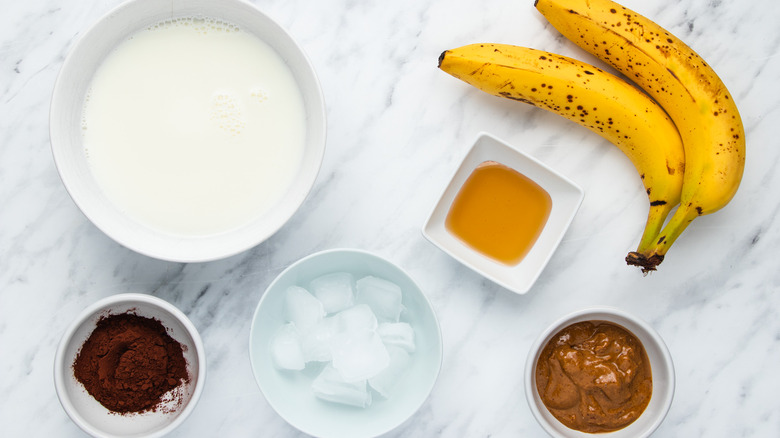 Catherine Brookes/Mashed
Before you can dive into this chocolate peanut butter banana milkshake, you need to gather the ingredients for the recipe. First things first, you'll need bananas and smooth peanut butter. You'll also need cocoa powder, honey, milk (or non-dairy milk of your choice), and ice cubes. Although this recipe is super easy, Brookes does have a few pointers for us.
"I usually break each banana down into a few pieces with my hands," Brookes said. This process will make the blending step easier. And although the brand doesn't matter, incorporating a creamy peanut butter will ensure this recipe comes out perfect. "I would use a creamy peanut butter with no chunks in," Brookes said. Any brand should be fine!"
Outside of gathering the ingredients and breaking down the bananas, you'll, of course, also need a blender, as well as cups for the finished *chef's kiss* milkshakes.
Add the ingredients to a blender and blitz until smooth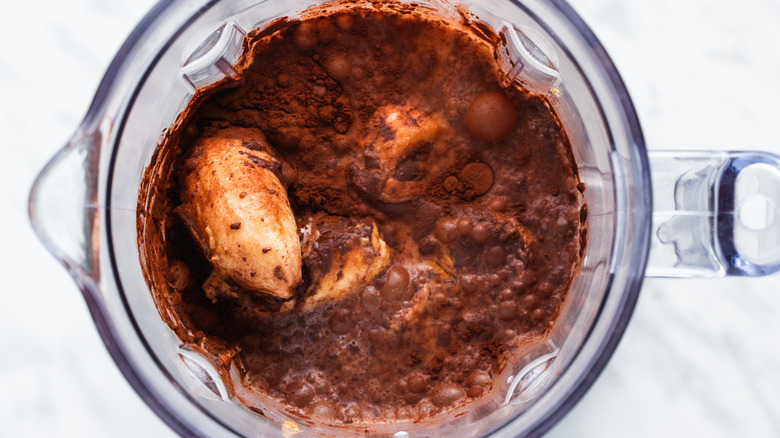 Catherine Brookes/Mashed
This is, by all means, an easy recipe to make. After all your ingredients are ready, you'll add them all, one by one, to a blender: Put the broken-down bananas and peanut butter in the blender, followed by the cocoa powder, honey, milk, and ice cubes. You'll then blitz the ingredients in the blender until the milkshake is smooth. Then pour the milkshake into glasses.
As a reminder, this recipe serves two to three happy appetites. 
That peanut butter drizzle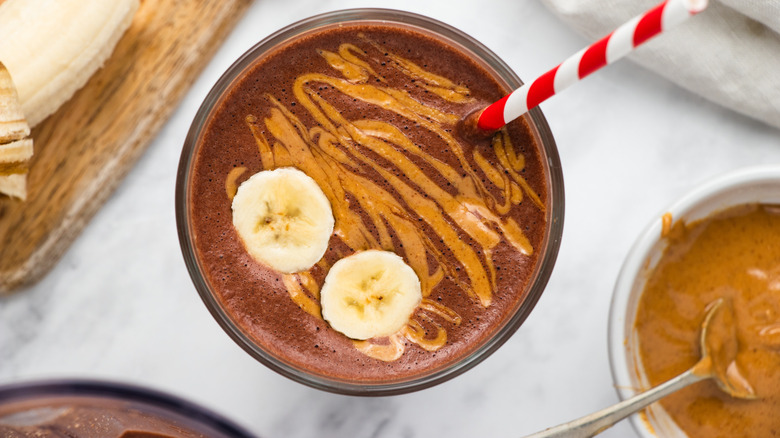 Catherine Brookes/Mashed
As Brookes mentions, creamy peanut butter is ideal for this recipe. Yet readers might also notice the drizzle on top of the shake. That has more to do with the type of peanut butter than preparation. If you want this desired effect, then natural peanut butter is the way to go.
"The peanut butter, yes, it's a natural one –– made from just peanuts and a little salt (the kind that separates and needs stirring before you use it)," Brookes says. "That's why it's runny enough to drizzle over the top of the milkshake."
If you have thicker peanut butter, Brookes explains that putting it in the microwave to melt it a bit is also a good option.
In case you're wondering, the milkshake, according to Brookes, is "best enjoyed straight away, but could keep for 24 hours covered in the fridge. Just give it a stir before you drink it."
Health benefits of peanut butter, honey, and bananas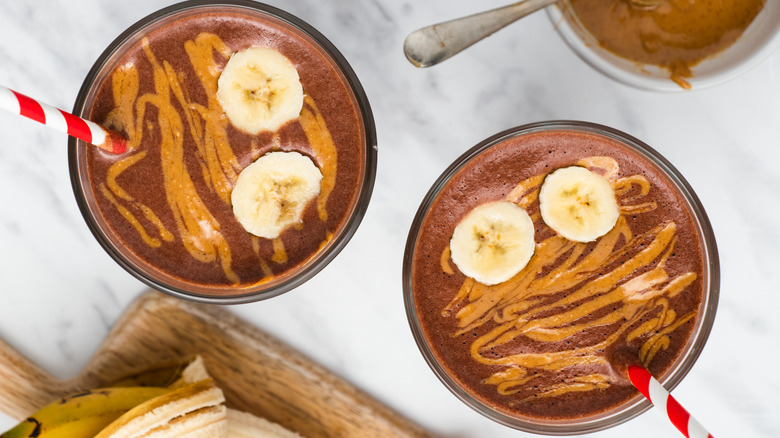 Catherine Brookes/Mashed
Though milkshakes aren't typically associated with health benefits, this chocolate peanut butter banana milkshake recipe offers a healthy alternative. Peanut butter, after all, is packed with protein and, according to WebMD, it's also a good source of vitamin E, niacin (B3), manganese, vitamin B6, and magnesium. Honey is packed with antioxidants. And bananas are high in potassium (among other benefits), which is essential for heart health.
Needless to say, this milkshake brings it in the taste and health department.
Chocolate Peanut Butter Banana Milkshake Recipe
With just a few ingredients and one simple step, you'll want to make this deliciously rich and creamy milkshake over and over again.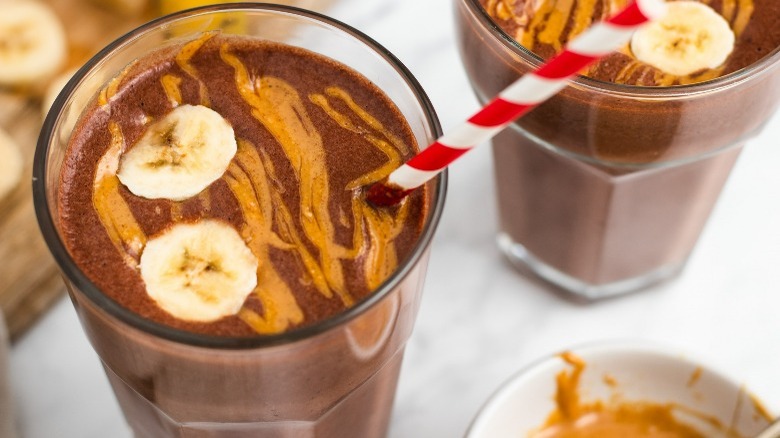 Ingredients
2 large ripe bananas, broken into smaller pieces, plus a few slices for topping
3 tablespoons smooth peanut butter, plus more for topping
2 tablespoons cocoa powder
1 tablespoon honey
2 cups milk (or non-dairy milk of choice)
½ cup ice cubes (approximately 10 ice cubes)
Directions
Add all the ingredients to a blender and blitz until smooth.
Pour into glasses.
Drizzle additional peanut butter on top of each milkshake and add a couple slices of banana.
Serve and enjoy!
Nutrition
| | |
| --- | --- |
| Calories per Serving | 458 |
| Total Fat | 21.4 g |
| Saturated Fat | 7.6 g |
| Trans Fat | 0.0 g |
| Cholesterol | 24.4 mg |
| | |
| --- | --- |
| Total Carbohydrates | 59.9 g |
| Dietary Fiber | 6.8 g |
| Total Sugars | 40.2 g |
| Sodium | 114.3 mg |
| Protein | 15.6 g |