Trader Joe's Fans Are Obsessed With Its New Hazelnut Filled Bamba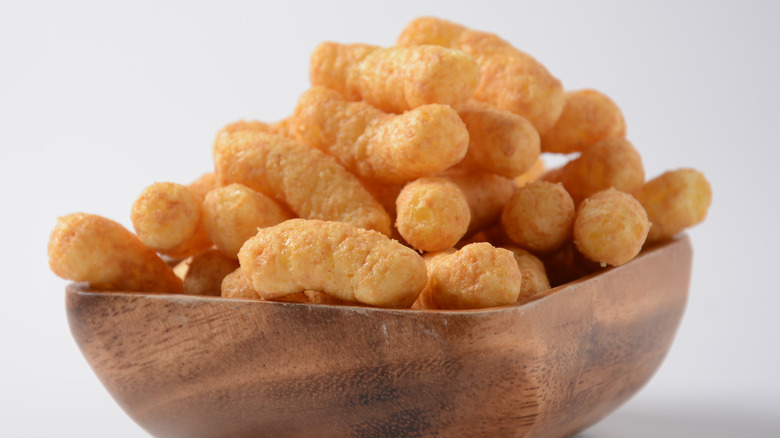 Natalia Hanin/Shutterstock
Trader Joe's has developed a cult following over the years. If not for its cheap prices and ship-themed stores, then for its unique store-brand items you can't get anywhere else: dark chocolate peanut butter cups, mandarin orange chicken, cauliflower gnocchi, and Everything but the Bagel seasoning, to name a few. You probably have a few of your own personal favorites to add to this list, too.
Recently, Trader Joe's fans have been obsessed with a new item: hazelnut-filled Bamba. The snack, recently shared on the popular Instagram account Trader Joe's List, has TJ lovers from coast to coast excited about the new offering.
Similar to the original peanut Bamba the chain is known for offering (via Trader Joe's), this hazelnut version is sure to incentivize even more tastebuds to taste the wildly popular Israeli snack. First spotted in Chicago, Illinois, these hazelnut crème-infused peanut and corn snacks are turning heads.
This Bamba is selling fast
According to the Trader Joe's product page, the hazelnut Bamba snacks have a similar color, crunch, and nutty flavor as regular peanut Bamba snacks, but this new upgraded version comes with hazelnut crème filling.
Shared on Monday to Trader Joe's List, the rumor is that they're slowly spreading across the country. "I have heard from SO many of you that the OG bamba is one of your favorite items at #traderjoes so I am guessing this hazelnut twist will make happy tastebuds out of many of you!" the account owner shared. Some commenters who had already gotten their hands on the tasty treat were excited to provide reviews for anyone who hasn't had the opportunity to experience the snack.
"Love these! But my Trader Joe's has been out of them for weeks" one comment shared. "These are majorly addictive! So good!" another wrote. However, some shoppers were less impressed, though these reviews were few and far between. "Had some yesterday & would have expected more filling," one Instagrammer wrote.
Still, if you like peanut butter and hazelnut, or any kind of salty and sweet combination, these are worth adding to your shopping list. They cost $1.69 per bag, but you may end up wanting a whole shopping cart full if some comments are to be believed.