Chef Kiya Wilhelm Reveals What Surprised Her The Most On Hell's Kitchen - Exclusive
Appearing on the show "Hell's Kitchen" guarantees its share of surprises — not to mention stress, anxiety, and excitement. The chefs competing to win often don't know what dishes they'll be asked to make until just before they start cooking.
But for chef Kiya Wilhelm, the biggest surprise of all during her time on Season 20 of the show — subtitled "Young Guns" due to an age cap of 24 for contestants — wasn't any specific dish, but rather about the food used on the show in general.
"The biggest surprise was for me ... was the quality of the food," Wilhelm said during an exclusive interview with Mashed. "A lot of times you look on TV, and for example on 'Chopped,' a lot of that stuff's random stuff that you can find, but it's stuff that you don't see every day. Whereas on 'Hell's Kitchen,' it was the finest cut of meat." Wilhelm explained the tomahawk they used might have been over a hundred dollars for a single steak. "And that was the biggest shock for me," she continued. "Because I come from a home where [...] everything's used, and it's the cheap cuts that can sometimes make the nicest things."
This dedication to top-quality ingredients didn't stop with the steaks, Wilhelm revealed. "And then another thing was preparation," she said. "It's very minimal. The biggest thing that is prepped is the garnish station. ... You needed everything fresh, and the last thing that was done was something like the vegetables were reheated, but they were cooked to order. And that's something that I had to get used to."
Chef Kiya's other big surprise from 'Hell's Kitchen'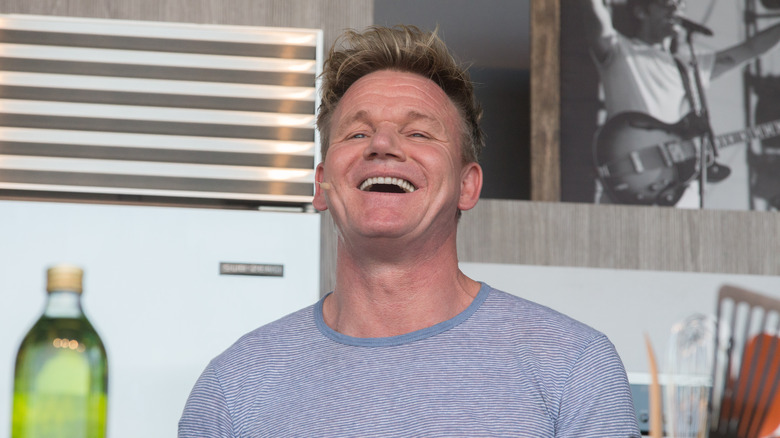 Sterling Munksgard/Shutterstock
For Kiya Wilhelm, the surprises of "Hell's Kitchen" started before she realized she was officially on the show. The filming of the first episode of "Hell's Kitchen: Young Guns" commenced while those who would be competing still thought they were in the audition phase, Wilhelm revealed.
"So we didn't know that we were on the show until the day of. The [producers] kind of kept us in the gray area until the final day. You can expect [something] but they were basically telling us that we had a chance to be on the show, but there was one final interview. I didn't find out that I was on the show until, like they show in the first episode, the curtain dropping and chef Ramsay standing up there."
For the young chefs, the moment was every bit as dramatic as it looked to those later watching from home. "We all thought that we had to go through one more interview," Wilhelm said. "And at the time, because of all the people, I was very nervous because it was a whole bunch of reporters and stuff, or supposedly it [was to] make it look that way. And then chef Ramsay is standing up there. So I was extremely nervous and I was trying to not throw up. Because how often does a curtain drop and then boom! There's one of your idols like standing there watching you?"
To keep up with chef Kiya Wilhelm's culinary career, you can follow her on Instagram.