Cake Goop Recipe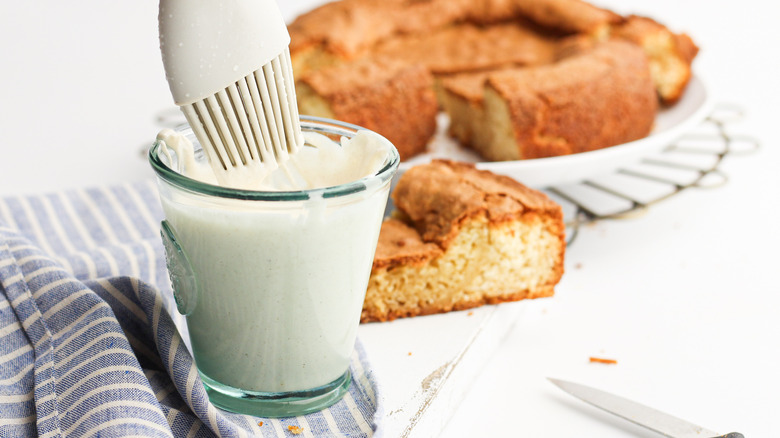 Susan Olayinka/Mashed
Okay, okay, we know — you're wondering what the heck cake goop is, so let's just get right into it. Cake goop, which also goes by the names "cake release" and "pan release," is effectively just a food-safe lubricant — it's a simple blending of several ingredients that helps cakes slide smoothly out of the pan, retaining their good looks once baked. It can also be used for other baked goods, of course, helping slices of pie to rise out of the pie tin in perfect shape, ensuring breads pop from the pan in perfect loaf form, and on it goes. 
So maybe this humble stuff deserves more credit, given how much it helps bakers? And maybe when we add to that the fact that cake goop can also help a lasagna, a casserole, a deep dish pizza, and so much more pop cleanly from their baking vessels, opinions of cake goop might change. In fact, perhaps instead of the rather limiting term "cake goop," we should say, "everything oven baked goop."
Until the masses come around to that new way of thinking, go ahead and try chef and recipe developer Susan Olayinka's take on cake goop and see how many uses you can find for it yourself. "I'm a person who douses the cake tin with either lots of flour or lots of butter (or both!) so it doesn't stick," she says. "But lo and behold it always sticks! So when I came across this recipe, which lasts for so long and is super cheap and easy to make, I won't be going back."
Gather your ingredients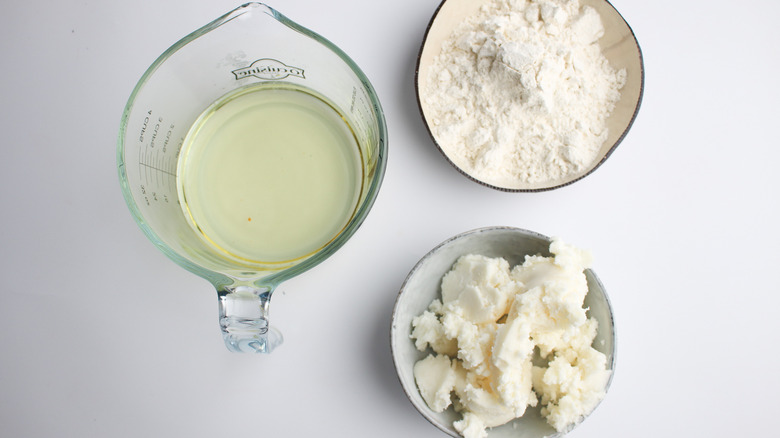 Susan Olayinka/Mashed
Call it cake goop, pan release, cake release, or any other term you want to throw at it, but what you won't be calling this stuff is hard to make. It requires just three ingredients to prepare a batch of cake goop, and there's a good chance you have them all at home already. They are all-purpose flour, vegetable oil, and vegetable shortening. And if you don't have shortening, you can use margarine instead — just note that doing so will shorten the storage life here.
Made with shortening, Olayinka says, "This cake goop will last as long as the ingredients it's made from." And that usually means up to six months.
Prepare the cake goop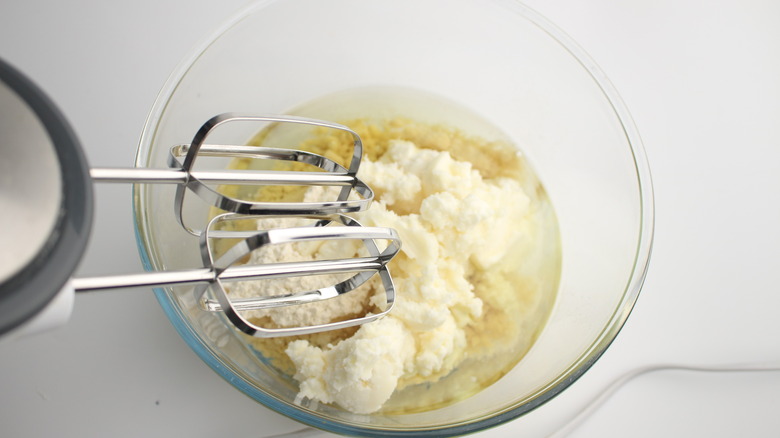 Susan Olayinka/Mashed
Remember how there are but three ingredients at play here? Well, when it comes to measurement, things get even simpler than that, as there is but one measurement in total, and that's 1½ cups. So go ahead and measure out 1½ cups each of your flour, vegetable oil, and shortening, and put all three portions into a durable glass mixing bowl or a metal bowl.
Now, using a handheld electric beater, whisk all three ingredients together until a uniform blend is created, which will take about half a minute in most cases. And that's it — you're done!
How to use your cake goop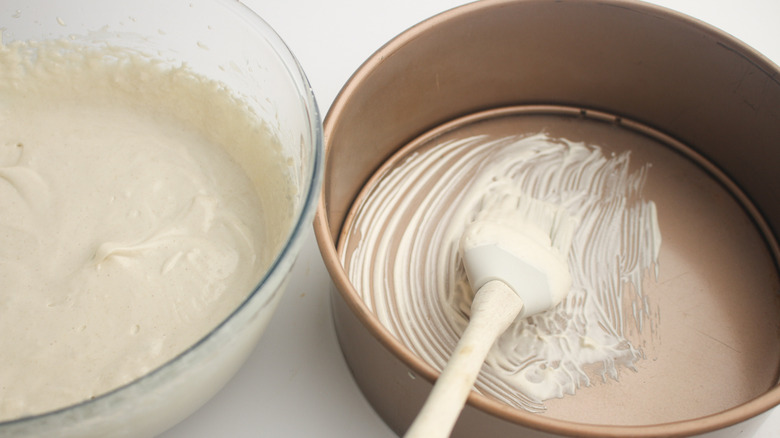 Susan Olayinka/Mashed
We told you that making this stuff was simple, right? Well, there was no kidding there. You're all done. Now all you need to do is scoop your goop into an airtight container ("store it in an airtight container in a cool, dark place," advises Olayinka) and then use it as needed over the next few months.
Ah, but how to use cake goop? In a word, liberally. "You can use it for any type of cake that will be in a cake tin. Wave goodbye to parchment paper," Olayinka says, and instead, say hello to goop!
Spread it heavily on the side and bottoms of cake pans, slather it into casserole dishes, use it to coat a bread maker inside, and on the list goes. This goop will not impart any noticeable flavors, but it will noticeably improve the looks of your foods as they remain intact when slipped, dumped, or popped from any pan or dish.
Cake Goop Recipe
Frustrated with your cakes and other baked dishes getting stuck to the pan? This cake goop will ensure that you'll never be dealing with sticky messes again!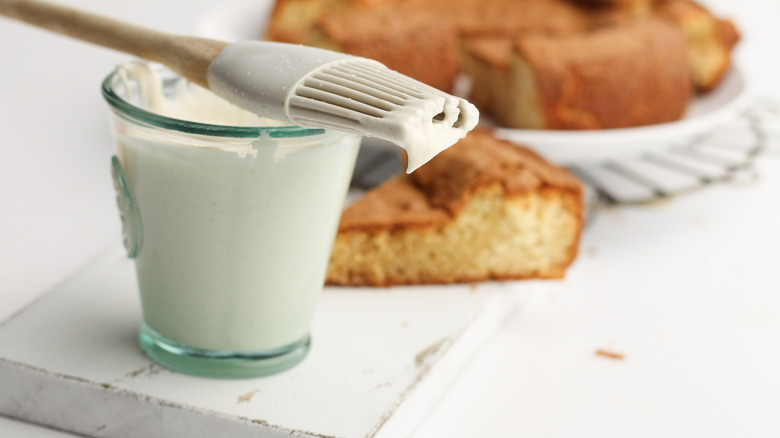 Ingredients
1½ cups all purpose flour
1½ cups vegetable shortening
1½ cups vegetable oil
Directions
Pour the flour, vegetable shortening, and vegetable oil into a mixing bowl.
Use an electric hand mixer to blend all ingredients together until the mixture is uniform, about 30 seconds.
Use a pastry brush to spread the goop onto the inside of a cake pan or baking dish.
Use as pan grease for any baked recipe.
Nutrition
| | |
| --- | --- |
| Calories per Serving | 398 |
| Total Fat | 40.3 g |
| Saturated Fat | 6.2 g |
| Trans Fat | 2.7 g |
| Cholesterol | 0.0 mg |
| | |
| --- | --- |
| Total Carbohydrates | 8.9 g |
| Dietary Fiber | 0.3 g |
| Total Sugars | 0.0 g |
| Sodium | 1.0 mg |
| Protein | 1.2 g |