Breakfast Burrito Fans Won't Want To Miss This Taco Bell Freebie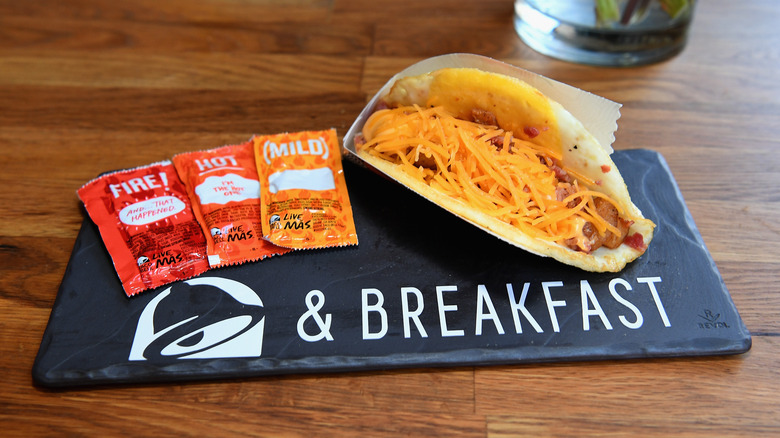 Dia Dipasupil/Getty Images
When Taco Bell announced the return of their Toasted Breakfast Burritos, fans couldn't hold back their excitement. The brand showed off the item across social media, and fans on Twitter flooded the posts with replies like "on my way," and "Now I want one." While the Tex-Mex chain brought the item back in August, many patrons haven't had the chance to try one of these breakfast burritos out for themselves due to limited breakfast availability options (via Instagram).
Taco Bell now has a bold new strategy to get people excited for the Toasted Breakfast Burrito. As long as the individual locations don't run out of stock, diners can pick up free breakfast burritos on October 21 from 7:00 to 11:00 a.m. (via PR Newswire). If you want to take advantage of this offer, you have a choice of toasted burritos to select from. Taco Bell offers the Cheesy Toasted Breakfast Burrito that comes with eggs, nacho cheese sauce, and sausage; the Hash Brown Toasted Breakfast Burrito loaded with bacon or sausage, eggs, a three-cheese blend, and a hash brown; and the Grande Toasted Breakfast Burrito that gets stuffed with scrambled eggs, a three-cheese blend, potatoes, tomatoes, and the choice of bacon or sausage. 
If that alone can't get you pumped to start the day with a burrito, Taco Bell has yet another way to make sure you get up early enough to take advantage of this deal.
Taco Bell plans to wake you up to try their burrito
According to PR Newswire, Taco Bell wants to do more than just give you a free Toasted Breakfast Burrito on October 21. The chain plans to get fans to bed early by sharing an adult bedtime story titled "Sleep Tight, Get That Bite: A Taco Bell Bedtime Story for Adults" that should get patrons into bed early. The chain has even accounted for people who might sleep too well and end up missing the promotion altogether. Burrito lovers can get a wake up call from Taco Bell by texting the message Wake Up to 1-866-WAKEUP3 to receive a pre-recorded call from the restaurant that can get anyone pumped up and ready to enjoy a free burrito.
If you love the idea of taking on the day with a complimentary breakfast burrito, make sure to avoid sleeping on this deal. Taco Bell's latest strategy to get fans excited for the return of their breakfast menu might just usher in a new era for the restaurant, but you need to wake up early enough in order to see for yourself.