From-Scratch Mug Pizza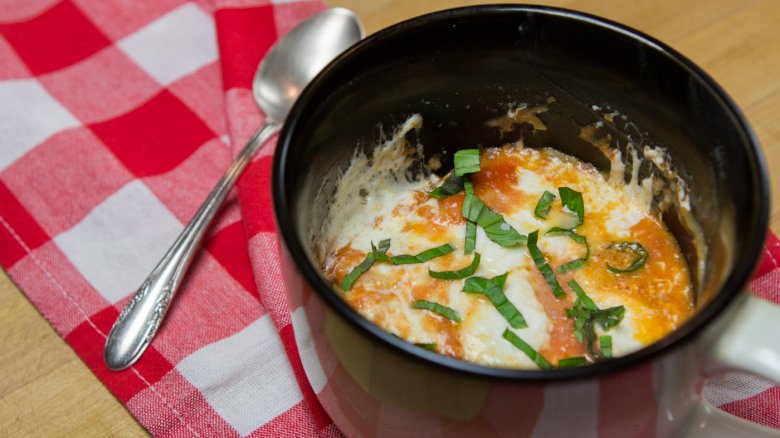 Reminiscent of the mini microwaveable pizzas of our youth, the ridiculously adorable single-serving mug pizza concept is one to embrace wholeheartedly, in my humble opinion. Why the hell not? With its simple ingredients and a magical from-scratch dough leavened with baking powder and soda instead of slow-rising yeast, this snack time dream come true is all that and more. Once you wrap your brain around the idea of eating pizza out of mug using a spoon, you have no choice but to succumb to your basest emotions. That is, you won't be able to resist the pillowy dough, the gooey melted cheese, the zesty marinara sauce, and the hand-chosen toppings. Cuter than a slice, this pizza is easy to whip up when the munchies hit and takes about two minutes to cook.
The appeal of mug pizza lies in its unique ability to actually be fast and to still be a homemade meal that's not loaded with bad-for-you ingredients. It's fast food that tastes like real food, which seems like an oxymoron — but it's not! While food made in a microwave has long been marginalized as unhealthy or somehow unworthy because it's all too convenient, mug meals like this one do wonders for swaying public opinion — or at least they should. You choose the quality of the ingredients. To that, this fun and innovative pizza in a mug can be as gourmet or as trashy as you want.
In addition to being a pretty homey meal, prepped in your favorite microwavable mug, this single serving pizza oozes charm from the outset. Whether you need a quick dinner for just yourself, have only ten minutes to fix lunch, or desperately need a snack while you binge watch your favorite show, mug pizza makes perfect sense. As with any recipe that uses few ingredients, try to choose the best quality ones you can get your hands on. Just because you nuke it in the microwave doesn't mean you should skimp.
Here's what you'll need to get cooking
Got a mug and access to a functioning microwave? Great! You're halfway to snacky pizza heaven. The rest is easy-peasy and incredibly adaptable to suit your tastes and what you happen to have on hand. The miracle dough that makes up the base of the pizza is made with flour, salt, baking soda, baking powder, milk, and olive oil. I told you it would be a breeze. You probably already have all of those ingredients at the ready.
The rest is straightforward stuff with plenty of room for interpretation. While marinara or other red sauce, mozzarella cheese, and pepperoni are classic toppings, you can just as easily turn your mug o'pizza into a vegetarian-friendly one with chopped olives or chopped sundried tomatoes. Turn it into a white pizza when you skip the sauce and opt for a combination of flavorful cheeses instead. Basically, anything goes, which is my favorite way to snack.
Throw together the easiest dough ever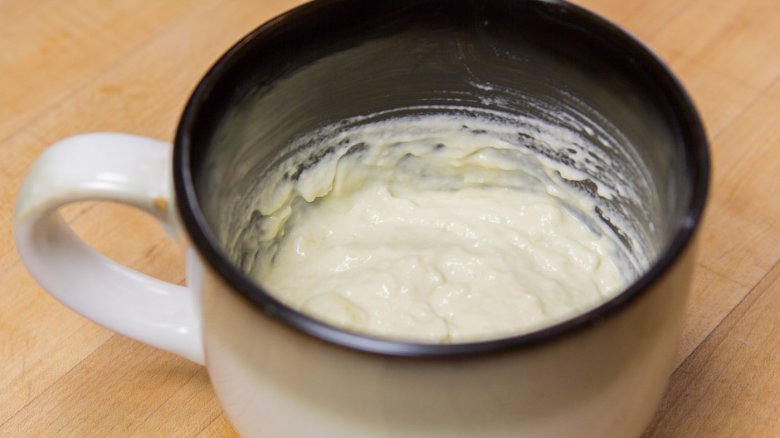 Mix the ingredients for the dough directly in a microwave-safe mug to save yourself any extra dishes. Once it begins to come together, use your fingertips to flatten the dough so that it covers the bottom of the mug. Now there is a time and place for proper pizza dough made with yeast, then there is a time when down-and-dirty is simply perfect. By using baking soda and baking powder instead of yeast, you get to have your pizza in minutes. If you're anything like me, you go from hungry to hangry pretty fast, which makes this kind of shortcut a godsend.
Assemble your miniature pizza any way you like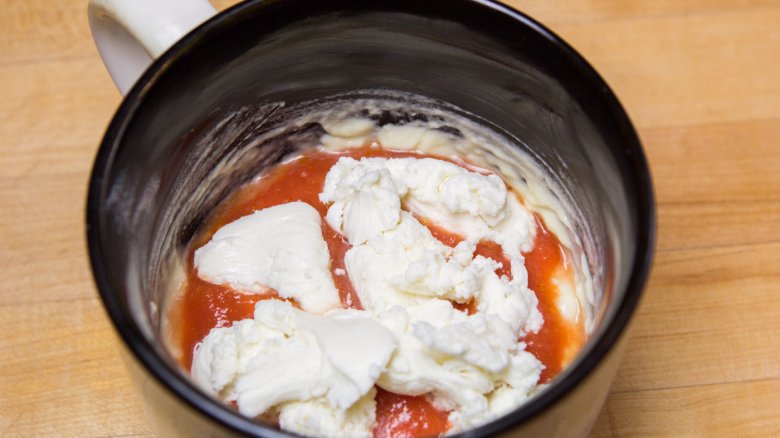 Here, the most laidback pizza dough ever is slathered with enough marinara sauce to cover the surface, and a generous amount of creamy mozzarella.
Nuke it!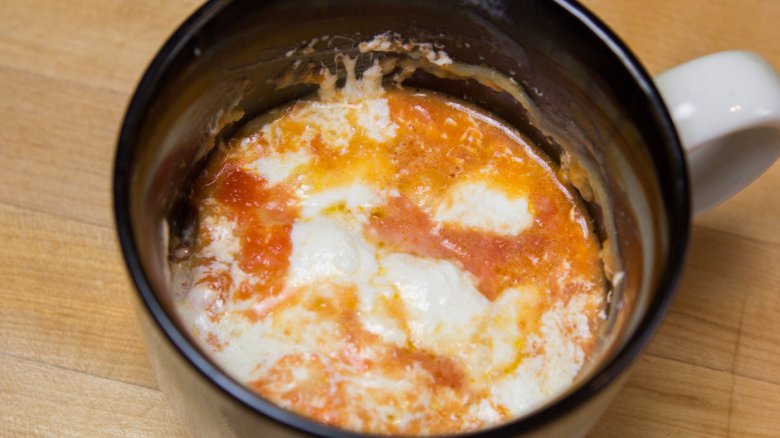 Now that you've breezed through that pizza prep, it's time to nuke it. While the cook time will vary slightly depending on the microwave you use, this mug pizza usually finishes cooking on high after 1 to 2 minutes. Keep an eye on it as it cooks to see if the dough is rising and the cheese has melted—both major indicators of doneness. Keep in mind the cheese can blend into the dough a bit, so make sure to check underneath to ensure the crust is done cooking.
Grab a spoon and enjoy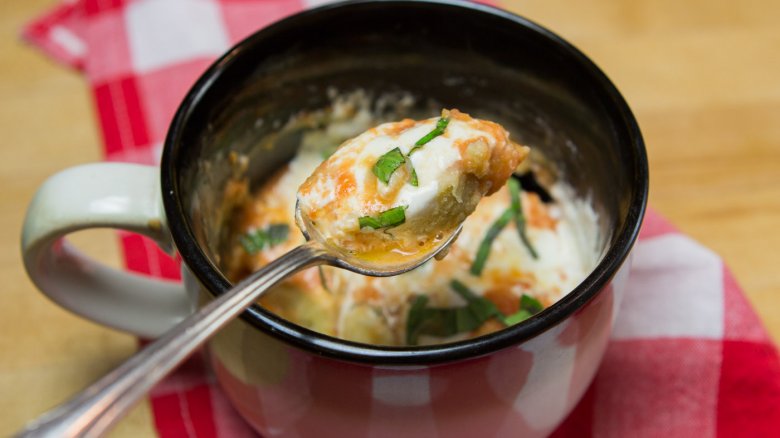 Once it's cooked, I add a sprinkling of salt and slivers of fresh basil for extra seasoning and fragrance. Unlike a slice of pizza, you'll want to eat this one with a spoon, which frankly adds to the novelty of the whole thing if you ask me.
Directions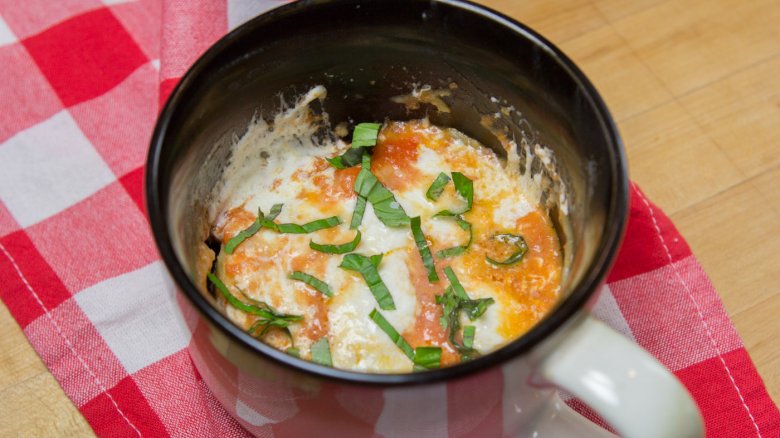 Prep time: 5 minutes
Cook time: 3 minutes
Servings: 1 mug pizza
Ingredients:
½ cup all-purpose flour
¼ teaspoon kosher salt
¼ teaspoon baking powder
⅛ teaspoon baking soda
¼ cup plus 2 tablespoons whole milk
2 tablespoons olive oil
2 tablespoons marinara or other red sauce
1 to 2 ounces fresh mozzarella cheese, roughly torn
1 to 2 fresh basil leaves, thinly sliced
Directions:
In a large microwaveable mug, stir together the flour, salt, baking powder, and baking soda. Add the milk and olive oil and stir until the dough comes together. Using your fingertips, flatten the dough to cover the bottom of the mug.

Top the prepared dough with the marinara or red sauce, spreading evenly. Add the cheese in an even layer.

Transfer the pizza mug to the microwave and heat on high until the dough has puffed up and the cheese is melted, 2-3 minutes.

Carefully remove the pizza from the microwave. Garnish with the basil and a sprinkling of salt if desired. Enjoy your pizza while it's hot.