15-Minute Spicy Thai Tofu Tacos Recipe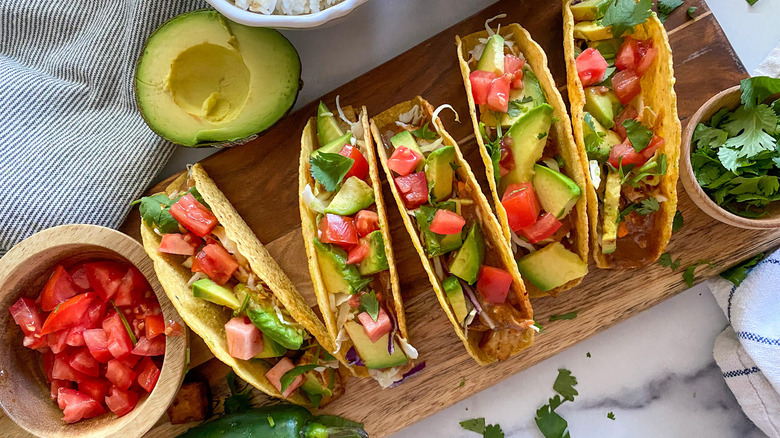 Miriam Hahn/Mashed
We must say that we think 15-minute meals are some of our favorite ones to make. When you're in a bind for time but still want the comfort of home cooking, these excellent and easy meals are the perfect option. Recipe developer Miriam Hahn has a knack for coming up with easy but delicious recipes that can be ready in a snap. "I love that this flavorful recipe can be done in 15 minutes which makes it a great weeknight meal!" Hahn raves.
Another significant plus about this recipe, at least for many people, is that it's vegetarian and can be easily made vegan as well. What's more, tofu is an excellent protein-rich stand-in for meat and Hahn simply can't stop raving about it. "I love tofu as a meat sub. Tofu takes on the flavor that you season it with, so it is super versatile," she shares, noting that you may want to pay attention to some of the wording on the packing. "It is important to buy organic tofu as it is a soy product and soy is often genetically modified," Hahn notes.
Keep on reading to find out how to make this tasty, healthy, and easy weeknight taco dish!
Gather the ingredients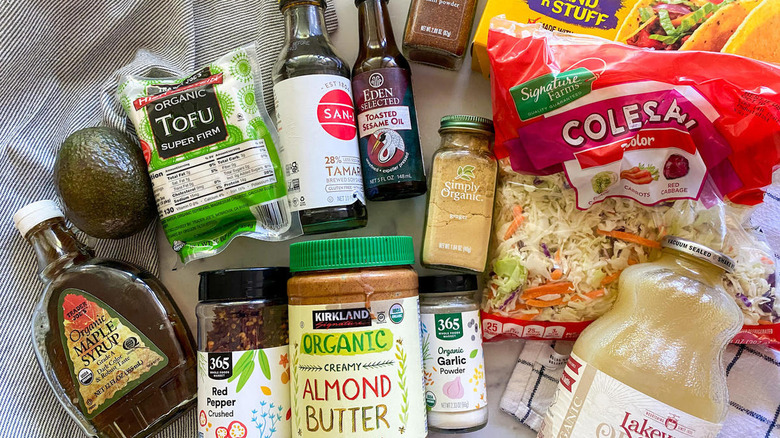 Miriam Hahn/Mashed
Start your ingredient gathering by taking a trip to the store and getting some super firm tofu. "Nasoya or Trader Joes make this type that doesn't have to be pressed," Hahn notes. "Look for vacuum-sealed packaging vs. packed in water." Hahn further argues that tofu is a great pantry staple that provides plenty of protein, lasts quite a while in the fridge, and can be surprisingly tasty when prepared correctly. "In my cooking classes, I absolutely love seeing people's faces when they taste something they love made with tofu!" she says. Tofu is definitely one of the more underrated ingredients in the kitchen and we must say — don't knock it until you try it!
You will also need a few spices and sauces, including sesame oil, soy sauce (Hahn used tamari, a similar sauce), ginger powder, chili powder, and crushed red chili flakes. In addition, you will need peanut butter (or a similar kind of nut butter, like almond butter) and water. You will also need some lime juice, maple syrup, and garlic powder. 
Last but not least, add in some shredded coleslaw mix. You could make your own out of carrots and green and red cabbage, though there's no shame in picking up the bagged stuff for convenience's sake. As for toppings, which are all options, you may also want to procure some avocado, cilantro, and tomatoes.
Preheat the oven and dry the tofu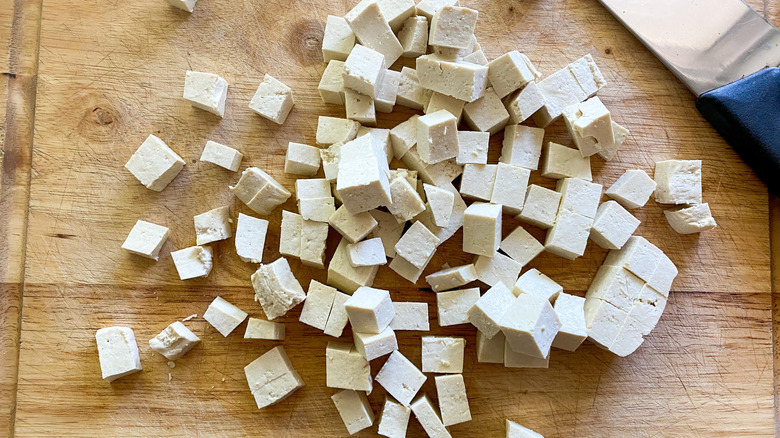 Miriam Hahn/Mashed
Before you do anything else, you need to turn on the oven and let it preheat to 375 F. Let it get nice and toasty while you tend to the rest of your prep work so that it will be ready to go when you need to warm your taco shells.
As you are waiting for the oven to preheat, grab the tofu from the fridge and remove it from its packaging. Wrap the block of tofu in a paper towel or clean, lint-free kitchen towel to dry off the excess moisture. Then, cut the tofu into small ½ inch cubes and set them to the side.
Mix the sauce and spices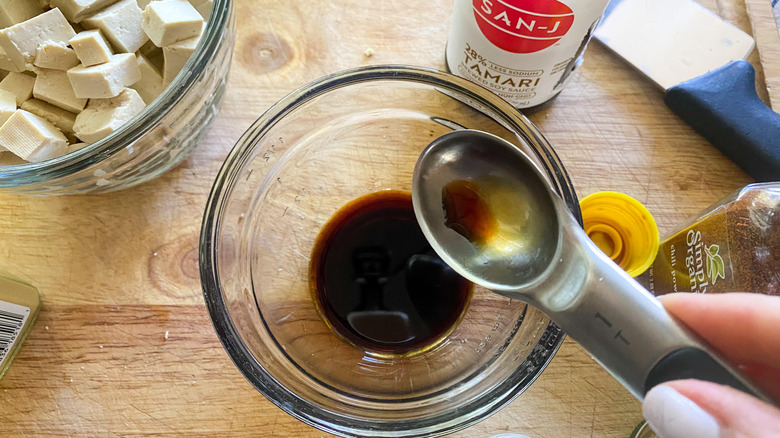 Miriam Hahn/Mashed
Now, take out a small bowl and add in 2 tablespoons of soy sauce. Then, throw in the sesame oil, ginger, chili powder, and red pepper flakes. Give the mixture a few stirs to combine everything well. 
The salty flavor of the soy sauce serves as a great compliment to the somewhat bitter pungency of the ginger, while the chili powder and red pepper flakes add just the right amount of heat to the final product (though, of course, you're always welcome to add a bit more if you're really into spicier tofu).
Prep the frying pan and cook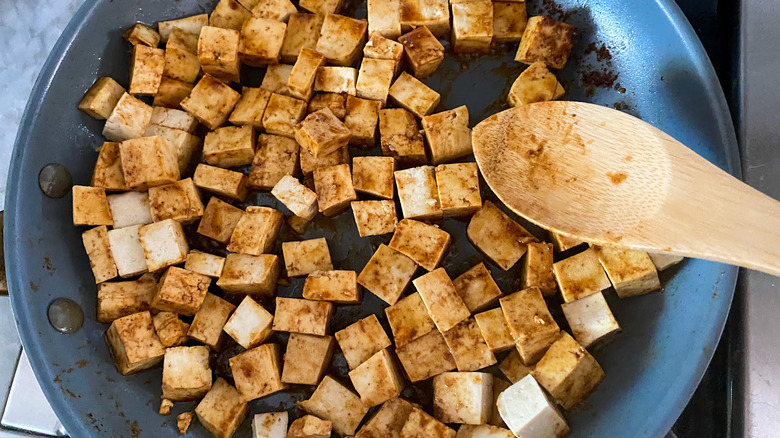 Miriam Hahn/Mashed
Now that you have your sauce and tofu ready to go, it's time to get cooking. Grab a frying pan and put it on your stove, then kick up the heat to medium-high. Next, add the tofu to the pan, followed by the soy sauce mixture. 
Place the pan lid on top to keep the heat from escaping and the mixture from drying out too much. Continue cooking the tofu and sauce for about 12 minutes. Be sure to stir it a few times as you go, ensuring that everything is evenly coated in the mixture and that nothing is burning or sticking to the bottom of the pan.
Whisk together the rest of the sauce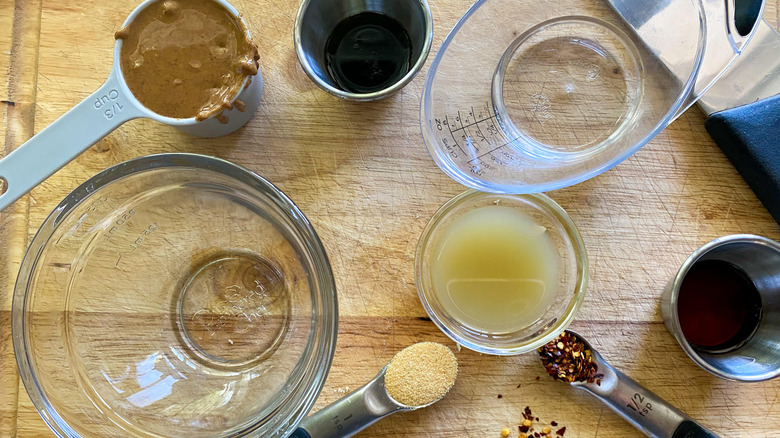 Miriam Hahn/Mashed
While the tofu cooks, you can multi-task and prepare the rest of the sauce. Grab another dish or a bowl and throw in the remainder of the soy sauce, along with the water, lime juice, maple syrup, and garlic powder. Using a whisk, mix the ingredients together until they're thoroughly incorporated.
By now, your oven should also be fully preheated. This means you can stick the taco shells in on a baking pan and let them warm up for a few minutes, according to the directions on the package. And remember that a warm taco shell is a happy taco shell!
Assemble the tacos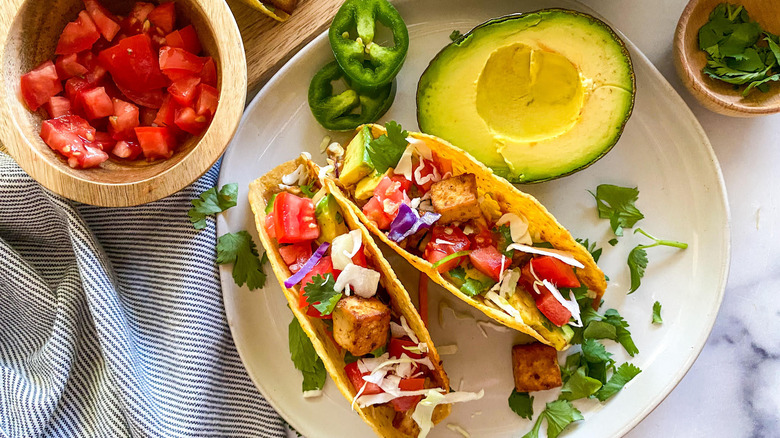 Miriam Hahn/Mashed
Once your 12-minute timer goes off, remove the tofu from the pan and put it in a heat-safe serving dish. This should also be about the right time to take the warmed taco shells out of the oven. Next, assemble the tacos by layering the tofu, slaw mix, and peanut sauce in the shells. You can also add any additional toppings you'd like, such as avocado, tomato, or cheese.
Those toppings contain a whole universe of options. "You can doll these up with all sorts of toppings. If you want to keep them vegan, there are many dairy-free cheeses and sour creams on the market," Hahn says. "You can serve them with hard shells or soft or even put all of this in a tortilla."
As for serving suggestions, you can enjoy these tacos all on their own, or, as Hahn recommends, alongside some rice or beans. You might even want to try some classic gazpacho as a soup course if you're feeling extra fancy.
15-Minute Spicy Thai Tofu Tacos Recipe
This tasty, healthy, and easy weeknight taco dish harnesses the power of tofu for a vegetarian main meal that's bound to satisfy anyone at the dinner table.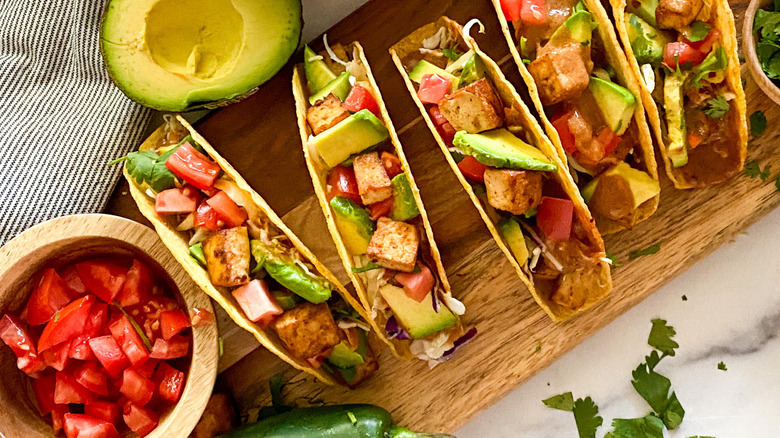 Ingredients
1 package extra-firm tofu
1 tablespoon sesame oil
3 tablespoons soy sauce, divided
1 teaspoon ginger powder
½ teaspoon chili powder
1 teaspoon crushed red chili flakes
⅓ cup peanut butter
¼ cup water
2 tablespoons lime juice
1 tablespoon maple syrup
1 teaspoon garlic powder
1 cup shredded coleslaw mix
Optional Ingredients
Avocado
Cilantro
Diced tomatoes
Directions
Preheat oven to 375 F.
Remove tofu from the package and wrap in a paper towel to dry off. Cut into ½ inch cubes.
In a small bowl, mix the sesame oil, 2 tablespoons of soy sauce, ginger, chili powder and red pepper flakes.
Add oil to a frying pan on medium high. Add tofu and the soy sauce mixture. Cover and continue to cook on medium-high for about 12 minutes, stirring a few times.
For the peanut sauce, whisk together the remaining soy sauce, peanut butter, water, lime juice, maple syrup, and garlic powder.
Put the shells in the oven to warm up.
When shells are ready, assemble the tacos by layering tofu, coleslaw mix, and peanut sauce. Add any additional toppings.
Nutrition
| | |
| --- | --- |
| Calories per Serving | 126 |
| Total Fat | 9.1 g |
| Saturated Fat | 1.7 g |
| Trans Fat | 0.0 g |
| Cholesterol | 0.8 mg |
| | |
| --- | --- |
| Total Carbohydrates | 7.7 g |
| Dietary Fiber | 1.3 g |
| Total Sugars | 4.7 g |
| Sodium | 312.5 mg |
| Protein | 5.3 g |