This MasterChef Dinner Presentation Has Reddit Confused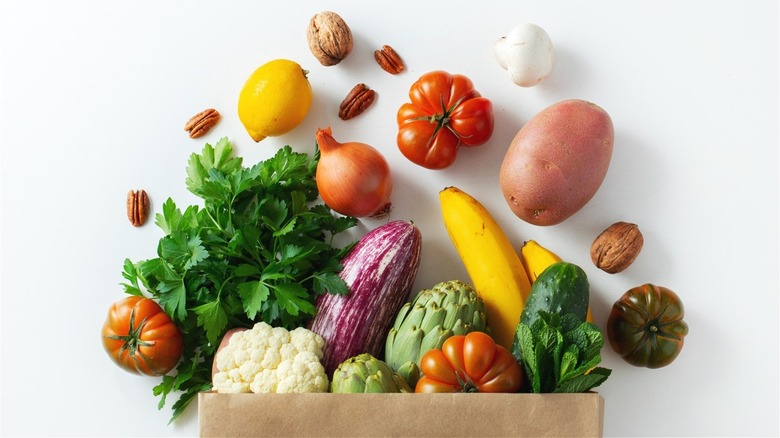 Gareth Cattermole/Getty
The "MasterChef" franchise never ceases to delight viewers who love a good, high-pressure, high-stakes cooking competition among chefs who are already at the top of their game, and that includes the UK's "MasterChef: The Professionals." Hosted and judged by celebrity chefs Gregg Wallace, Monica Galetti, and Marcus Waring, "MasterChef: The Professionals" pits credentialed professional chefs against one another to identify the best of the best. With the bar set so high, just about everything presented on the show promises to be a legitimate work of epicurean wonder. Nevertheless, high standards also mean the "wonder" so inspired may not actually be in the nature of "delighted awe" so much as "confusion" bordering on disbelief. 
Such was the case when on the fourth episode of Season 9, chef-testant Dylan presented an eclectic masterpiece (or so he thought) consisting of sous vide John Dory fish, a Scotch egg, sea vegetables, and a variety of other accoutrements meant to evoke the salt-aired primal pleasures of the seashore — including breadcrumbs that were meant to resemble sand and a foamy white wine sauce meant to resemble sea foam (via Daily Motion). While Dylan's creation won a number of accolades from the judges, Waring in particular, it also left a number of people confused, including an entire subreddit of individuals who have come together, united by nothing more than their utter loathing of the practice of serving food on anything other than a plate. 
Marcus Waring doesn't blame Reddit for being confused
In a small corner of the Internet, there dwells a group of individuals united by their mutual dislike of the practice of serving food on items other than plates. Specifically, the 709,000 members of the "We Want Plates" subreddit are engaged in a "crusade" against "serving food on bits of wood and roof tiles, chips in mugs and drinks in jam jars." So when Reddit user @eggmcgginton posted a photo of Dylan's dinner presentation from "MasterChef: The Professionals," which involved no plate whatsoever, you can probably imagine the feelings it stirred up (via Reddit). "Masterchef UK contestant serves his signature dish on a box full of sand and rocks mean to resemble the sea," @eggmcgginton captioned the photo. Of course, the community piled on, at least at first, to express disdain for a "dinner served in a litter box," as Reddit user @Oh4ore put it. 
Nevertheless, as the commentary unfolded, it appeared this subreddit was growing increasingly confused as to whether or not this dinner presentation was, in fact, a legitimate "violation" of the We Want Plates ethos. As @Doxin pointed out, "I mean as far as not-a-plate goes, that's pretty close to a plate." Indeed, even judge Marcus Waring, who indicated he felt the presentation was "off," agreed that all it would take was to put this dish on an actual plate, and all would be well once again (via Daily Motion).