This Iron Chef Moment Helped Sous Vide Cooking Become Popular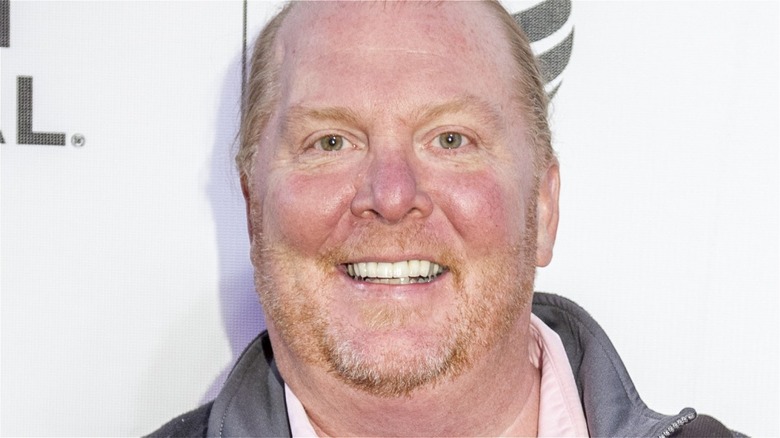 Sam Aronov/Shutterstock
In 1968, retired U.S. Army colonel, Ambrose McGuckian, who'd been hired to improve the food services at a South Carolina hospital system, came up with the idea of submerging vacuum-sealed meat and veggies in a water bath heated to a consistent low temperature, according NPR. In addition to retaining the fat and juices that help give food its flavor, McGuckian's method was a model of efficiency, introducing the "set-and-forget" model of cooking and offering a way for institutions to store food for long periods (it was found that vacuum-sealed food could be stored safely in the refrigerator for at least 60 days).
McGuckian's method didn't have a fancy name. Yet within a few years, French chefs, Bruno Goussault and George Pralus, were experimenting with the vacuum-seal method at their restaurants. However, Goussault and Pralus leveled it up by using the method to cook the tenderest of roast beef and the richest of foie gras. By the 1980s, Goussalt was working with chef Joël Robuchon to revolutionize dining on the French railways (via Cook's Illustrated). Throughout the 1990s, word about this revolutionary vacuum sealed cooking method spread slowly but surely. However, it wasn't until 2006 that "sous vide," as it came to be known, entered the foodie culture zeitgeist. Perhaps not surprisingly, we have a singular moment on "Iron Chef" to thank for sous vide cooking becoming as popular as it is today.
Wylie Dufresne brought sous vide cooking to television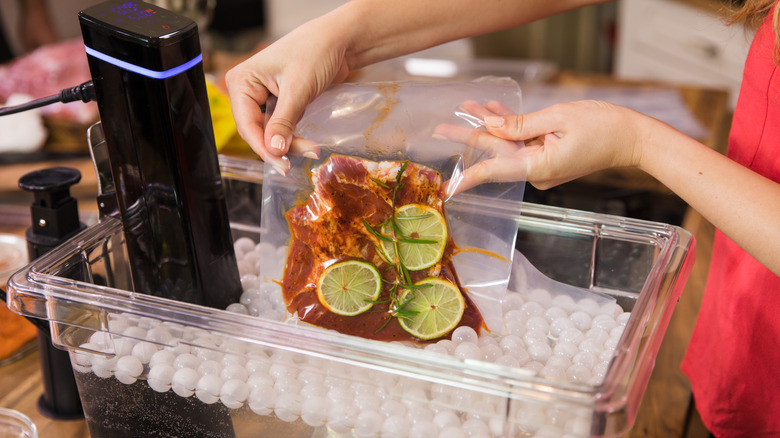 FotoCuisinette/Shutterstock
By 1991, Bruno Goussault, one of two sous vide founding fathers, had opened a training center in Paris that was intended to help raise the profile of sous vide cooking from "boil-in-bag" to "haute cuisine" (via NPR). The sous vide method was slowly but surely coming to be recognized by American chefs, with some even bringing sous vide "circulators" (the immersion heating device that warms the water) into their kitchens. At the time, however, few American chefs had enough experience or the proper training to do sous vide cooking justice, according to Cook's Illustrated. One notable exception was chef and "molecular gastronomist," Wylie Dufresne. 
Dufresne, who had trained under Jean-George Vongerichten and later became sous chef at Vongerichten's Jean Georges and chef de cuisine at Vongerichten's Prime (Las Vegas), became a celebrity chef in his own right when he opened the restaurant WD50, where the food was described as "playful, witty, full of wizardry and ingenuity" (via Fine Dining Lovers). In January 2006, when Dufresne appeared on "Iron Chef America," he trotted out his own sous vide circulator in a battle against the lately disgraced chef Mario Batali. Although Batali ended up the victor in that particular battle, Dufresne's loss was actually a victory for American cooking because in one historical moment, Wylie Dufresne had introduced America's home cooks to sous vide cooking, and its popularity only grew from there.