Reddit Suspects This Deleted Pic Could Be A MasterChef Spoiler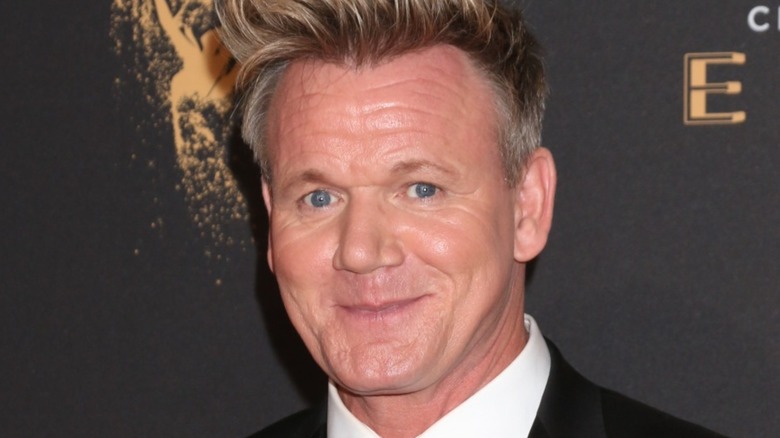 Kathy Hutchins/Shutterstock
A ton of rumors have swirled about since "MasterChef" hit the airwaves. According to The Mirror, drama and bad blood grew between Gordon Ramsay and "MasterChef: The Professionals" star Marcus Wareing that allegedly almost caused fistfights between the two chefs. Meanwhile, users on the Subreddit r/MasterChef have speculated about the possibility of junior MasterChefs joining the fray in the upcoming seasons of the show.
A new rumor has popped up on Reddit, and this time, the gossip swirls around Elizabeth Cauvel. Reality TV Revisited reports that this advertising executive, who became Season 5's runner-up, went back to work as the creative director at MRY, but appeared on the "MasterChef" cruise in 2016 and 2017 to show off her cooking skills. If you couldn't get enough of Cauvel on "MasterChef," you might just get the chance to see her show off her cooking prowess very soon. The Reddit post features a picture of Cauvel wearing the "MasterChef" apron alongside the title "I remember seeing this is Elizabeth's website, but it seems she deleted it." This post has understandably stirred up a bunch of discussions, and fans can't wait to discuss the possibility of this spoiler coming to fruition.
The possible return of a MasterChef fan favorite
According to the Reddit post, the blurry photo that Elizabeth Cauvel allegedly posted on her social media accounts but later took down reads, "I'm joining the cast of 'MasterChef All-Stars!' Stay tuned for more info!" Fans couldn't wait to discuss this potential spoiler. "Wonder how many they'll bring back. Larger number and have them 'earn' an apron again? Smaller number of invitees? I mean, even 2 a season would get them 22 contestants. Should be entertaining. Personal preference would be no former winners," one commenter chimed in. Another wrote, "I know this is an unpopular opinion, but I really hope they don't bring back Elizabeth. She seemed petty, insecure (saying 'I can flambé too, but I don't have to!' When Courtney was just trying to impress her little brother in the finale) and downright nasty sometimes (mentioning Leslie in a poor light and almost looking down upon Courtney for working in a Gentleman's Club while she worked in an office). I would like to see Big Willie, Christian, or Ahran the most from Season 5!"
Only time can tell if the producers of "MasterChef: All-Stars" actually plan to give Cauvel a cameo. If you count yourself as a fan of the show, keep your eyes peeled for more developments and potentially get ready to see Cauvel make her proper return to the show soon.