The Food Network Show Michael Symon Wishes More People Knew About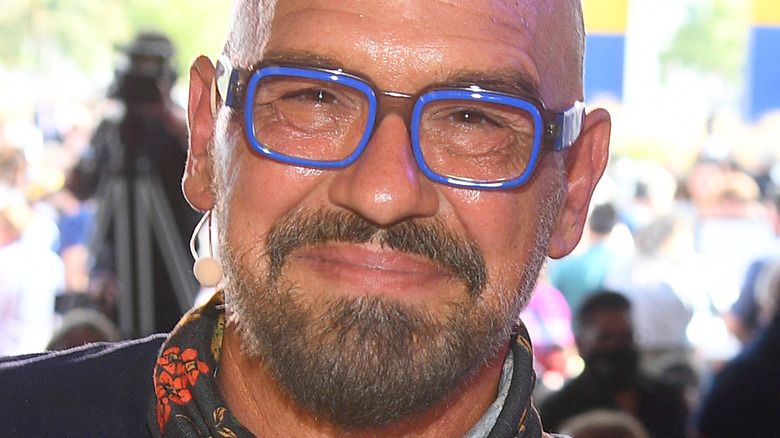 Dave Kotinsky/Getty Images
There's no doubt that when it comes to shows on food and cooking, there's plenty to keep food lovers entertained, and a lot of credit goes to Food Network. However, a major chunk of food shows are dedicated to cooking competition shows, and that only becomes the case more so over the holidays.
Take Food Network's current schedule, for example: "Halloween Wars," "Halloween Baking Championship," and "Outrageous Pumpkins" — all excellent holiday shows, but competition shows nonetheless. So when Food Network announced that a new show "Throwdown with Michael Symon" was going to premiere on December 7 featuring chef and restaurateur Michael Symon (via Twitter), some fans weren't all too happy about another competition show being added to the channel's current showtime schedule.
"I just don't watch any of these 'game shows'. I don't learn anything from them and don't find them 'entertaining," one person commented on Twitter. Another disappointed Twitter user wondered why Food Network wasn't producing more of its old school cooking shows which taught its viewers how to cook: "Everything has to be a competition. (I stopped watching all that nonsense ages ago.)...I'd live to learn new recipes & techniques from you, Chef Simon, and from Chef [Bobby] Flay too."
To the unhappy fan, Symon himself replied on Twitter that his show, "Symon's Dinners Cooking Out," does in fact air on Saturdays and Sundays during the day for anybody who wishes to learn to cook his recipes, implying that he wished more Food Network fans knew about his educational food show.
Season 3 of "Symon's Dinners Cooking Out" is filmed
While Michael Symon prepares for his new cooking competition show "Throwdown with Michael Symons" to air, he wishes that more people knew about his other cooking show "Symon's Dinners Cooking Out," especially people who are more interested in learning the recipes to their favorite chef's foods (via Twitter).
The first season of "Symon's Dinners Cooking Out" premiered on Food Network back in 2020. The show, it turns out, was originally inspired by the outdoor cookout recipes Symon used to make using everyday pantry staples, whilst being locked up indoors during the summer months of the pandemic, according to Cleveland.com. After sharing his daily cooking adventures with followers through live Facebook videos, it was turned into a Food Network show shot from the backyard of his house in New York, with a second season premiering in summer 2021 too.
Now, Symons has thrown a hint on Twitter that the third season of the show has already been filmed, meaning it's quite likely that Food Network fans will have another cooking show to watch soon, and one that doesn't involve anyone competing.