Sonic's New Flavor Mixes Let You Make These Popular Drinks At Home
Sonic Drive-In has a track record of serving up some refreshing treats, not only at their many locations, but also with store-bought items that fans can easily bring home. Back in 2018, the fast food chain entered the nationwide grocery store market by releasing boxes of pudding, gelatin, and ice pops featuring the restaurant's signature flavors, per Refrigerated & Frozen Foods. And now, Sonic has returned in the same manner with some new signature products that can help you whip up their iconic drinks at home.
BusinessWire reports that the drive-in chain has released individually-packaged powder drink mixes in their iconic Cherry Limeade, Ocean Water, and Strawberry Lemonade flavors with zero sugar. Each comes in the form of a single-serving tube of powder that you can mix with 16.9 ounces of water, which is the perfect size to mix into standard water bottles, making these a great option for on-the-go hydration that also tastes great. While many fans of the restaurant undoubtedly can't wait to bring home a box (or two or three) of these convenient drink mixes, we'll have to wait a bit longer before this product hits shelves.
There's a new way to bring the flavors of Sonic home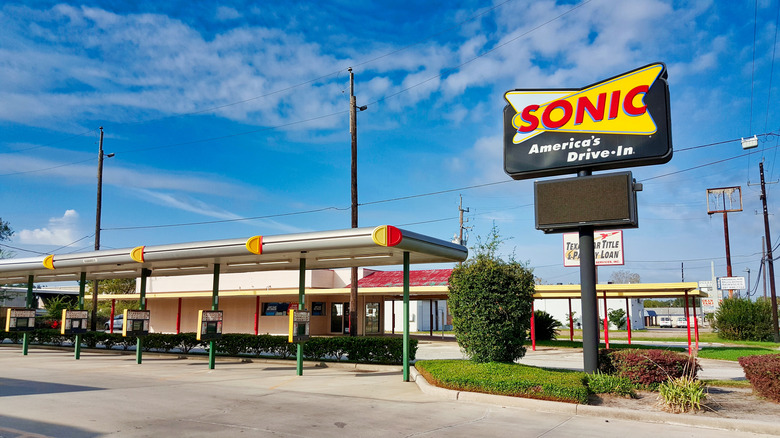 Brett Hondow/Shutterstock
If you like the idea of sipping on some signature Ocean Water at home, made from Sonic's new powder packets, you'll unfortunately have to wait a bit longer to do so. According to BusinessWire, the to-go drink packets should hit shelves at select locations of Walmart and H-E-B grocery stores this fall, as well as all Dollar Generals in February 2022. But if you can't make a trip to any of these retailers in the near future, Sonic guarantees that their single serving drink mixes should make it to other stores sometime soon, though the brand has yet to make any other announcements.
If you love Sonic and have dreamed about enjoying their signature drink flavors in the comfort of your own home any time of the day or night, these new powders will do the trick while offering a zero sugar, low-calorie way to indulge. Keep your eyes peeled for the product and snatch up the items when you can because they'll probably go quickly. With any luck, the probable popularity might even inspire a few more Sonic products to make it to store shelves in the future.