25% Agree This Is The Best Ben & Jerry's Ice Cream Flavor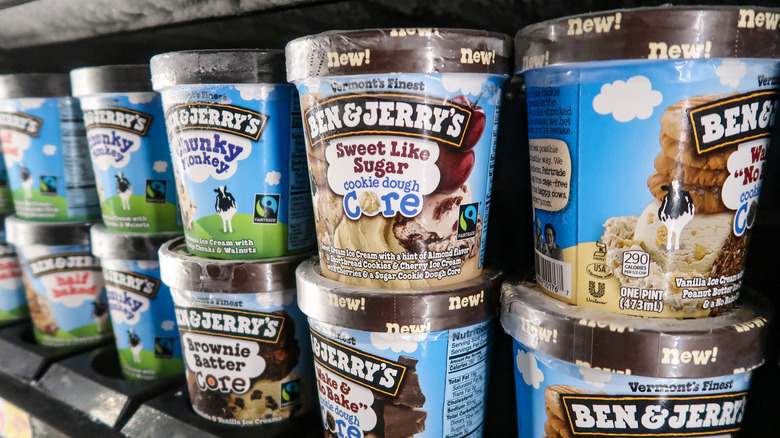 Arne Beruldsen/Shutterstock
When many people think of their favorite ice cream, Ben & Jerry's is often the preferred scoop. What grew from a small gas station in Vermont, per the brand, has since churned into one of the most popular ice cream brands in the freezer case. From its creative names to its superlative flavor combinations, these pints have earned their spot in ice cream infamy.
Many people have debated how Ben & Jerry's ice cream has become such a craveable treat. While the brand touts its connection to local Vermont farms that provide the best milk and cream (per the official website), that element is just one aspect to the luscious flavors. Reader's Digest believes that the "premium" aspect derives from the ice cream's lesser air content, which allows the butter fat to be more luscious. Add to that aspect founder Ben Cohen's commitment to make an ice cream with impeccable mouthfeel, according to Twisted, and it's no wonder the brand has become a leader in the premium ice cream space.
Over the years, Ben & Jerry's has created numerous flavors. From its traditional ice cream pints to Netflix Original Flavors (seen on their website) to even carefully crafted Core Pints, the shelf is filled with so many of the brand's options. Even though some flavors have been sent to the ice cream graveyard, many fans are adamant about their favorites. We were curious which one stood out as the best and so we polled 599 U.S.-based respondents to see which one they preferred most among seven top options.
Chocolate Macadamia appears to be a scoop above the rest
While the complete list of Ben & Jerry's ice cream flavors can and often does change, The Daily Meal reported that there are currently more than 50 options under the brand's umbrella. In December 2020, Ben & Jerry's reported that its most popular flavor of the year was Half Baked. Though, when Mashed recently posed the tasty question of which flavor is best, the survey's findings determined that in fact a different ice cream topped the must-have list. According to the survey, 25.54% of the respondents picked Chocolate Macadamia as the top ice cream flavor. It was followed by Fresh Georgia Peach (22.20%), Creme Brulee (14.20%), Turtle Soup (12.02%), Peanut Butter & Jelly (11.69%), White Russian (10.35%), and Fossil Fuel (4.17%) .
According to Ben & Jerry's, Chocolate Macadamia is part of the ice cream graveyard. It was originally available from just 2010-2011, with the chocolate and vanilla ice cream featuring chocolate-covered macadamia nuts. Apparently that short-lived flavor made quite an impression and many ice cream fans are still longing for it. In addition, another version called Aloha Macadamia was available from 2001-2002 per the website. Although these flavors are not currently on the shelf, the survey responses seem to indicate that it might be time to bring back these great flavor combinations. Since Ben & Jerry's is often listening to its loyal fans for flavor direction, we can only hope they see these results.