This New 7-Eleven Item Was Inspired By Korean BBQ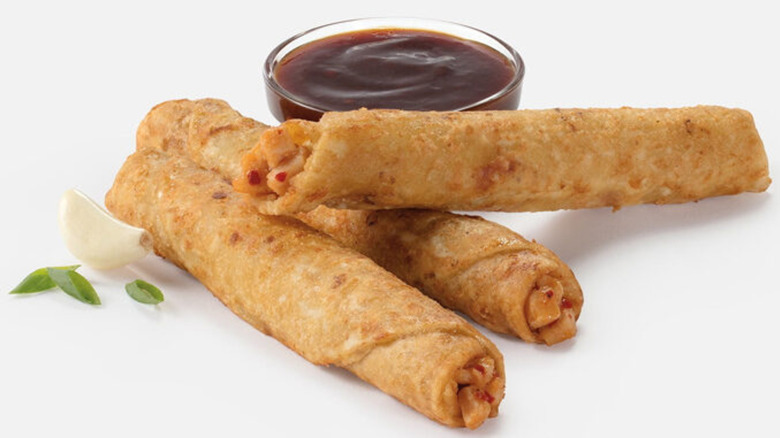 7-Eleven
7-Eleven has great news for fans of Korean BBQ. The rich, savory flavor of meat and sweet, tangy BBQ sauce will soon be coming to participating 7-Eleven locations nationwide with the new Korean BBQ Chicken Taquito. According to Chew Boom, this sweet and savory taquito will feature juicy, all-white meat chicken, wrapped in a crispy flour tortilla and smothered in a flavorful, Korean-inspired BBQ sauce seasoned with soy sauce, garlic, onion, toasted sesame oil, brown sugar, ginger, and red pepper for an extra kick of satisfying heat.
From now until October 31, 7Rewards members can try three of these new Korean BBQ Chicken Taquitos for just $3. Rewards members can even mix and match their three-for-three deal, so they can sample one of the new Korean BBQ Chicken Taquitos along with some of the brand's tried and true favorites, like Monterey Jack Chicken, Jalapeño Cream Cheese, Steak and Cheese, Buffalo Chicken, and Taco and Cheese Taquitos, according to Markets Insider.
Available for delivery through the 7-Eleven app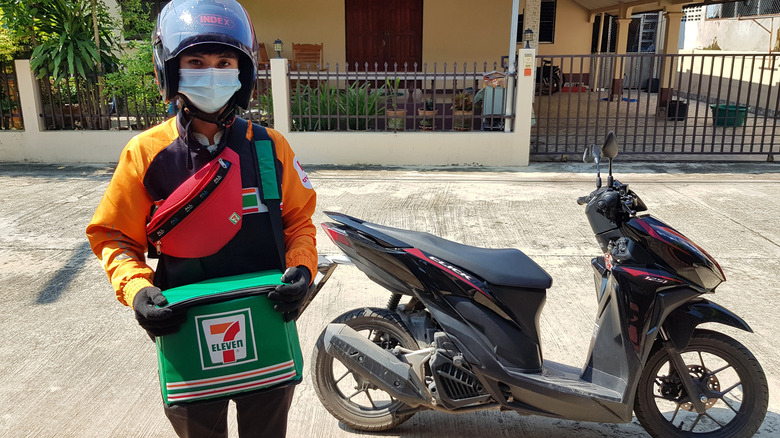 chopjai photo/Shutterstock
Yet, that's not all 7Rewards members can expect to enjoy. Members will also receive 200 bonus points each time they purchase a sweet and savory Korean BBQ Chicken Taquito. These tasty new Korean BBQ Chicken Taquitos will be joining 7-Eleven's some other sweet fall products, including the fan-favorite Pumpkin Spice Latte. All 7-Eleven fans, regardless of if they are rewards members or not, can also take advantage of the chain's speedy delivery through the 7NOW delivery app, which offers real-time tracking and typically delivers orders within 30 minutes.
"We are always looking for adventurous ways to incorporate new flavors and food trends that will make 7-Eleven favorites even more crave-worthy. The Korean BBQ Taquito is just the latest in new flavors 7-Eleven is introducing to excite our customers' taste buds. Adding more great taquito flavors gives our customers the variety and versatility they want from meals, any time of day. Plus, our current three-for-$3 taquito special makes 7-Eleven the perfect destination to pick up a snack to share and savor with friends," said Robin Murphy, 7-Eleven Product Director of Fresh Food, via Markets Insider.