Apple Walnut Salad Recipe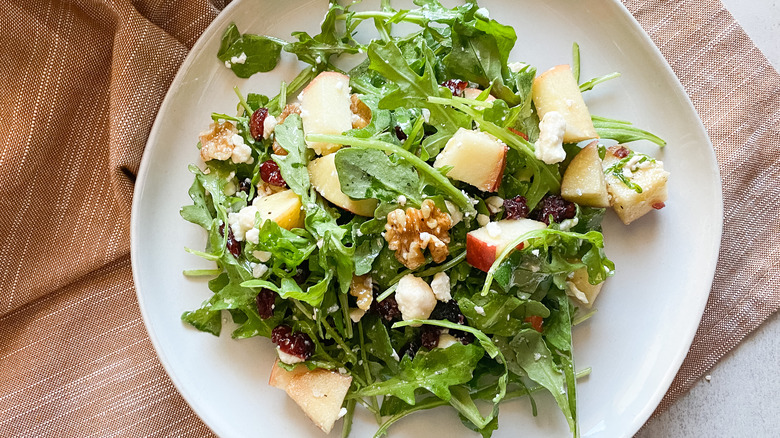 Kristen Carli/Mashed
What do you get when you combine arugula, apples, walnuts, and a light dressing that is packed with flavor? One heck of a salad! When it comes to sides and main courses, there are plenty of salads to choose from, and some of them can be light while others are a bit heavy. Of course, you have your standard Caesar salad that always hits the spot, and then there's a classic cobb that's filled with colorful ingredients and is worthy of an Instagram post. You also have your traditional garden salad which is super simple and delightful. While those salads listed are all great in their own right, there is just something that screams "been there, done that." But, now enter in the apple walnut salad, which has apples for added for crunch and is so incredibly refreshing.
Recipe developer Kristen Carli came up with this tasty dish that is healthy, delicious, and super fresh. "I love the combination of sweet and tart apples," Carli says. We would have to agree! Keep scrolling to find out how to make this wonderful salad.
Gather the ingredients for this delicious salad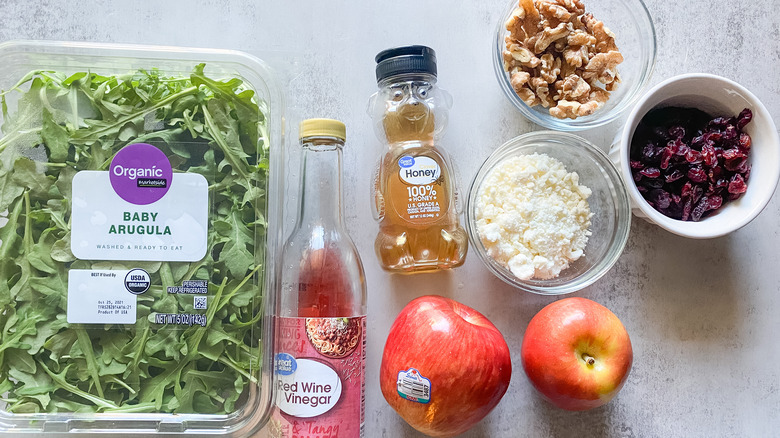 Kristen Carli/Mashed
The first thing you need to do before you get down to the nitty-gritty is head to the grocery store. If you like to order your groceries via an app or online, that's fine too! First, pop by the produce aisle and grab some arugula in addition to Jazz and Rave apples. You will also need to grab some dried cranberries and feta cheese. Let's be honest ... what salad is complete without cheese?
Next, pick up some raw walnuts, olive oil, and red wine vinegar. You will also need to get some honey, salt, and pepper. Most of these ingredients are pretty standard, so you may already have them at home!
Mix the salad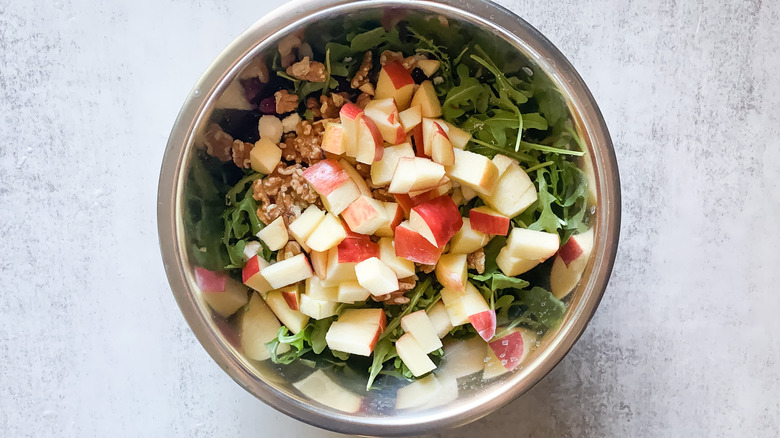 Kristen Carli/Mashed
The great part about this recipe is that it involves no cooking, making it super simple to throw together. Start things off by grabbing a large bowl. You can add the arugula first, which serves as the main base for the salad. Then, toss in the apples. Remember that you should have chopped those ahead of time to make things easier on yourself. "I chose Jazz for a sweet apple and Rave for a tart apple," Carli raves. "If you cannot find these varieties, I would look for an Ambrosia and a Granny Smith."
The next few items you will want to add are dried cranberries, feta, and walnuts. If you don't love feta, you could always sub it for a different cheese. "You can easily sub goat cheese," Carli notes. Put the bowl to the side, and move on to the next step.
Mix the dressing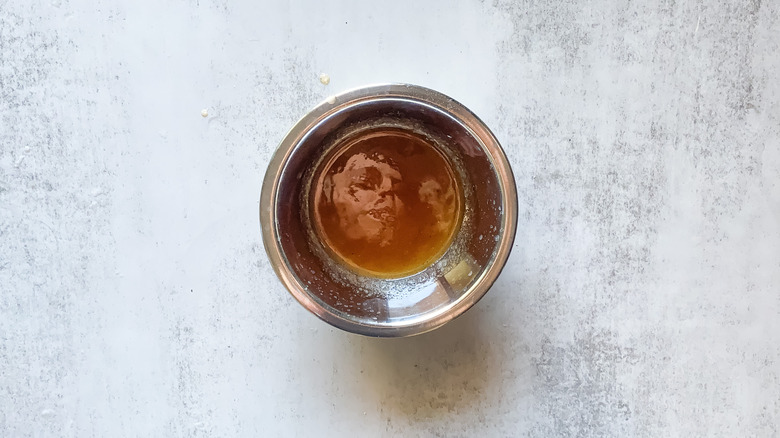 Kristen Carli/Mashed
Now that your salad is good to go, it's time to make the dressing. Since there isn't a lot to mix together, you can just take out a small bowl that's big enough to fit all of the wet ingredients. Start with your olive oil first. Then, throw in the red wine vinegar. To add a little thickness, toss in the honey next. Then, sprinkle the salt and pepper on top. "The dressing is a zingy vinaigrette!" Carli says of the taste. We love the sound of that! 
Whisk the dressing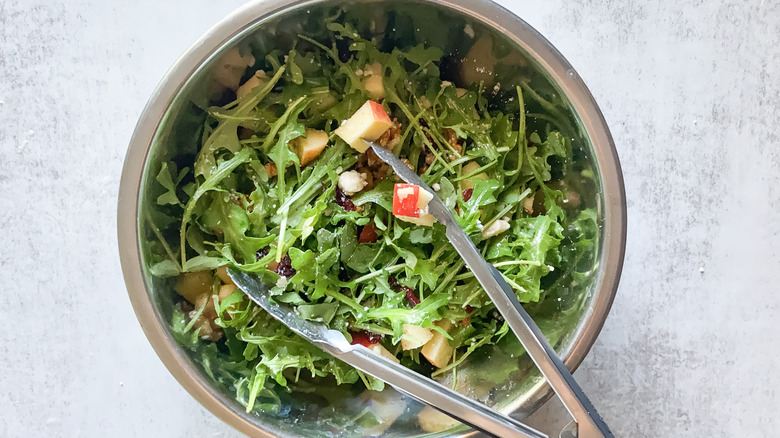 Kristen Carli/Mashed
Once you have all of the ingredients for the dressing in your bowl, this step is pretty straightforward and simple. All you need to do is grab a whisk and mix all of the contents of the bowl. The whisk is a great tool to use in the kitchen, especially for sauces and dressings. Once you have mixed the dressing well, you can grab your bowl with salad and pour the dressing over the top. Then, toss the salad to combine everything. Be sure that each piece of lettuce and apple has a little bit of dressing on it. 
Serving suggestions and leftovers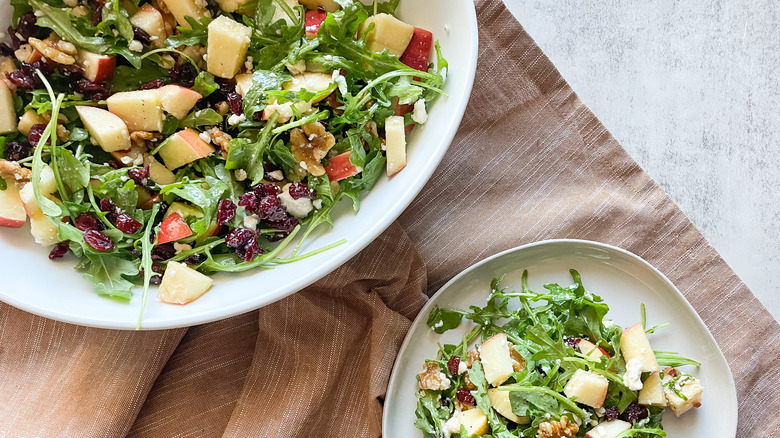 Kristen Carli/Mashed
This salad is a great dish to eat as a meal, and you could certainly add some sort of protein like chicken. It would also be a great side to a main course. "I would serve this as a lunch or as a side for dinner," Carli shares. We also think that it would be great with a big piece of garlic bread. Have anything left over? "The dressing will last in an airtight container in the fridge for up to three days," Carli says. 
We hope you enjoyed making and eating this salad as much as we did!
Apple Walnut Salad Recipe
What do you get when you combine arugula, apples, walnuts, and a light dressing that is packed with flavor? One heck of a salad!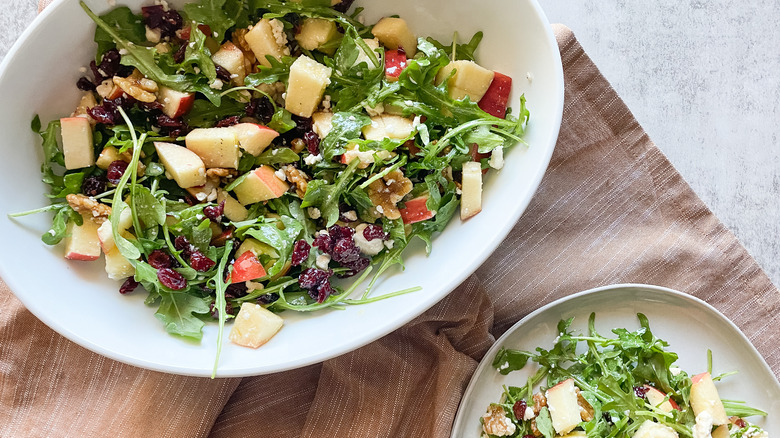 Ingredients
4 cups arugula
½ Jazz apple, diced
½ Rave apple, diced
¼ cup dried cranberries
¼ cup feta cheese crumbles
¼ cup raw walnuts
¼ olive oil
2 tablespoons red wine vinegar
1 tablespoon honey
1 teaspoon salt
½ teaspoon pepper
Directions
In a large bowl, add arugula, apples, dried cranberries, feta, and walnuts.
In a small bowl, add olive oil, red wine vinegar, honey, salt, and pepper.
Whisk dressing to combine.
Pour dressing over salad. Toss to combine.
Serve and enjoy.
Nutrition
| | |
| --- | --- |
| Calories per Serving | 97 |
| Total Fat | 2.5 g |
| Saturated Fat | 1.5 g |
| Trans Fat | 0.0 g |
| Cholesterol | 8.3 mg |
| | |
| --- | --- |
| Total Carbohydrates | 18.3 g |
| Dietary Fiber | 2.0 g |
| Total Sugars | 14.8 g |
| Sodium | 223.2 mg |
| Protein | 2.1 g |